George Russell had a solid race at the Jeddah Corniche circuit. The 25-year-old finished fourth ahead of his teammate, Lewis Hamilton. For a brief moment, Russell got a taste of his first podium of the 2023 season due to Fernando Alonso's penalty. Later, the situation was cleared, and the FIA reinstated third place to the Aston Martin driver. Russell was thrilled with his performance as he outclassed his record-world champion teammate.
After the race, Russell stated it was one of his strongest weekends in Formula 1. He also credited himself for exceeding the potential of the car. Meanwhile, Lewis Hamilton felt he could not connect with the W14 and admitted he felt miserable. After the Saudi Arabian GP, Hamilton stated, "I think if I had the set-up George had. I would have been in a better position.".
Nico Rosberg, the man who beat the seven-time world champion in the same machinery, spoke to Sky Sports about Hamilton's expression post-race, "That was just the 'I got beat by my team-mate' face. That's pretty simple." Rosberg further added, "George is the future world champion. This is a difficult one for Lewis to stay in front of. We saw it last year, what an awesome season George did and George is continuing on that form once again."
Related: Frederic Vasseur frustrated with Ferrari's inability to maintain "maximum potential"
Nico Rosberg is certain Lewis Hamilton will bounce back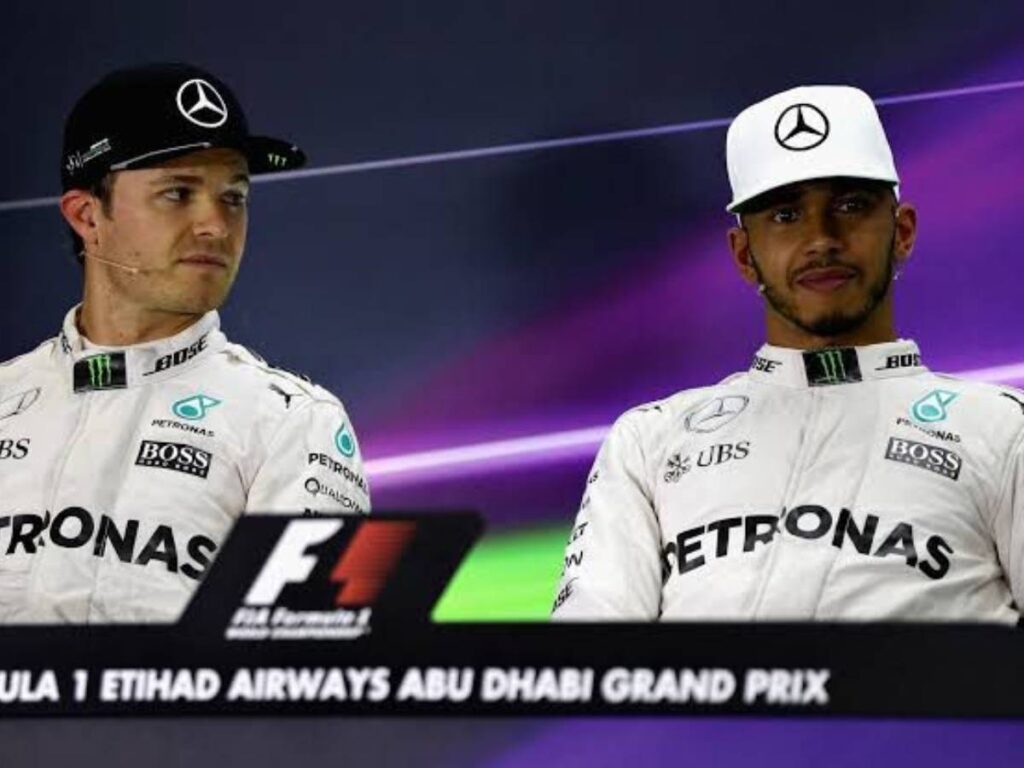 Rosberg is hopefull that his old teammate will overcome the struggle and make a solid comeback. He said, "It's going to be a big, big challenge, but let's not forget Lewis is the best of all time so if there's going to be someone who can beat George then it will be Lewis. It's a little bit of a weakness that Lewis has that sometimes he'll mentally go into this down a little bit and lose a little bit of flow. But he comes back with a bang every single time so dear George don't get too comfortable." 
Nico Rosberg is the only teammate of Lewis Hamilton to have won a world championship. And he feels that Hamilton will get back on his feet and challenge Russell. This is unfamiliar territory for the 38-year-old who is used to winning. However, it is only a matter before the seven-time world champion bounces back.
Nico Rosberg and Lewis Hamilton were good friends before things got tense during their fight for wins and championships. Their rivalry had some explosive moments. However, Rosberg retired after winning the 2016 Formula 1 world championship. And their on-track feud ended. Valtteri Bottas joined Mercedes to replace Rosberg. Hamilton and Bottas had a good relationship. For the 2022 season, Mercedes had a new driver line-up. George Russell from Williams moved to the team. This is his second year with Mercedes. While Russell is sixth in the 2023 driver standings, Hamilton is fifth.
In case you missed it:
"Typical Max," Helmut Marko believes Max Verstappen was "uncontrollable" during the fastest lap scrap with Sergio Perez.
"We will have to speak and fix it," Fred Vasseur opens on Charles Leclerc's radio mix-up in Jeddah