The fast-paced world of Formula 1 often witnesses groundbreaking moments take place. Staying true to its nature, F1 provided fans with yet another dramatic moment as Ferrari team principal Mattia Binotto announced that he will be stepping down as Team Principal. By doing so, Binotto ended his 28-year association with the iconic Italian outfit. While this decision certainly brought in drama, it was not shocking.
A faithful Ferrari servant since 1995, Binotto became Team Principal in 2019. Accounting for the fact the 53-year-old had risen through the ranks in the Scuderia, fans had high hopes from Binotto. However, it was never going to be an easy job. When Binotto began his tenure, Ferrari had not won a driver's title since 2007. These 12 years without a title were shameful for a big brand like Ferrari.  
His calm stature and the experience he brought in were supposed to be the defining factors in the Ferrari paddock. Like many, Binotto, too, struggled in his first year as Team Principal. While the Prancing Horse was fast in qualifying, Binotto and the team were involved in an engine scandal. Despite getting a clean chit, Ferrari were not able to match the dominance of Mercedes. Like the previous years, the Italian outfit once again achieved no success in the driver's or constructor's championship. This is in comparison to the lofty standards Ferrari had set in the past.
The shortcomings of Binotto were ignored by fans as they cited this was his very first season at the helm. With hopes of a brighter season in 2020, Ferrari looked forward to the redemption of Mattia Binotto and his team. However, what happened left everyone associated with Ferrari in shock. Under Binotto's tenure, Scuderia experienced their worst season in almost four decades. The following season, Ferrari struggled in mid-table after which Binotto took the brave call of releasing 4-time World Champion Sebastian Vettel.
Despite delivering one miserable season after another, 2022 was supposed to be the big year for Ferrari. With new rules kicking into place, the Scuderia looked better than ever. Young Turk Charles Leclerc won two of the first three races and led the driver's championship in the bargain. However, Ferrari again suffered the same ill fate as in previous years. Not only did they start throwing away their wins, but mechanical failures along with strategic shortcomings became the highlight of Ferrari's season.
One of the most iconic racing brands in F1, Ferrari, due to bad performances, were a constant victim of trolling. Despite beating Mercedes in the constructor's championship, fans scrutinized Ferrari for not being able to live up to potential. The trolling and criticism resulted in a lot of pressure on Binotto and his staff. Eventually, it led to the 53-year-old's resignation. With the new season approaching (2023), Ferrari will look to replace Mattia Binotto at the earliest.
Related: "One person cannot fix or destroy an operation": Former F1 driver finds Mattia Binotto's Ferrari exit pointless
Who will Ferrari replace Mattia Binotto with?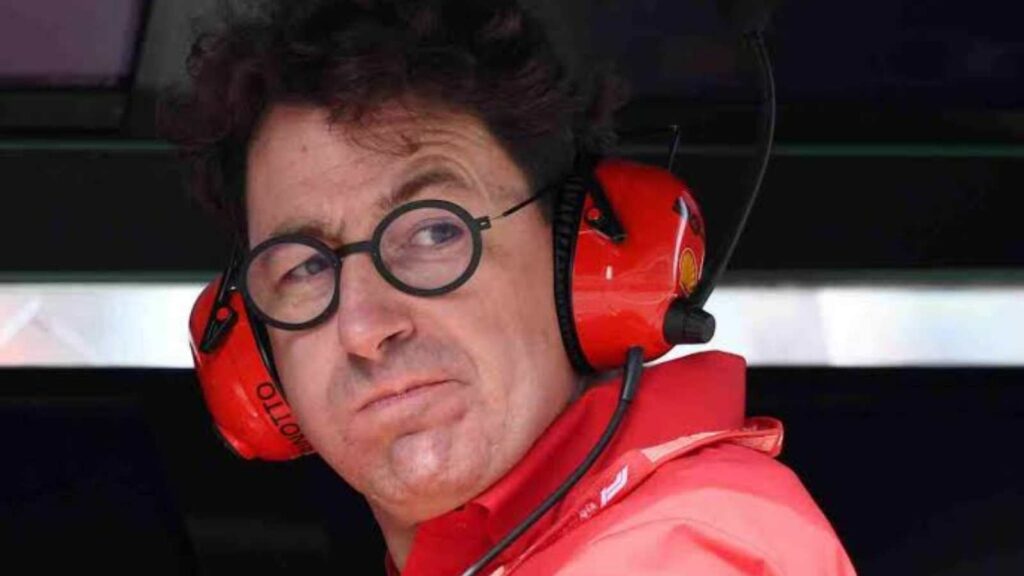 Mattia Binotto's 28-year association with Ferrari will change a lot at the core of the Italian outfit. It's a change the team will have to adapt to soon if they are to produce results in the future. While many names have come sprung to replace Mattia Binotto as Team Principal, Alfa Romeo boss Fredric Vasseur is front-runner.
Over the years, Vasseur has been successful in keeping Alfa Romeo competitive in Formula 1. While he is a man who is scrutinized for taking some controversial decisions, the fact that Vasseur is highly respected in the paddock does not change. A veteran in motorsports, Vasseur's leadership, and experience might be something Ferrari needs to contend for the title next season.
However, Vasseur is not the only name linked to Ferrari. Another possible candidate for the Scuderia job is current McLaren Team Principal Andreas Seidl. The McLaren boss is an experienced candidate who brings to the table rich history after many successful stints with Porsche. While Seidl's expertise was in endurance racing back then, he has also managed to build a stacked resume in F1. Having worked with experience and youth in Daniel Ricciardo and Lando Norris, Andreas Seidl knows a thing o two about finding the right balance in a team.
While strong contenders have emerged in both Vasseur and Seidl, former Ferrari king Ross Brawn is also rumored to take over as Ferrari team principal. Currently the managing director of Formula One, Brawn is one of the most experienced men in the motorsport circuit. Considered to be the mastermind behind Michael Schumacher's seven world title wins, Brawn knows the Scuderia inside out. Apart from being familiar with the Italian outfit, Ross Brawn knows what it takes for a team to be victorious in challenging conditions.
Also Read: "Thanks for the great memories and moments" – Carlos Sainz bids farewell to the departing Mattia Binotto in a heartfelt message
While the above-mentioned men are only a few names, one thing is clear. Ferrari will look to replace Mattia Binotto before the start of the next season. Host to a talented team of drivers, engineers, and technicians, it will be interesting to see who Ferrari appoints as Binotto's successor. Regardless of who takes charge as team principal, it is evident that there is a big job to be done at Ferrari if they are to be challengers for the world title.
Also Read: How did 'Sbinalla,' a term that became popular during Mattia Binotto's reign, come into existence?