James Vowles will be joining the Williams F1 team as Team Principal. Thus, Vowles will be leaving his role as the backbone of strategy at the Mercedes F1 team. James spent 20 years at the F1 operations in Brackley, under various guises of the squad. However, it was the success with the Silver Arrows that became the highlight of the 43-year-old's career. Vowles played a significant role in helping the Toto Wolff-led team dominate the sport.
Hence, the Silver Arrows' Team Principal, Toto Wolff bid farewell to James Vowles with a touching message. The official Mercedes Twitter account tweeted this message from Wolff. Firstly, Toto made it clear that it is a sad day at Brackley, as the team sees one of its most important personalities depart. Wolff said, "While we are naturally sad to be saying goodbye to such a capable member of the team…"
The Austrian boss continued. Toto wished the best for James Vowles's new chapter. As Wolff mentioned his faith in the 43-year-old's skillset, can certainly make James a fine F1 Team Principal. Toto stated, "I have no doubts whatsoever that James has all the necessary skills to become a fantastic Team Principal in Formula One. All in all, a nod of respect from one of the best leaders in F1 history.
Also Read: Who is James Vowles? Know everything about Williams' new team principal
Mercedes is "delighted" to see James Vowles get a step up in his F1 career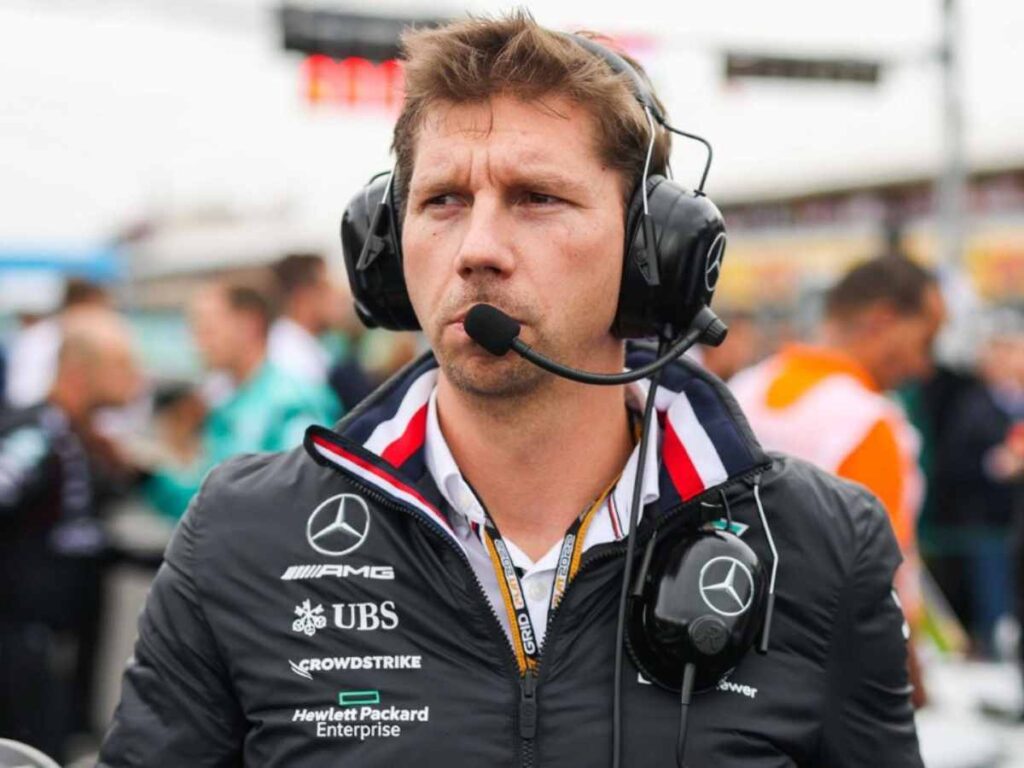 Toto Wolff's words for James Vowles were reciprocated by the German squad. The same tweet consisted of a short caption. The team mentioned that James was a major pillar in the team's immense success in the turbo hybrid era. Wherein, Mercedes won a total of 8 consecutive Constructors' titles in F1. The team stated, "James has been a key part of the Team over the past decade, playing an integral role in our success in recent years."
Although, the Silver Arrows were quick to wish James Vowles the best for his role in the sport. Mercedes said, "We are delighted that he will take this next step in his career." These comments can be seen as an indication of Vowles's departure being on mutual grounds. Williams is, of course, a customer team running Mercedes engines. Thus, this shake-up can help in strengthening the relations between the two teams, which could certainly benefit the two outfits.
Hence, James Vowles leaves Mercedes on a positive note. The 43-year-old has indeed got the blessings of his former boss for his new endeavor. Although, Vowles might need those good wishes, as he goes on to lead a struggling outfit on the grid. Williams has not improved its F1 prospects in the last two years, despite receiving funding from its new owners. As such, it would be interesting to see the direction the British team takes under Vowles's leadership.
Read More: Lewis Hamilton and George Russell's criticism brings about massive change at Mercedes
Read More: When F1 legend Fernando Alonso embarrassed himself in Indy 500 qualifying