Mercedes' Formula 1 team boss, Toto Wolff, playfully criticized the crane operator responsible for hoisting Lewis Hamilton's car in Monaco, unveiling their closely guarded underbody design to the public. He drew comparisons to the famous circus producers, Cirque du Soleil.
The incident occurred during the third practice session, as Lewis Hamilton's W14 car collided with the barriers, prompting a red flag. The subsequent crane operation, aimed at removing the vehicle from the track, inadvertently exposed Mercedes' ground-effects floor to the prying eyes of rival teams. 
He went on to say, "Well, whoever performed the crane has probably worked for Cirque du Soleil." Toto Wolff further added, "You could have put it on a truck. You're showcasing a car to everyone in the world. That was suboptimum for us, to say the least."
This particular race in Monaco marked Mercedes' debut of a redesigned W14, boasting new side pods and several other upgrades. The team hoped these modifications would breathe fresh life into their recent lackluster performances. Notably, changes to the camber of the Floor Fences have enhanced local load and improved flow to the diffuser, resulting in increased rear downforce.
Discover: Lewis Hamilton's defiant car setup backfires, adds to his self-inflicted woes in Monaco GP qualifying
Toto Wolff believes the team can salvage their race despite starting fifth and eighth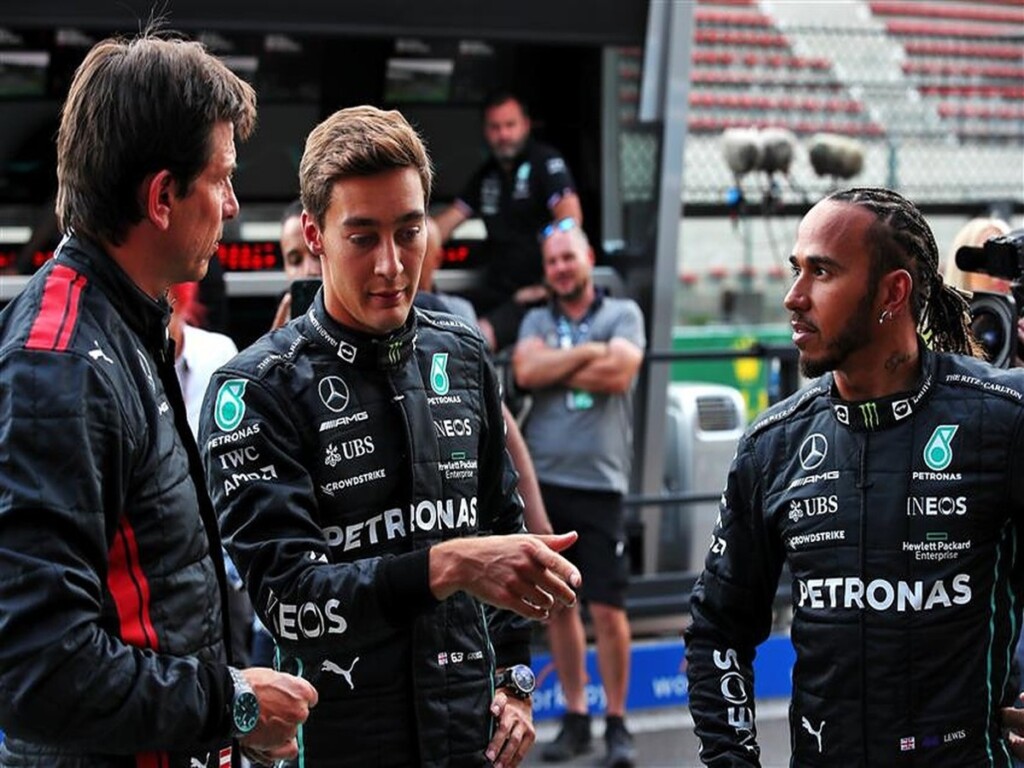 Currently positioned as the third-fastest team, Mercedes has faced stiff competition from their client team, Aston Martin, this season. For the upcoming race, Lewis Hamilton and George Russell will start in fifth and eighth positions, respectively. The big question now is how the drivers will fare with their upgraded Mercedes machines on race day. Something similar had happened with Red Bull's Sergio Perez's car in the qualifying, regarding this the Mercedes boss said, "Their car hangs straight. Ours was rear down!"
Despite the unwanted exposure of their underbody design, Wolff remains optimistic about the upgrades and their potential to elevate Mercedes' performance. He acknowledged that securing the fifth and eighth spots in qualifying could have been better, but emphasised that the gap to pole position, set by Max Verstappen, was only three-tenths of a second. 
Wolff asserted that if Hamilton and Russell had strung together their best laps, Mercedes could have contended for a top-six or even a top-four finish. This outcome, he deemed, was satisfactory given the circumstances. The Austrian said, "With Lewis and George, if you would have put the last lap together, we would have played the top six. Maybe the top four. That's OK."
As the Monaco Grand Prix awaits, all eyes are now on Mercedes and their revitalized W14. Will the unveiled underbody secrets prove to be a game-changer? The answer lies in the laps yet to be driven, as the silver arrows strive to regain their dominance on the world's most glamorous race circuit.
In case you missed it: