Formula 1 is one of the most dangerous sports in the world, and the Grands Prix wildly popular amongst the adrenaline junkies for its death-defying drivers performing high-speed maneuvers. As racers who regularly go above the 220 miles per hour mark during the weekends, fans often harbor a misconstrued image of them as fiercely competitive otherworldly beings. But in reality, they are just as human as the rest of us, and they love to indulge in their passions and hobbies whenever they are not on the racetrack–like Fernando Alonso, F1's new 'flower padre'.
Two-time World Champion Fernando Alonso, who recently received a second-place finish at Monaco GP for Aston Martin, has admitted to having a green thumb at a recent interview. The Spaniard was spotted admiring some flowers during his outing in Miami for the Miami Grand Prix, and those videos made it to the internet in no time. Naturally, a reporter asked Alonso about it in the press meet ahead of the Monaco Grand Prix. He questioned, "Your new passion [seems to be] flower gardens! Are you thinking about a new job in the future after 2026?"
Fernando's craze for flowers is not new to his F1 mates, and thus Max Verstappen was seen giggling at the reporter's question. Fernando answered without missing a beat, "There were so many flowers in Miami, there are none here." Then Verstappen asked him, "Were they smelling good?" To this, Alonso complained that the two Red Bull drivers were taking too long with their interview, so he decided to smell the flowers while he was waiting in the drivers' lounge. And then, Max Verstappen offered a new job to Nando–as a gardener.
Related: "Very rude to look up people's skirts," Christian Horner responds to Red Bull's race winning secret being revealed
Fernando Alonso gives Max Verstappen a condition based on which he would consider his job offer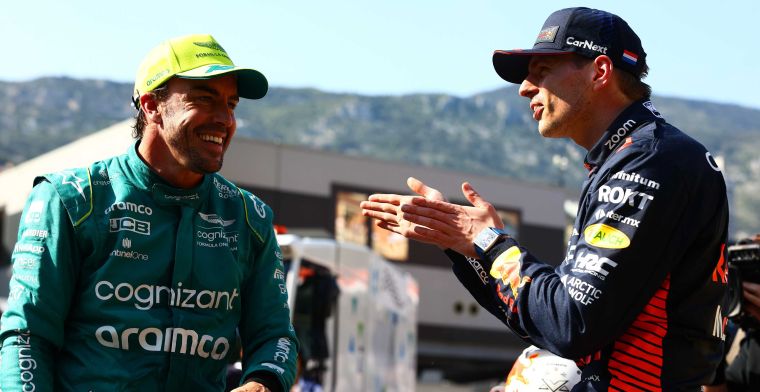 Max Verstappen, amused by Fernando Alonso's love for flowers, said to him during their press interview, "I have some flowers at home as well…" To this, the Spaniard said he would like to take up the job of tending to the flowers at Verstappen's home but only if the Red Bull racer was "less aggressive" at the Monaco GP. Unfortunately for Nando, Max did become quite aggressive as he delivered a historic lap at the Qualis and snatched away the Aston Martin driver's potential pole position. In the end, Fernando finished the race behind Max, gaining his first P2 finish in 10 years.
In other news, Fernando Alonso's performance in Monaco is testament to the fact that a race win is not far from his reach, according to several F1 pundits. But fans have not been happy with how his teammate Lance Stroll has performed since he crashed out early on in the race. This has led to the general consensus that Lance is hurting Aston Martin's chances of competing with Red Bull since Fernando seems to be carrying the team ahead unilaterally.
In case you missed it: