Barcelona midfielder Pedri was found exchanging numbers with a fan in a nightclub earlier this week. The video went viral when a fan posted it on Twitter. 
The 20-year-old midfielder has been a hot property in world football since his introduction in 2020. Since then, he has gone on to start for Spain in the world cup and his partnership with La Masia prodigy Gavi has reminded the Spanish national team and Barcelona faithful of the legendary Xavi-Iniesta partnership.
In the video, a young man was seen using "sleight of hand" while pocketing a piece of paper from a female fan. While the face of the person could not be seen, the fast and clean exchange left nothing under the hat for the football fans.
The move is also very identical to that of Gavi's last year when the teen sensation was spotted pocketing a young female's number while signing a shirt she had brought. It didn't take long for the fans to conclude the telepathic connection between the two is surreal, even off the pitch. 
On another note, Gavi is heavily rumored to be the crush of Spanish princess Leonor. Apart from her posing with the no. 10 shirt, as Gavi wears no. 9, it is also being reported that the princess has a folder where she keeps pictures of the 18-year-old teen sensation. 
Pedri to Miss Barcelona vs Manchester United 2nd leg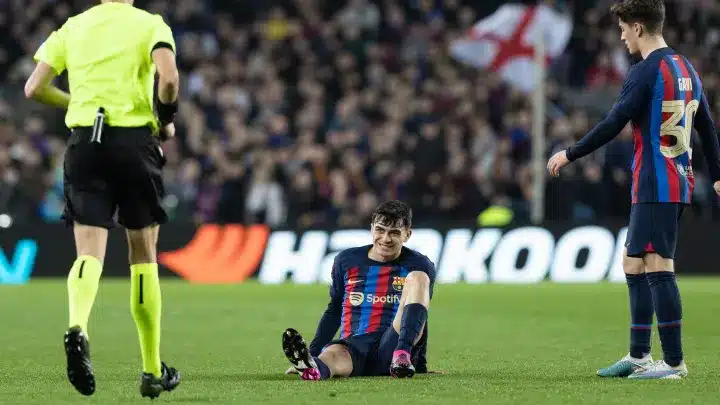 Pedri is currently sidelined after he suffered a nasty blow during the first leg of the UEFA Europa League against Manchester United last week. He was taken off the pitch by Xavi inside the first half of the electrifying tie. 
According to reports, the youngster has injured his rectus femoris muscle. It is a hamstring muscle injury, something he can not recover quickly from. People in the know have reported that the player will be out of action for a minimum of four weeks. This, compounded with Gavi's suspension and Busquets' injury, has landed the Catalans in a rather nasty predicament.
The absence of all his first-choice midfielders means that Xavi will have to field Sergi Roberto alongside Frenkie De Jong at Old Trafford. Manchester United's strength has been building from the back lately so it will be a mercurial ask for the duo. 
Roberto has found minutes hard to come by this season playing only 32% of the available minutes in La Liga. Essentially a right-back by trade, Roberto can deputise as a central midfielder however he lacks the quality of Pedri. 
Pedri ranks in the top 95th percentile of central midfielders in the top five leagues for progressive passes with 8.05 per 90. He also creates more than 4 shot-creating actions in the final third, better than 93 per cent of players. It will certainly be a monumental task for Xavi to select the starting lineup against the red-hot Red Devils.