Bukayo Saka was ridiculed by some England players and staff as he joined the Three Lions camp for their upcoming UEFA Euro qualifiers. Midfielder Declan Rice pulled Saka's leg after the youngster's video call with Kim Kardashian. The American socialite was in attendance at the Emirates during the Gunners' UEFA Europa League clash against Sporting CP where they eventually lost on penalties.
"He's been on FaceTime with Kim Kardashian, bruv. He doesn't want us anymore," remarked Declan Rice to which Saka responded: "Do you want me to say hello to you or not, bro?", after which they eventually greeted each other along with Shaw and the two members of staff.
Bukayo Saka has been in scintillating form for Arsenal this season, helping them in what could be their first Premier League trophy after a decade of waiting, contributing 12 goals and ten assists in 28 games. The Gunners have been in top form this season 9 points off Manchester City at the top with the Blues having a game in hand. They have managed to do so with one of the youngest squads in the competition.
The young Englishman participated in the 2022 FIFA World Cup where he had 3 goals to his name and reached the quarterfinals before being knocked out by eventual runners-up France. He will look to continue his exploits for England when they take on Italy and Ukraine in the UEFA Euro 2024 qualifiers later this week.
Related: WATCH: Arsenal's Bukayo Saka facetimes Kim Kardashian's son after Europa League exit
After Bukayo Saka, Kim Kardashian's son face-times Neymar to wish him a speedy recovery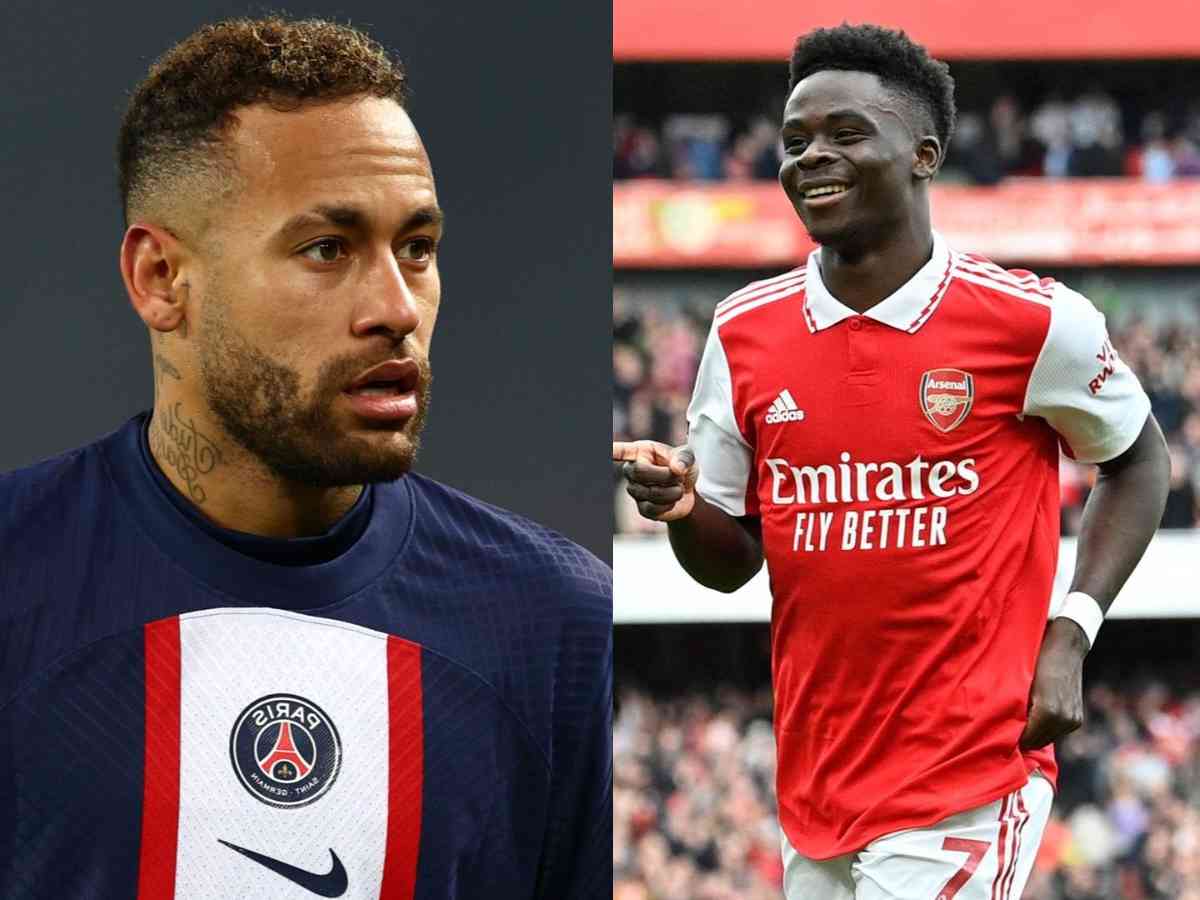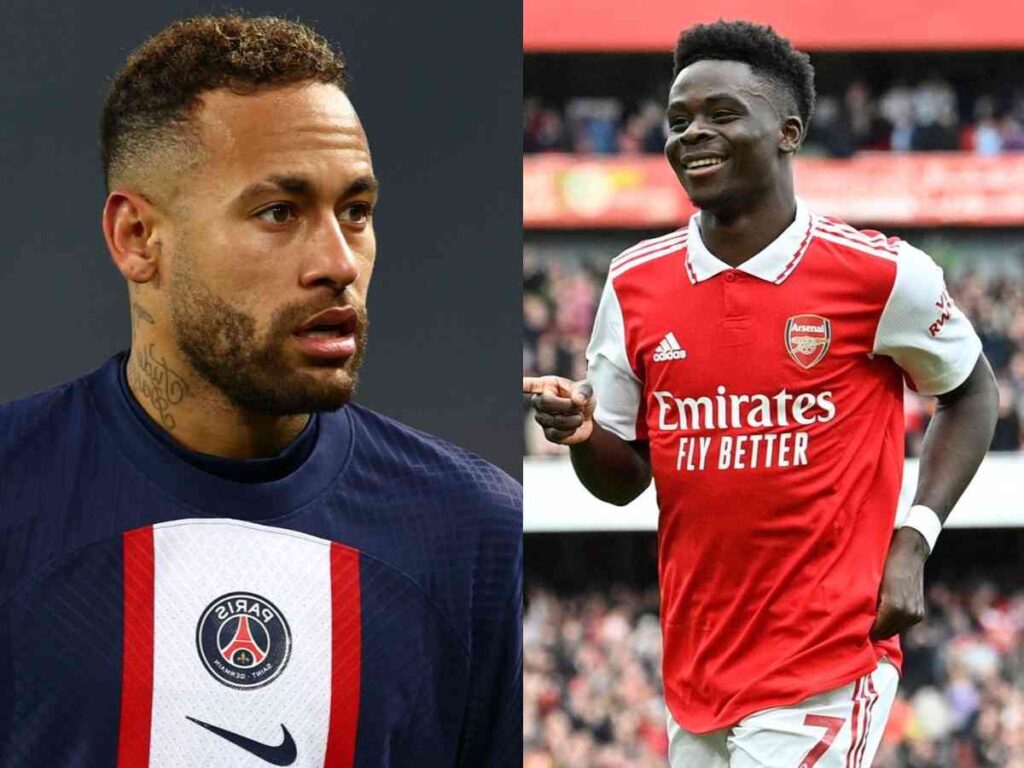 Kim Kardashian's tour of European football has taken her from Arsenal to PSG, with her sons FaceTiming Neymar to wish him a "speedy recovery". The American socialite took in the second leg of the Gunners' Europa League last-16 encounter with Sporting at Emirates Stadium last week, before then heading to Parc des Princes for Paris Saint-Germain's Ligue 1 encounter with Rennes on Sunday. Her kids got the chance to speak with Arsenal star Saka after watching him in action, and have now passed their best wishes on to injured Brazilian forward Neymar while also posing for photos with France international Kylian Mbappe.
Kardashian wrote on Instagram about getting in touch with more superstar performers in France: "The two luckiest boys in the world face-timing Neymar to wish him a speedy recovery." While Kardashian and her sons enjoyed experiencing a PSG game, they did witness a 2-0 defeat for the reigning Ligue 1 champions that saw them jeered by large sections of the home support before Argentine icon Lionel Messi headed straight down the tunnel at the final whistle.
It is ironic that the two games she watched in the stands ended in successive defeats for both clubs and fans have made their feelings clear on social media trolling the American and calling out the "Kardashian Curse." The fans will be curious to see where she goes next and the outcome of that particular game.
In case you missed it:
"Kardashian Curse; The new Drake"- Fans slam Kim Kardashian for PSG's loss against Rennes in Ligue 1
Gerard Pique's ex-partner Shakira is pregnant again, claims renowned seer