According to Alan Shearer, if Harry Kane had joined Manchester City instead of Tottenham, he would have been scoring just as many goals as Erling Haaland. Since moving from Borussia Dortmund to the Etihad Stadium in the summer, the Norwegian international has been a revelation.
The 22-year-old has scored 20 goals in only 13 games across all competitions this season, 15 of which have come in the Premier League. But if Pep Guardiola had gotten his way and acquired Kane from Spurs last year, he might not have even had the opportunity to wear the City shirt.
The Tottenham chairman Daniel Levy refused to consider any offers made by the Spanish manager to sign the England captain as a substitute for Sergio Aguero. Only Haaland has scored more goals in the top flight than the 29-year-old so far this season after he scored 27 goals last year.
Shearer, who has predicted that Haaland will score 40 goals this season, said: "It could all have been very different if Pep Guardiola got his way last season and they'd signed Harry Kane.
Also Read: Barcelona to lose £18 million if they are knocked out of the Champions League: Reports
Alan Shearer explains about the debate between Harry Kane and Erling Haaland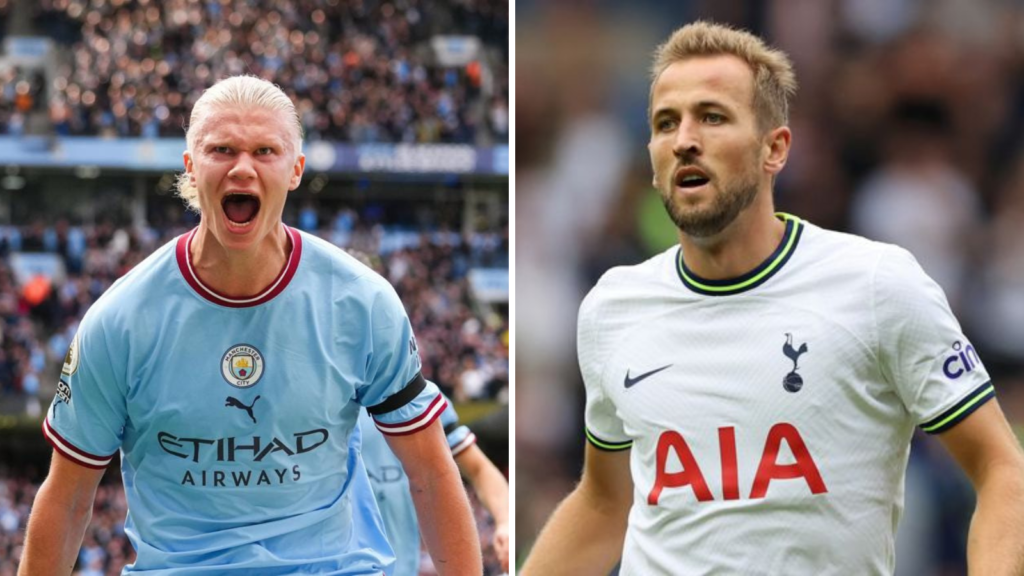 "There might not have been room for Haaland and he may have been carrying out these incredible goalscoring feats somewhere else. But if Harry was in this City team, he would be scoring as many goals as Erling has.
"This is dreamland for any top forward. I've said it all along — a top goalscorer in this City team should score 40 goals. If Erling stays fit then he'll get that and maybe even some more.
"Harry's record tells you that he would do that, too. There's no doubt what Pep thinks about Harry and what the vast majority of other people think about him as well. He is a top goalscorer: he's got eight in nine league games so far, which we'd be talking about a lot more if it wasn't for Erling."
Also Read: Real Madrid's Vinicius Jr. stars on the front cover of GQ Magazine
Shearer added: "The frightening bit for everyone is that Erling will only get better.
"Harry is 30 next year and is probably playing at the peak of his powers now, whereas Erling is only 22. I would be confident of scoring quite a few goals myself in this City team. A good forward should get 30 goals.
"A top-class one — which they've got now — would get 40 plus. I would be confident of getting that. And I'm confident that Harry would get that, too."
Also Read: Hugo Lloris' Net Worth: His salary, investments, endorsements, and more Hugo Lloris
Do follow us onGoogle News |Facebook |Instagram |Twitter