Lionel Messi is on the way to sealing his name as the greatest footballer ever in football history. After his incredible individual display at the 2022 FIFA World Cup, Messi might have just settled the GOAT debate. He won his first-ever FIFA World Cup in Qatar after a splendid run with Argentina.
What's more exciting is Lionel Messi is statistically leading the race for the Ballon d'Or award yet again. According to oddschecker, Messi has a 78% chance of winning his eighth golden ball award. He will extend his record as the player with the most Ballon d'Or award if he wins it in 2023.
Lionel Messi had a monstrous performance for Argentina as he scored 7 goals and assisted 3 in the tournament. La Pulga was also given the golden ball award. He lost the Golden boot award by just one goal as Kylian Mbappe's hat trick in the final of the World Cup made him the top-scorer with 8 goals.
Argentina won its third World Cup title, the first of this century. He is often discarded as a weak leader; their captain took his country to glory. It is because of Lionel Messi that the streets of Argentina are filled with joy. It will not be surprising if Messi bags his 8th Ballon d'Or award after yet another inspiring year. The 35-year-old forward is aging like fine wine.
Learn more-In Pictures: When Kylian Mbappe disguised as Santa Claus to surprise kids from local refugee camps in Paris
Lionel Messi's astonishing FIFA World Cup story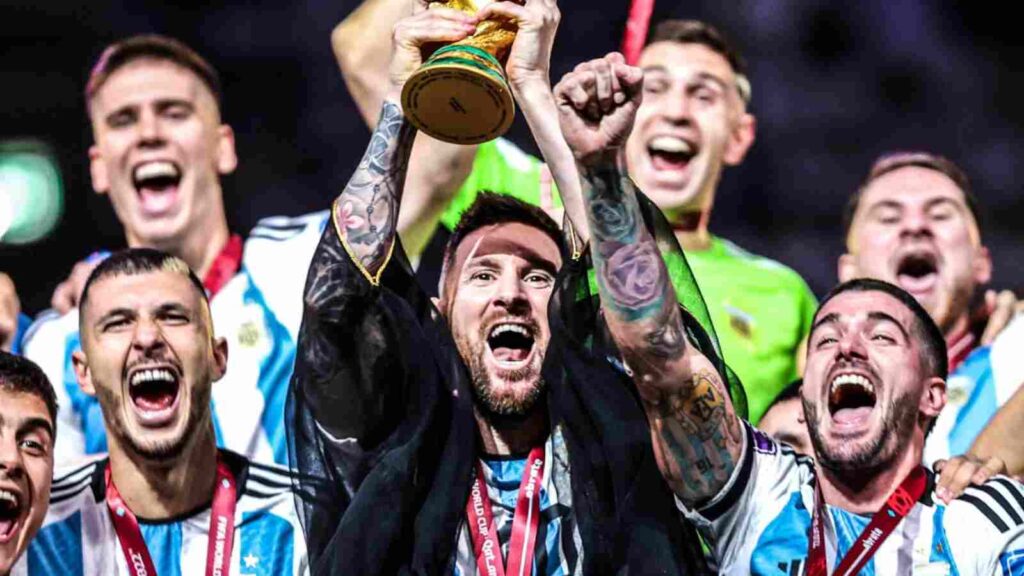 It was like the Gods of Football were waiting for Lionel Messi to reach the final of this tournament and eventually win it. Messi has been very unlucky with his national team. After multiple heartbreaks, Leo finally achieved his dream of becoming the World Champion with Argentina.
He carried Argentina to the 2014 FIFA World Cup finals as well. Although they could not score past a highly defensive German team, Lionel Messi's dreams were shattered after Mario Gotze scored the tournament's winner. Ironically, Mario Gotze celebrated with the rest of the world after Messi won the World Cup in Qatar.
Lionel Messi was in tears after finally touching the golden trophy. The Argentine finally conquered the World Cup trophy, which seemed too far from his reach. He had to fight tough battles against teams like the Netherlands, Croatia, and France on their way to winning the World Cup.
Also Read –Revealed: The cost of 'Bisht' Lionel Messi wore while lifting the 2022 FIFA World Cup trophy
Also Read- "He had a big mouth but," Zlatan Ibrahimovic revealed the reason behind looking up to Muhammad Ali as a role model