On Tuesday, massive numbers of people rallied to the roads of Buenos Aires in an epic show of public backing as Lionel Messi and the World Cup-winning national football team. Messi and the rest of the Argentine squad arrived in Buenos Aires, from their training center in the suburbs, in an open-top bus while waving to delighted spectators on the edges of the road.
Argentina defeated France to win its 3rd World Cup crown and the first in 36 years on Sunday. Since then, the football-obsessed nation has been circumvented with rapturous festivities. After masses flooded the team bus upon landing at the airport at 3 a.m., vast numbers marched on the roads of Buenos Aires. The scheduled journey across the town at noon was halted by over 4 million people in the streets.
Fans are ecstatic as Argentina's FIFA World Cup 2022 festivities reach their apex. This can be seen in the latest viral clip showing large numbers of Argentinians clustered in Buenos Aires to enjoy the World Cup champions, which also forced Lionel Messi and his peers to be airlifted by helicopter due to the sheer volume of supporters applauding on the roads.
The 2022 FIFA World Cup winners' open-top bus rally pathway was hindered as a consequence of this. In one of the videos shared on social media, fans were seen dropping from a bridge onto the team bus, which was carrying Messi. One of them ended up missing the vehicle completely and falling into the crowd. Other people were in filling highway bridges, climbing light posts and vehicles while singing and waving shirts and flags.
Also Read: WATCH: Lionel Messi bursts into laughter after fans in Argentina throw a 'ninja turtle' toy at him to mock Kylian Mbappe
Lionel Messi at the 2022 FIFA World Cup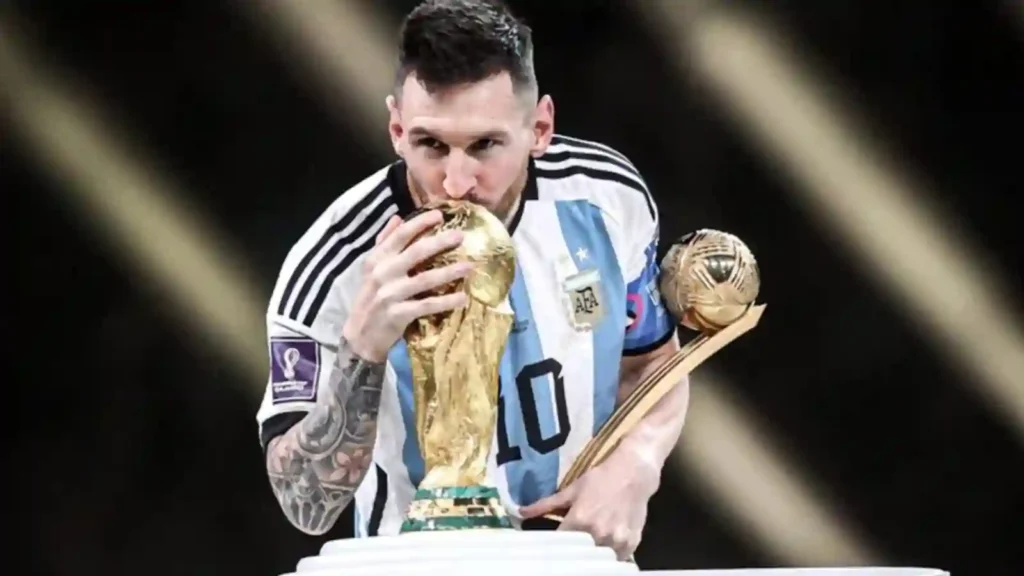 Argentina won on penalties 4-2 in a 3-3 tie, with Messi notching twice and France's Kylian Mbappe scoring three times. Argentina won the World Cup for the first time since Diego Maradona lifted the crown 36 years earlier.
The World Cup 2022 might not have come at a nicer time for Messi and Argentina fans. It was Messi's record-breaking 26th World Cup appearance, and the phase was placed for a final episode, a final goodbye. There was a sense from the start, or perhaps even well before World Cup began, that this was the teensy wizard's final shot at the trophy.
Lionel Messi won the Golden Ball, the best player of the FIFA World Cup in the 2014 World Cup in Brazil. But, 2014 did not end well for the Argentine player after losing to Germany in the final. However, the 2022 FIFA World Cup Golden Ball awarded to Lionel Messi, followed by the 2022 FIFA World Cup crown, was the fairytale ending the Argentine captain deserved.
Learn More: Rodrigo De Paul predicted Argentina's 2022 FIFA World Cup victory way back in September
Learn More: Kylian Mbappe makes unique record at FIFA World Cup final after scoring a hat-trick against Argentina