Neymar Jr. has expressed his discontent by the start of his adventure at Al Hilal. The Brazillian has reportedly had an altercation with the head coach, Jorge Jesus during the AFC Asian Champions League match against Navbahor Namangan.
Since his move from PSG to Al Hilal, Neymar has been the talk of the town. First, it was the perks along with the wild salary he was receiving, now it is the whole drama surrounding him and his new coach. The Portuguese manager has directed criticism toward Neymar for his behavior and bad attitude on the pitch. However, Neymar didn't react to the pointed criticism well at all.
The Brazilian, after the game demanded the club's management for Jorge Jesus to be sacked as soon as possible. Al-Hilal despite withholding the first position in the Saudi Pro League, there is a sheer possibility of terminating his contract if his strategies and performances aren't up to the mark.
Neymar's dissatisfaction also extends beyond the controversial altercation to the club's poor gameplay and his contributions to the team. As of now, Neymar Jr. demands immediate sacking of the head coach of the Saudi pro side.
However, Al Hilal has yet to finalize an official decision on the player-manager situation. Football fans and enthusiasts will be eyeing the developments of the story.
Also read: Aaron Ramsdale's father labels Jamie Carragher a 'DISGRACE' for mocking the Arsenal star
Neymar Jr. dons Traditional Saudi attire to celebrate International Saudi Day
In a heartwarming display of respect for Saudi Arabian culture and tradition, Neymar Jr. joined the group of newly signed football stars to celebrate the 93rd International Saudi Day. The International Saudi Day is also called Al-Yaom-ul-Watany.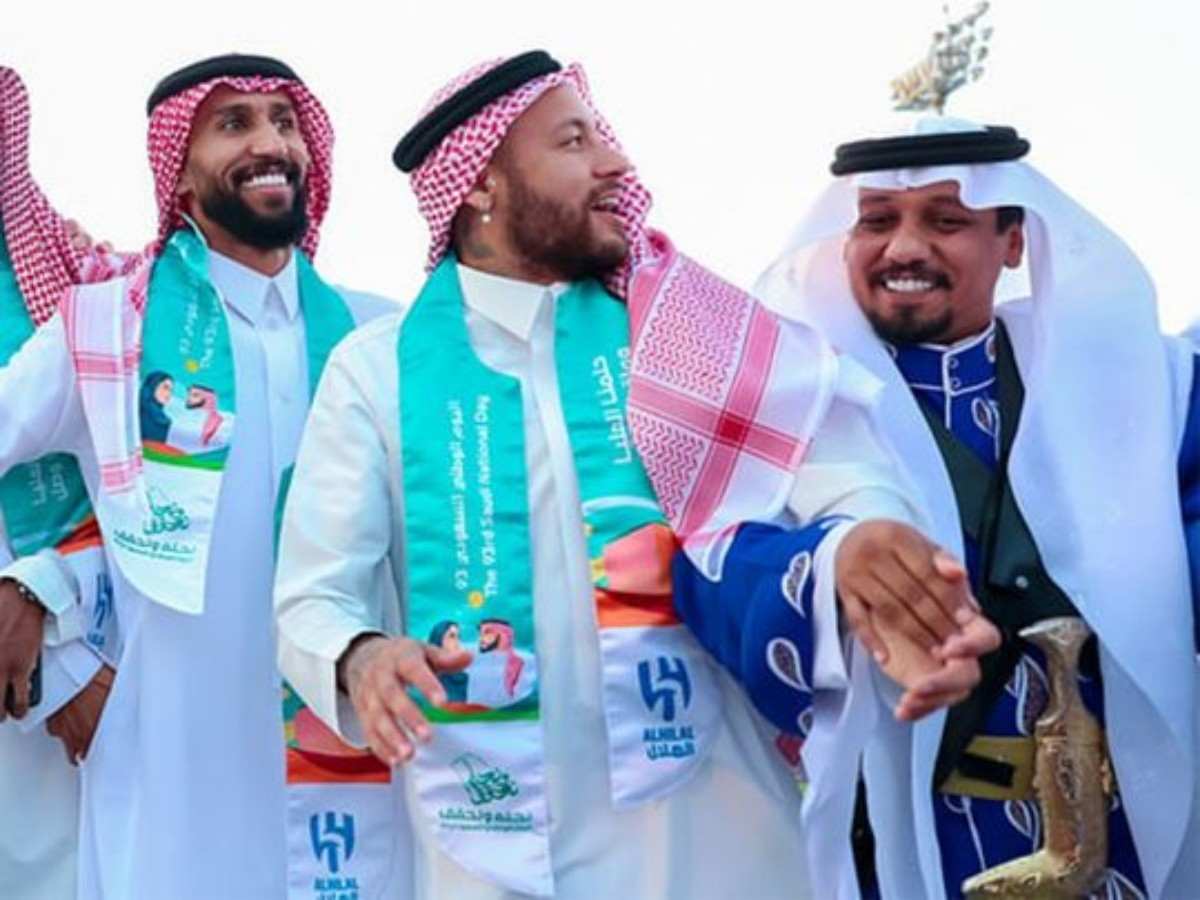 Neymar Jr. with the Al Hilal teammates embraced the rich cultural heritage of the Saudi Arabia country by wearing their traditional attire. The attire consists of a long long-sleeved robe. The dress code signifies the gesture of respect widely among prominent figures from various authorities
This year's celebration also included football icons like Cristiano Ronaldo, and Karim Benzema participating in the cultural exchange. As Saudi Arabia continues to make an impact all over the footballing world, this heartwarming display of unity and respect towards the culture serves as a testament to the significance of culture in sports.
In case you missed it: