Bahrain GP is right now one of the most anticipated events right now across the globe as fans gear up for yet another enthralling season of F1 after enormous success it enjoyed last year. The last season had a bit of everything and the ending was like the cherry on the top. It wasn't ideal but it was definitely an edge of the seat affair as Max Verstappen and Lewis Hamilton went wheel to wheel in the last lap of the title deciding race.
There has been a massive overhaul in regulations which could infuse more title contenders in the mix which in turn will make it more exciting for the fans. Not only the regulation, but there have been significant changes in the cars as well as tracks to create more overtaking maneuvers for the drivers. The heavy hitters must be licking their lips and just wanting to go out there and rev up the engines.
Now, let's see how Bahrain GP has panned out in the last 10 years. It's been dominated by the two veterans Sebastian Vettel and seven time world champion Lewis Hamilton with the duo winning 9 out of the last 10 Bahrain Grand Prix. The duo has continued to trade blows as both have been title contenders in the last decade and that reflects in the results of the last 10 Bahrain Grand Prix.
| | |
| --- | --- |
| Years | Driver |
| | |
|  2012 |  Sebastian Vettel |
|  2013 |  Sebastian Vettel |
|  2014 |  Lewis Hamilton |
|  2015 |   Lewis Hamilton |
|  2016 |  Nico Rosberg |
|  2017 |  Sebastian Vettel |
|  2018 |  Sebastian Vettel |
|  2019 |   Lewis Hamilton |
|  2020 |   Lewis Hamilton |
|  2021 |   Lewis Hamilton |
Sebastian Vettel and Lewis Hamilton have made Bahrain circuit their own in the last ten years by winning 9 out of 10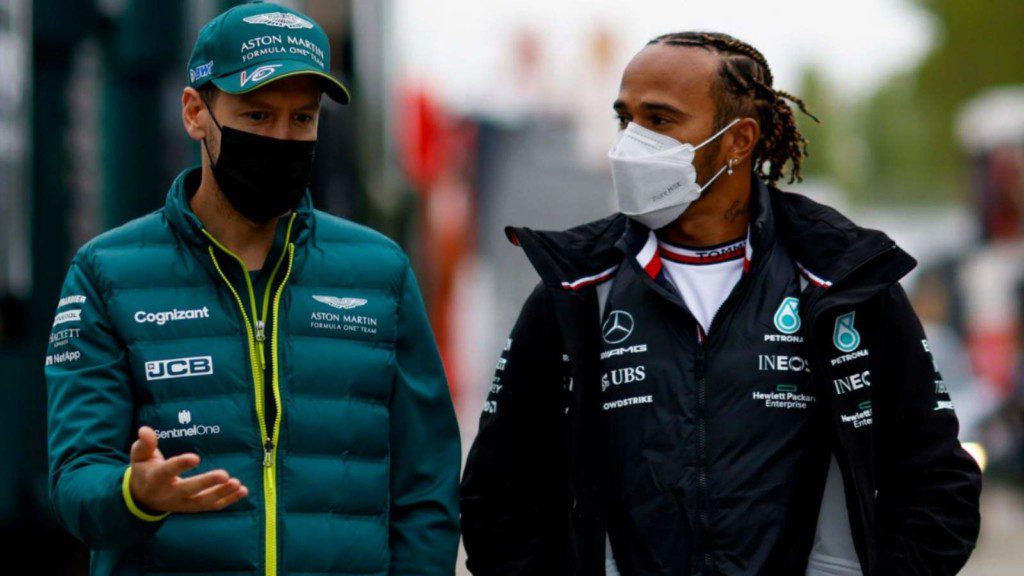 Sebastian Vettel has won it in 2012, 2013, 2017 and 2018. Now the Aston Martin driver is not one of the title contenders because of many reasons but mainly because of the firepower in his car as he continues to struggle for that cutting edge. But the former world champion knows how to spring up with a surprise and get it done.
Now coming to the seven time world champion, Lewis Hamilton, who just pipped Sebastian Vettel to become the most successful driver of the Bahrain grand prix winning in 5 times. He won it in 2014, 2015, 2019, 2020 and 2021. Mercedes might be struggling this is Lewis Hamilton's home away from home. So, Max Verstappen and Red Bull, watch out.
Nico Rosberg is the only exception in the list winning it in 2016. That has been the dominance of Sebastian Vettel and Lewis Hamilton. But Max Verstappen might be about to break this streak and make this circuit his own after his splendid run in Bahrain testing.
Also Read: Bahrain GP 2022: Who will take the first pole of the new season?