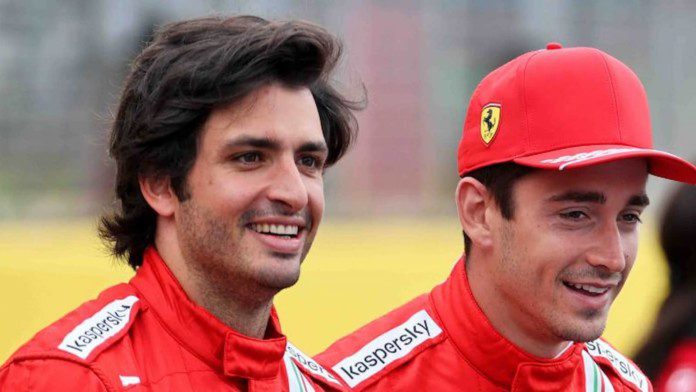 Carlos Sainz had a successful first year with Ferrari in 2021, as the Spaniard missed fifth in the drivers championship, ahead of his teammate, Charles Leclerc who came in seventh. Sainz had a terrific end to the campaign, ending with a P3 in Abu Dhabi, taking his total tally to four podiums in 2021.
Carlos Sainz revealed that he was shocked to see as to how fast Charles Leclerc was in winter testing before the season began. The Spaniard had to adapt very slowly and learn from his teammate, Leclerc. Both drivers built a good rapport with one another, as they helped Ferrari have a good comeback season, finishing P3 in the constructors championship.
"Since the moment I arrived to winter testing in Bahrain, I had a lot of things to learn from Charles. The way that he was driving the Ferrari in a particular way to be as quick and as fast as he's being all year long, I've had to adapt myself [to it], I had to copy a lot of the stuff that I was seeing on the data," Sainz said.
Carlos Sainz added that with the help of his teammate and his engineers, he was able to find his groove in the second half of the season.
"Sometimes it was difficult to believe that it was possible to do that, and it was so crazy quick that it was actually a bit shocking. But little by little, adapting and trying to learn from him, I managed to get to a good level," he added.
Also Read: Why does Carlos Sainz's applaud worthy 2021 season with Ferrari worry Charles Leclerc
We will try to become better drivers learning from each other: Carlos Sainz
Carlos Sainz said that going into the winter break, both Charles Leclerc and himself will have plenty to learn from one another. The Spaniard added that there are several areas where he believes that his teammate is better than him, and he would like to take his input on the same.
"There's still things that when we will go into the winter break, he's much stronger than me in certain areas. We will exchange some information and we will try and both become better drivers learning from each other," said Sainz.
Charles Leclerc also echoed Sainz's opinion, and believed that the Spaniard has pushed him to perform better during the season. He added that the duo have learnt a lot together in their first season as teammates, and lavished praise on Carlos Sainz for his incredible debut season at Ferrari.
"We learned a lot. As always, when you have a new teammate, you always learn, [such as] the new ways Carlos is approaching race weekends, the way he works, his talent, his raw speed also, the way he takes the corners," said Leclerc.
"He's had an amazing year, so he has obviously pushed me very, very much to try and perform better at every race and it's just been extremely interesting," he added.
Also Read: Mattia Binotto confident of winning races in 2022, but accepts Ferrari still not ready to compete with Mercedes and Red Bull