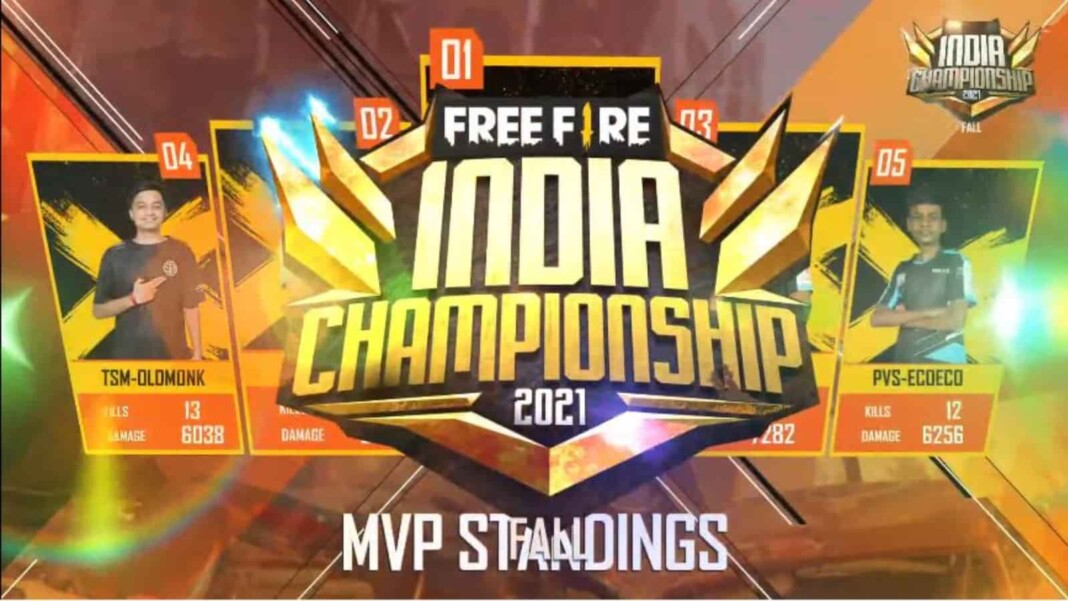 Today marks the end of the Free Fire India Championship 2021 Fall Play-Ins stage and now all eyes are on Grand Finals which are set to take place on October 17, 2021. The Play-Ins have sent the top 6 six teams from the Leaderboard to the Finals in which 6 teams have already qualified from the League Stage.
The Play-Ins have conducted six matches for 12 teams where the bottom six teams have been sent home. PVS Gaming has paved their way to the top spot with 56 kills and 99 points, with two dominating booyahs'. Team Elite has sat on the second spot on the list with 65 points and 30 kills. The third spot was clinched by Team TSM with 62 points and 27 frags.
Here is the Map Recap of FFIC 2021 Fall Play-Ins: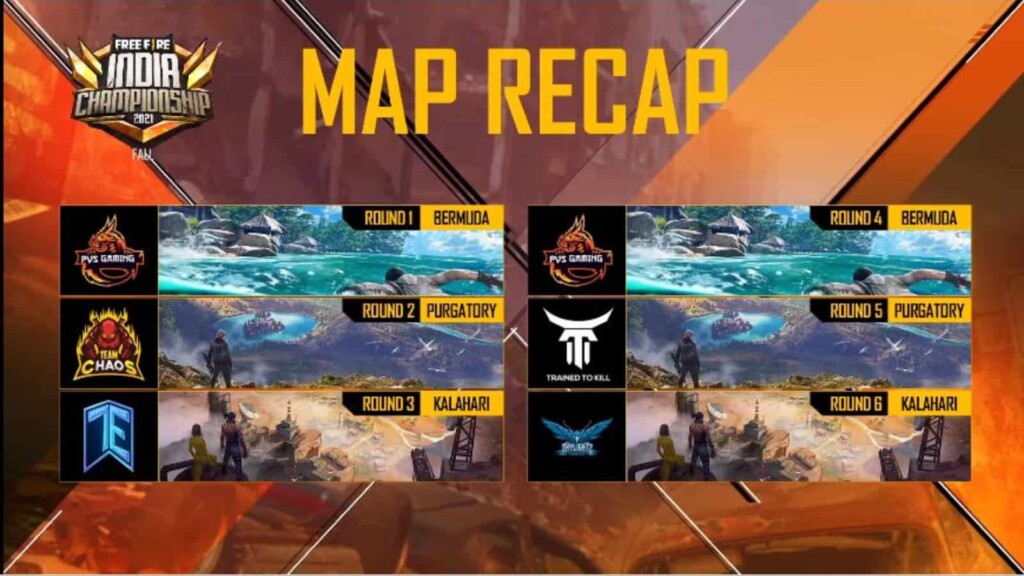 Read More: Top 5 Best Characters In Free Fire After The Addition Of Otho And Leon
Free Fire India Championship 2021 Fall Play-Ins Results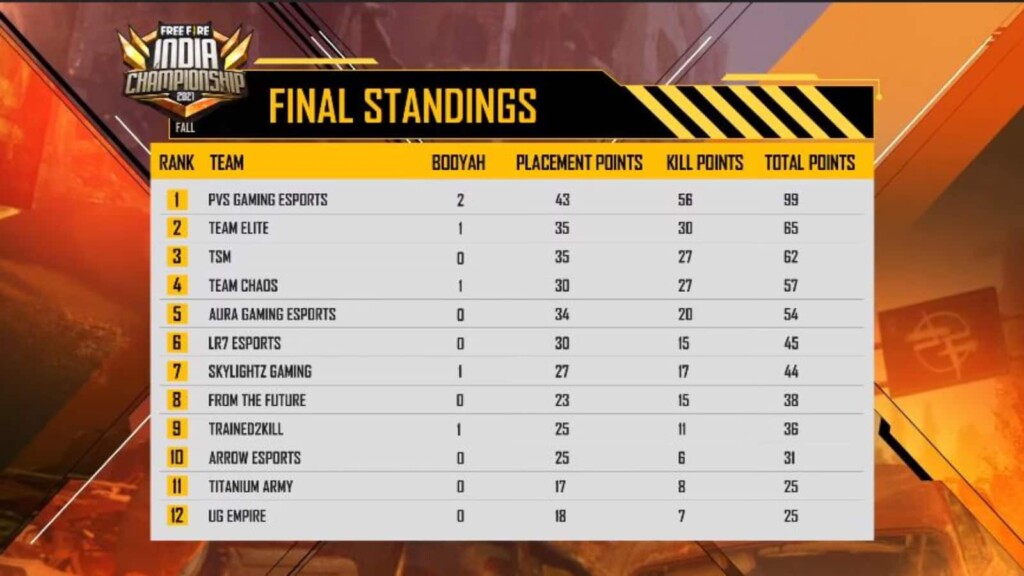 The first match was won by Team PVS Gaming with 14 kills, which was played on the Bermuda map. It was Arrow Esports who lost the match and took second place instead.
The next match was played on the Purgatory map and this match was claimed by Team Chaos with nine elimination points. It was the first match winners, PVS Gaming had taken the second place with 6 frags.
It was Team Elite that had taken the top spot with 11 frags where the match was played on the Kalahari map. Pahadi has played very well in taking the team up to the winning side.
PVS Gamin again emerged victorious in this fourth match with 15 frags, where Team Elite has taken the #2 spot in this match where Pahadi again become the star player.
The fifth match has seen Team Trained to Kill winning while the last match has been sent to the Skylights Gaming Account.
Skylightz Gaming has lost their qualification for the finals just by a single point.
---
MVP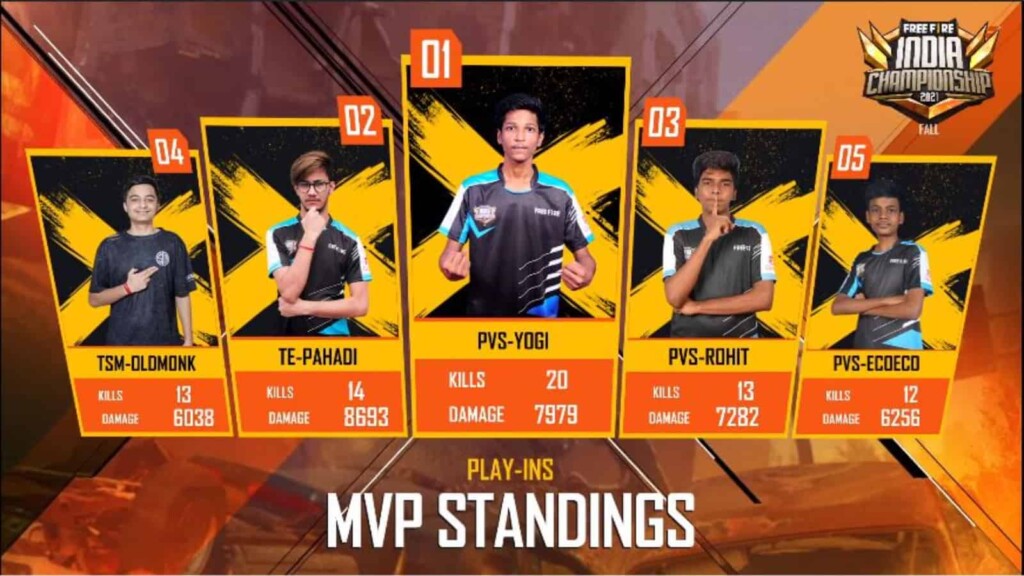 PVS Yogi was awarded the MVP title for the FFIC 2021 Fall Play-Ins for taking 20 kills and securing 7979 damage. The next players on the list are:
TE Pahadi – 14 kills
PVS Rohit – 13 kills
TSM Old Monk – 13 kills
PVS ECDECO – 12 kills
---
FFIC 2021 Fall Grand Finals
The Grand Finals are set to take place on October 17 2021. Here are the teams that will be competing on the Finals. The top 4 teams will qualify for Free Fire Asia Championship 2021.
Desi Gamers Esports
Total Gaming Esports
Blind Esports
Head Hunters
Galaxy Racer
4 Unknown
PVS Gaming Esports
Team Elite
TSM
Team Choas
Aura Gaming Esports
LR7 Esports
Teams that were ranked from 6th to 12th in the above list are qualified from the Play-Ins while the rest had qualified from the League stage.
Also Read: Leon vs DJ Alok: Who Has Better Ability In Free Fire For October 2021?