Paige Spiranac hasn't failed to stun the internet and golf community even once. But, with a new avatar, more like a classic style Cammy, she has stormed the internet once again with her rather sultry outfit being the talk of the town this time around. The Maxim star certainly has a knack for making it to the headlines in a rather unconventional way.
The classic Halloween look was posted by Spiranac on her own Twitter handle. She explained the look by quoting her inspiration Cammy from Street Fighter and also expressed her affection for the Street Fighter series. Also, she mentioned SwagGolf Halloween Costume Contest as her reason for the femme fatale appearance.
It's much known, that she has a massive fanbase and most of them went gaga over her hot and sultry look. They showered her with all kinds of praises and compliments, some being, "Literally perfect; goated; best cosplay ever."
Also read:- "It's DISGUSTING!" Paige Spiranac moans about people calling her "SL*T" while supporting infamous male golfers such as Tiger Woods, Bryson DeChambeau
Decoding Paige Spiranac's outfit from Harley Quinn to Cammy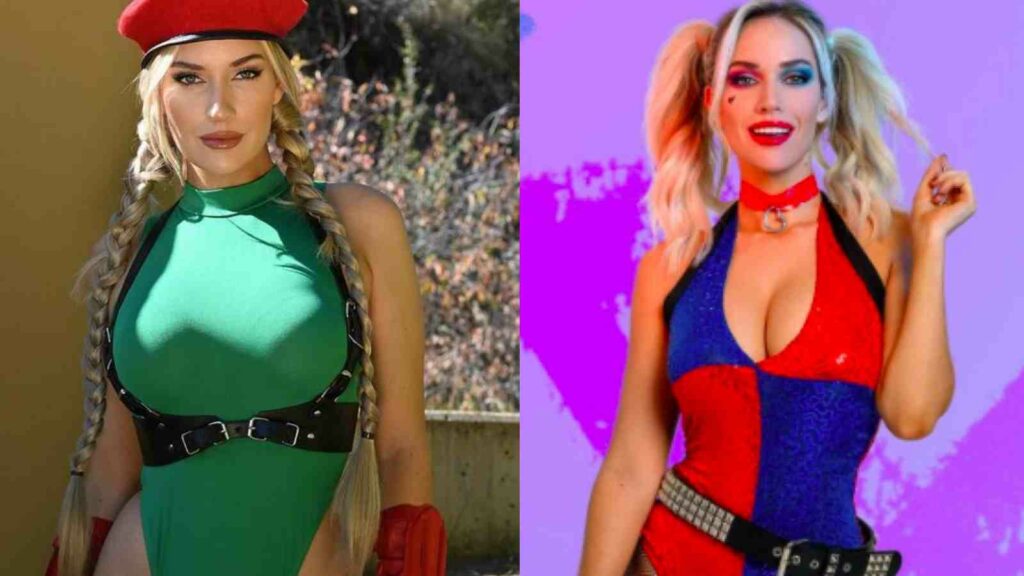 Paige Spiranac flaunted gear from one of her affiliate brands Swag Golf Co that is specially designed to promote the street style, modifying it to suit her favorite character Cammy. She also wrote, " I love their Street Fighter series so this was a no-brainer, Head over to @swaggolfco to see how to enter their Halloween Costume Contest! Lots of prizes on the line" – wrote Spiranac in her caption as her post involved a Halloween costume contest.
The Maxim HOT 100 leader did not advance in competitive golf as she transitioned into a full-time golf influencer on social media. With a soaring 3.6 million followers, Spiranac has more followers than the top golfers such as Tiger Woods and Rory Mcllroy. Paige explained the reason for her popularity in a straightforward manner – "This just in. Men like golf and boobs".
Raising the temperature by dressing up as Harley Quinn in last year's Halloween, Paige Spiranac claimed earlier – "Last year's Halloween costume was good but this year is even better. Who do you think I'm dressing up as?" Looks like she wasn't lying about this as her street fighter look has stormed the streets resulting in loads of praise for the Maxim model.
Also read:- "I have two burdens as blessings"- Paige Spiranac, World's sexiest woman body-shamed AGAIN!
Also read:- 'New Paige in town'- Rachel Stuhlmann CRAVING to follow Paige Spiranac's footprints