In the world of professional golf, rivalries are not limited to the fairways and greens. The latest feud to captivate the golfing community involves legendary golfer Phil Mickelson and renowned golf analyst Brandel Chamblee.
Their war of words on Twitter has taken the golfing world by storm, revealing a deep-seated animosity between the two personalities. As the verbal jabs continue to fly, fans eagerly await the potential showdown between these fierce competitors.
The Twitter feud between Phil Mickelson and Brandel Chamblee reached a boiling point on Thursday night, with neither holding back in their criticism. While they didn't directly address each other, it was clear that the exchange was fueled by a long-standing disdain.
Just a day after Chamblee penned a lengthy defense of LIV Golf critics, including himself, Mickelson stepped into the ring. In a biting tweet, the six-time major champion called out Chamblee's inability to handle criticism, stating he's "sick of his endless attacks".
"He can rip apart me and countless others but as soon as someone shows his ignorance he can't handle it. He's softer now than he was as a player." The tweet not only questioned Chamblee's thick skin but also took a subtle dig at his professional prowess.
Not one to shy away from a challenge, Chamblee fired back at Mickelson hours later, inviting him to a live debate on Golf Channel's "Live From" set during the upcoming U.S. Open. The prospect of witnessing these two golfing titans engage in a verbal showdown has left fans buzzing with anticipation. However, even as Chamblee extended the invitation, he couldn't resist launching a few more verbal blows.
Related: "We're competing at the highest level," Bryson DeChambeau applauds LIV golfers' triumph at PGA championship 2023
Phil Mickelson and Brandel Chamblee's Twitter showdown reveals deep rift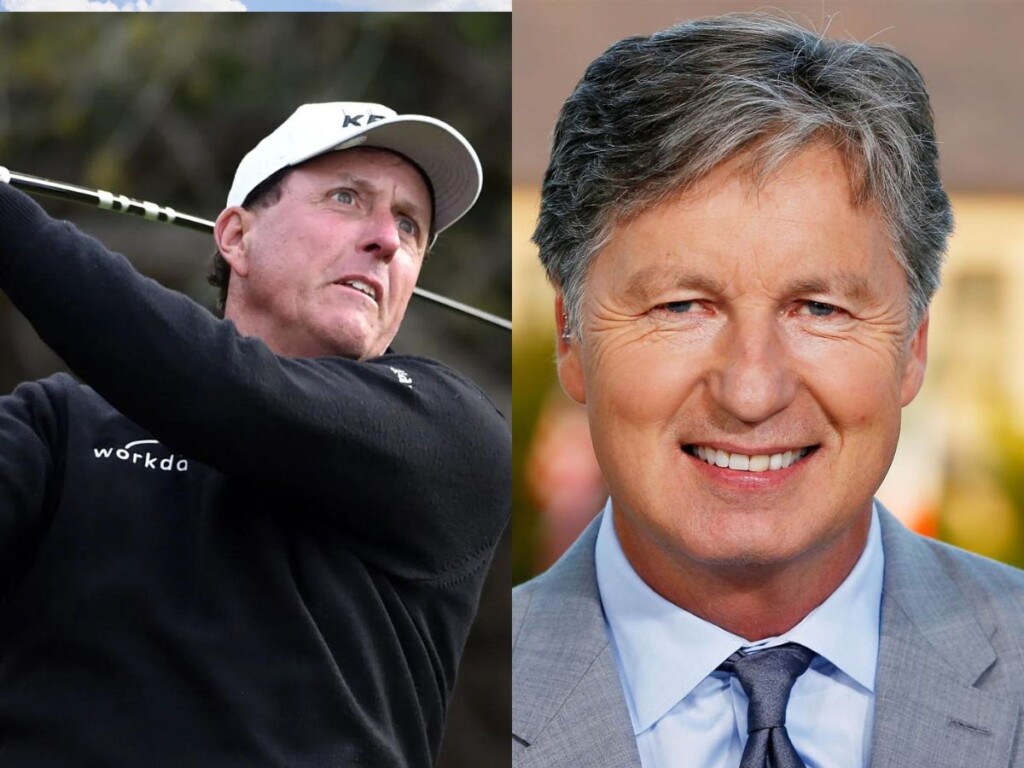 Referring to Phil Mickelson as "soft" once again, Brandel Chamblee added another layer of tension to an already fiery exchange. Given Chamblee's penchant for carefully chosen words, it's evident that his use of the same adjective was far from coincidental. The golfing world now eagerly awaits Mickelson's response to this challenge and the potential fireworks that may ensue.
In an unexpected turn of events, Phil Mickelson dropped a bombshell shortly after his Twitter exchange with Brandel Chamblee. The golfing legend revealed that he has been blocked by Chamblee on the social media platform.
According to msn, This revelation only further solidified the depths of their animosity. With the bridges burned and communication lines severed, it appears highly unlikely that the proposed in-person debate at LACC, scheduled to coincide with the U.S. Open, will materialize. The once-anticipated clash now seems destined to remain confined to the digital realm, disappointing fans who were hoping for a face-to-face confrontation.
In case you missed it:
Sergio Garcia in SHOCK as captain Luke Donald excludes LIV golfers from European Ryder Cup team
Former US President Donald Trump TAUNTS Gov. Ron DeSantis amidst flaring tension at LIV Golf Pro-Am in Virgina