The first two rounds of the 105th PGA Championship have come to an end, leaving golf enthusiasts captivated by both the intense competition and the intriguing incidents that unfolded on the course. Among the players who found themselves in the spotlight is none other than the legendary Phil Mickelson.
Despite his initial promising start on Thursday, where he found himself in the top 30, Mickelson's form took an unexpected turn in the second round, resulting in a significant drop in his overall performance.
However, even in the face of disappointment, Mickelson achieved a remarkable milestone that cannot be overlooked. Furthermore, a fellow golfer, Michael Kim, shared his unique perspective on playing alongside the six-time major winner, labeling Mickelson as a "golf sicko."
Related: Peter Uihlein withdraws from LIV Golf lawsuit against PGA tour
The ups and downs of Phil Mickelson's performance and insights from Michael Kim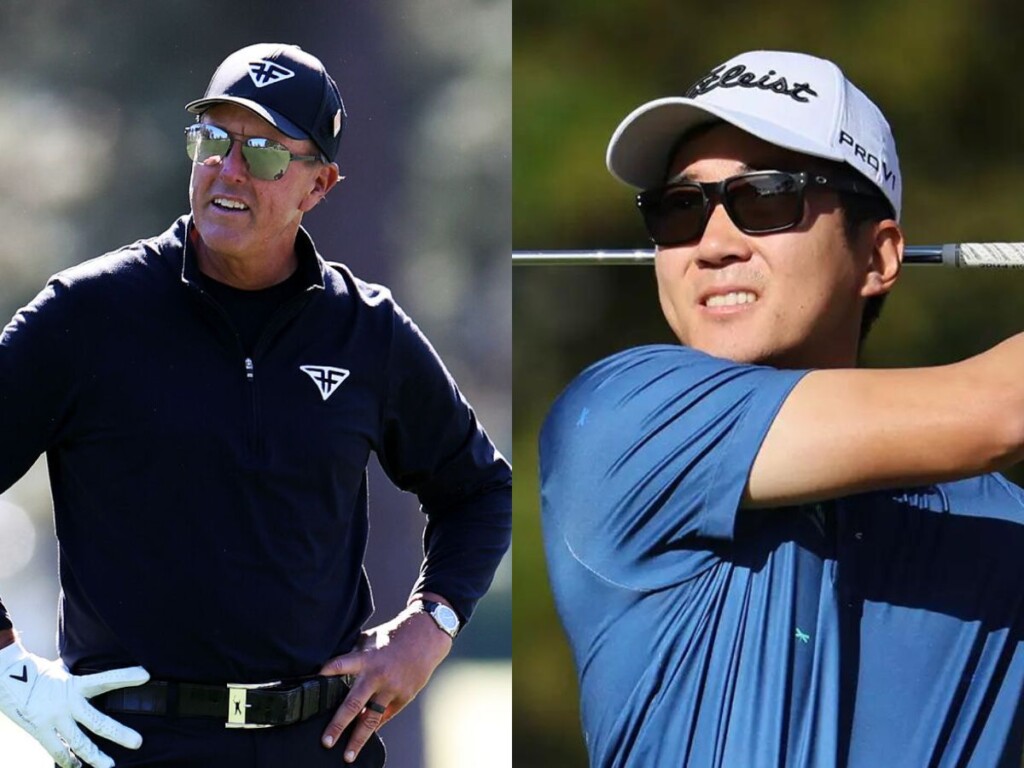 As Friday's play concluded, Phil Mickelson found himself in a tie for 59th place, a far cry from his position earlier in the tournament. Nevertheless, amidst the disappointment, Mickelson accomplished an astonishing feat. It marked his 100th cut at a major championship in 119 starts—an achievement deserving of celebration within the golfing community. Despite the setback, Mickelson took to social media, expressing his genuine sentiments about his recent performance while maintaining his optimism for the upcoming third round.
In a tweet, he acknowledged his subpar play and expressed enthusiasm for a fresh opportunity. He further reflected on the challenge of distinguishing between identifying the best courses and making them look subpar, appreciating the difficulty and beauty of the game. Additionally, the two-time PGA Championship winner took a moment to commend the PGA and Oak Hill for their efforts.
One intriguing perspective on Phil Mickelson's game came from his playing partner at the PGA Championship, Michael Kim. Kim didn't shy away from expressing his opinion about the legendary golfer. In an interview, he referred to Mickelson as a "golf sicko."
This unique label sheds light on Mickelson's relentless dedication and passion for the sport. It highlights his unconventional approach to the game, which often involves taking calculated risks and attempting remarkable shots. While Mickelson's performance at the tournament may not have met expectations, the title bestowed upon him by Kim emphasizes the awe-inspiring nature of Mickelson's play and his willingness to push boundaries in pursuit of excellence.
His genuine sentiments on social media reflected his acknowledgment of the ups and downs in his game while also praising the challenging nature of the Oak Hill course.
Additionally, fellow golfer Michael Kim provided an intriguing perspective by labeling Mickelson as a "golf sicko," highlighting his unparalleled dedication and unique playing style. Despite the hurdles, Mickelson's journey in the tournament continues, and fans eagerly await his next moves on the course.
In case you missed it: