When one talks of Indian gymnastics, the first name that comes to mind is that of Dipa Karakar. The diva of Indian gymnastics had finished fourth in the Rio Olympics in 2016, an effort which made Indians fall in love with her.
Recently, the dope ban ended and Dipa was eligible to compete in the trials before the Hangzhou Asian Games. However, despite Dipa doing well in the trials, she did not have scores from previous competitions to make the final selection, as per the policy laid down.
Never mind, today Indian gymnastics looks up to Pranati Nayak, a seasoned performer who will be competing in her third Asian Games in Hangzhou. There has been no doubting Pranati's will to continue to slog in a sport that is technical and sometimes lonely. Yet, she won a bronze medal recently in the FIG World Challenge.
Also Read: 4x gold Olympian Simone Biles CLINCHES spot on World Gymnastics team, set for 6th championship game
Cup in Szombathely, Hungary has come as a shot in the arm

Speaking to FIRST SPORTZ on Saturday, Pranati sounded upbeat and confident of doing well in the Asian Games. "I did have my first feel of the conditions inside the hall in Hangzhou. We call it the podium training and I can say there was no nervousness inside me. This time, I feel I am better prepared and in the right frame of mind," said Pranati.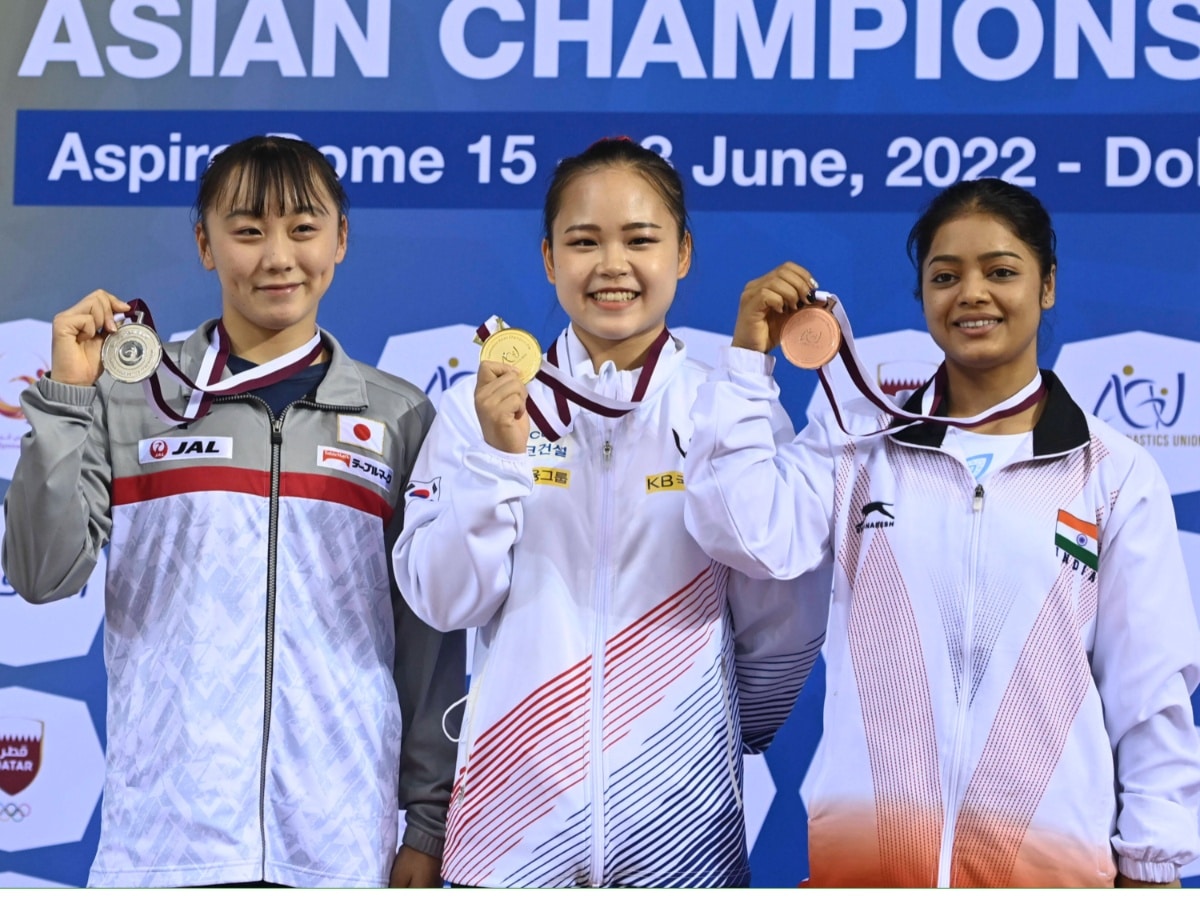 Twenty-eight-year-old Pranati hails from Bengal but has made Odisha her home base. The high-performance center in Bhubaneswar is the best according to her. "I have the best facilities to train in with coach Ashok Mishra Sir. On Friday as well, Sir watched me train in the hall to get a feel of the conditions. I can promise my best effort in Hangzhou, my third Asian Games. Coming in with a medal from the World Cup, I am high on confidence and feel good physically," said Pranati.
She has no fitness issues or a niggle to deal with, which is a big plus. Being in gymnastics is not easy for an Indian.
However, Pranati draws inspiration from the efforts of Simone Biles and a few more gymnasts who scorch the field even today. "When I look at what Simona has achieved, it's like wow. I mean, she is an inspiration to all of us and gives me hope I can strive and make the cut as well for the Paris Olympics," said Pranati.
Another gymnast who motivates Pranati is Oksana Chusovitina, who is now in her 40s. "I mean, Oksana is in her forties and that's what makes me say I can also push harder and do well for India. There is nothing like an age barrier here for me, it's all about the passion," says Pranati.
The Indians know there is pressure of expectation since the field in the Asian Games will not be easy at all. "I am thankful to the Sports Authority of India and all the other stakeholders who are providing me the best facilities in Bhubaneswar to train. Minus this, it would have been impossible to come this far," says Pranati.
There have been stories of how Pranati has struggled in life as she comes from a humble background. Her father was a bus driver. But then, for the diminutive girl who stands at four feet and nine inches, it is not about all this, really. Chasing her passion and wanting to make a mark for India is the real wish.
"I definitely need the blessings and love from Indian sports fans. All I can promise is my best effort. If I am lucky, I may get another podium training session in Hangzhou. Indeed, China has put in the best possible efforts to host the Asian Games. The food and overall conditions are awesome," said Pranati.
Indeed, the big show begins tonight with a high-voltage opening ceremony most likely.
Do follow FirstSportz WhatsApp Channel
In case you missed it!