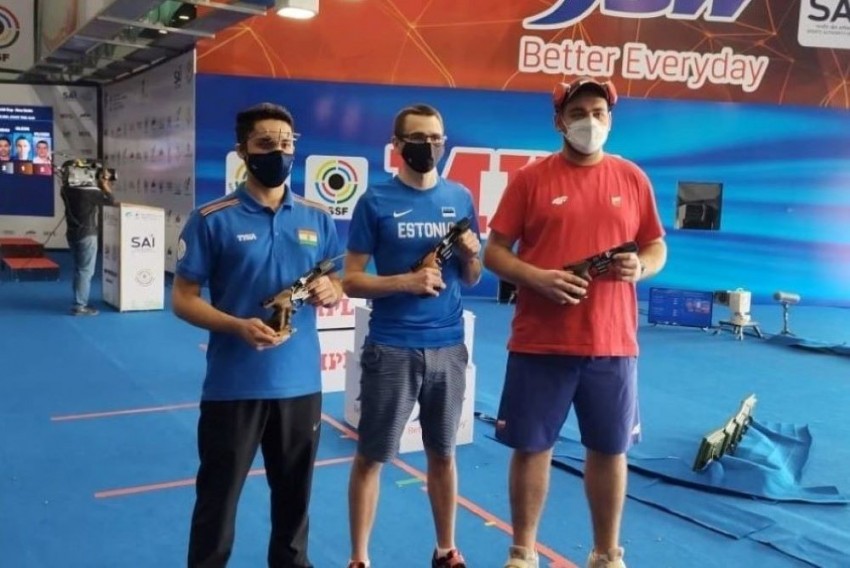 Shooting can be a cruel sport. Ask Abhinav Bindra and Joydeep Karmakar. Vijayveer Sidhu is fortunate that he has learnt the lesson early in his career.
Vijayveer, a late entrant into India's 25m Rapid Fire Pistol squad, had a chance to get a gold and an Olympic quota in his very first senior international competition. As it happened, he lost 1-4 in a tie-breaking shoot-off for the gold medal to Estonia's Peeter Olesk and had to be content with a silver. A fantastic result for a debutant no doubt but it could have been so much better.
A gold at Delhi would ensure the winning shooter an Olympic quota through the World Ranking route. Olesk gets the quota as things stand now. The only way Vijayveer can get to the Olympics is if Olesk participates and wins in the European Qualifiers scheduled for May. This will require a wait of months and some degree of luck.
Anish Bhanwala, on whom a lot has been invested over the past 3 years, was eliminated 5th. Rio 2016 Olympian Gurpreet Singh fared no better and finished 6th. Poland's Oskar Miliwek won bronze.
Peru's Marko Carrillo (582) topped qualifications but finished 4th in the finals. Gurpreet (581), Anish (579-20x) and Vijayveer (579-18x) qualified 3rd, 5th and 6th respectively.
India's issues in the 25m RFP event had been discussed last year as well.
Men's Trap
Kynan Chenai also needed a gold medal to get a quota in Men's Trap. He however was eliminated 4th amidst a high quality field. 2017 World Championship winner Daniele Resca of Italy won the competition with a score of 46, just one point ahead of Spaniard Alberto Fernandez, himself a 2-time World Champion. Another Italian Valerio Grazini was 3rd.
Chenai had qualified 6th with 121+0. Prithviraj Tondaiman (119) finished an unlucky 7th. Spain's Antonio Bailon who was eliminated 5th in the finals was 1st in qualifications with 122+3.
Women's Trap
Slovakia's Zuzana Stefecekova added another gold to her impressive collection but not before being pushed to the brink by Polish youngster Sandra Bernal. Stefecekova, the winner of numerous World and Olympic medals over the years, won 5-4 in a shoot-off after being tied at 42 points with Bernal. Fiammetta Rossi of Italy clinched bronze.
Stefecekova (117) topped qualifications. The cut-off was 110.
None of the Indians Shreyasi Singh, Manisha Keer or Rajeshwari Kumari could qualify. Shreyasi (107) placed highest at 10th. India's Neeru in MQS scored 112.
50m Rifle 3 Positions Results
India won golds in both the non-Olympic 50m Rifle 3P Mixed Team and Men's Team Competitions.
In Mixed Team, the experienced Sanjeev Rajput and Tejaswini Sawant paired up to beat Ukraine's Serhiy Kulish and Anna Ilina by a scoreline of 31-29 in the finals.
The younger duo of Aishwary Pratap Singh Tomar and Sunidhi Chauhan won bronze in the same event after comfortably defeating the USA team of Timothy Sherry and reigning 10m AR Olympic champion Virginia Thrasher by 31-15.
The Men's Team event which had to be held today after the Hungarian team pulled-out yesterday saw the Indian trio of Swapnil Kusale, Chain Singh and Niraj Kumar easily beating the USA team of Sherry, Nickolaus Mowrer and Patrick Sunderman 47-25.