Curtis Granderson spent 16 seasons in the MLB playing for various giants such as New York Yankees, Los Angeles Dodgers, Detroit Tigers, New York Mets, Toronto Blue Jays, Milwaukee Brewers, and Miami Marlins but a scenario involving scoring a bucket over NBA legend Shaquille O'Neal would never have crossed his mind.
Granderson joined TBS as a studio analyst for Major League Baseball after retiring from the league on September 29, 2019, last playing for the Miami Marlins. Earlier this year, the TBS Major League Baseball team was invited to the show 'Inside The NBA' where Kenny Smith was trying to breakdown the Golden State Warriors vs Memphis Grizzlies game.
Little that Shaq knew, Major League Baseball's analyst Pedro Martinez, Jimmy Rollins and Curtis Granderson were introduced as Jordan Poole, Klay Thompson and Stephen Curry to explain the play. Granderson set a pick on Shaquille O'Neal before cutting to the rim.
Martinez as Poole made the perfect pass, given that he's a Hall of Fame pitcher, to the 6'1″ Granderson. The former baseball star went up and made a layup. Shaq tried blocking the shot but hilariously whiffed at his attempt.
Also Read: "There it GOOOOES": Aaron Judge bangs No. 56 and 57, enters Triple Crown debate
Shaquille O'Neal could not defend against 6'1" MLB player Curtis Granderson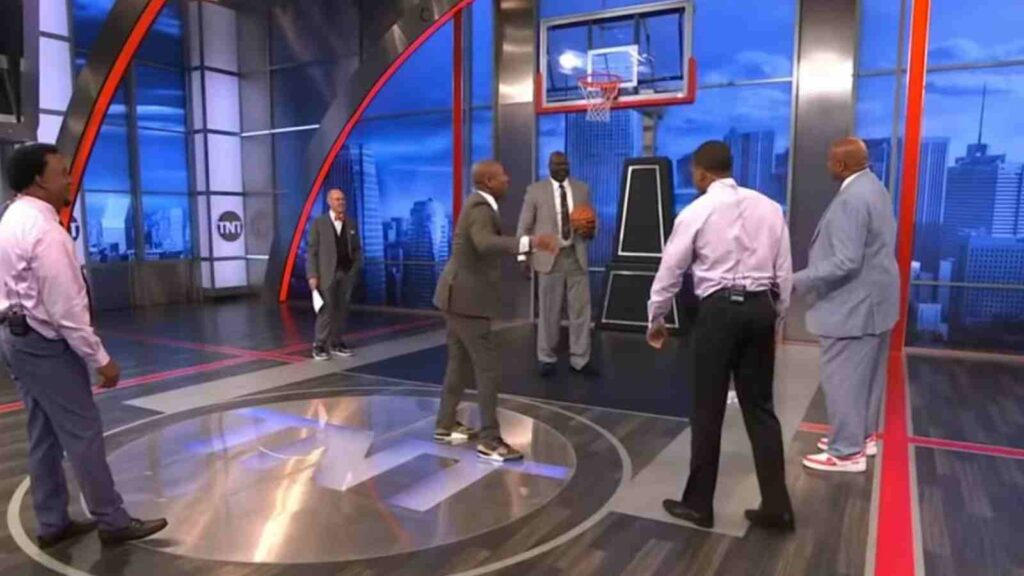 Shaquille O'Neal is considered to be the most physically dominating player in NBA history, meanwhile, Curtis Granderson showcased why he was considered Major League's beast in his days. Also known as the 'Grandyman', Curtis was a three-time All-Star, and won a Silver Slugger Award in 2011.
An American sports fan and afternoon host on 670 The Score named Danny Parkins tweeted, "Curtis Granderson just made a layup under Shaq on a pass from Pedro Martinez with Jimmy Rollins as a decoy. Barkley is furious. And Kenny Smith is very proud of himself for orchestrating it. Just give 'em the Emmy now."
Also Read: "We do not accept CHEATS": Alex Rodriguez was shown EXIT door for role in Biogenesis SCANDAL
Also Read: "Incredibly meaningful": New York Yankees hark back to mournful 9/11 attacks, Bronx honors the victims, survivors, and first responders