During the NASCAR Cup Series playoffs race at Texas Motor Speedway, the No. 8 driver of Richard Childress Racing, Kyle Busch, encountered a major setback during the first stage of the race. Busch's chances to make it into the R8 have been jeopardized following the spin. The race at Texas marked the commencement of the Round of 12 in the Cup Series Playoffs, where the top contenders were vying for a spot in the Round of 8.
The incident occurred as Busch navigated through Turns 1 and 2 on lap 74 out of 267. Operating the Chevrolet Camaro, Busch spun out, ultimately colliding with the outside retaining wall, which resulted in extensive rear-end damage to his car. This unexpected crash sent shockwaves through the racing community, and Busch's hopes of a strong performance in Texas were suddenly dashed.
Despite the valiant effort of guiding his heavily damaged vehicle back to pit road in reverse, the damage proved insurmountable. Busch was forced to retire from the race, and he was credited with a disappointing 34th-place finish. This marked Busch's poorest finish in the Cup Series Playoffs at that point and added to a string of challenging races where he had finished outside the top 30 on multiple occasions.
Before the unfortunate spin, Busch had shown promise, firmly believing that his car had the potential to secure a top-five or top-10 finish. Despite his strong start to the playoffs, this incident dropped Busch to the bottom of the playoff standings, 17 points below the cutoff for advancement, adding an element of uncertainty to his postseason journey. William Byron took the win at Texas and has made his way into the Round of 8. 
Discover: Kyle Bush admits Denny Hamlin is playing the NASCAR heel role perfectly
Fans shower with memes on Kyle Busch's reverse lap
As the video surfaced on NASCAR's official social media platforms, fans leveraged their meme and movie knowledge to react humorously. They drew humorous comparisons between Kyle Busch and the fictional character "Tow Mater" from Disney's Cars movie franchise, as Busch's reverse driving resembled Mater's antics.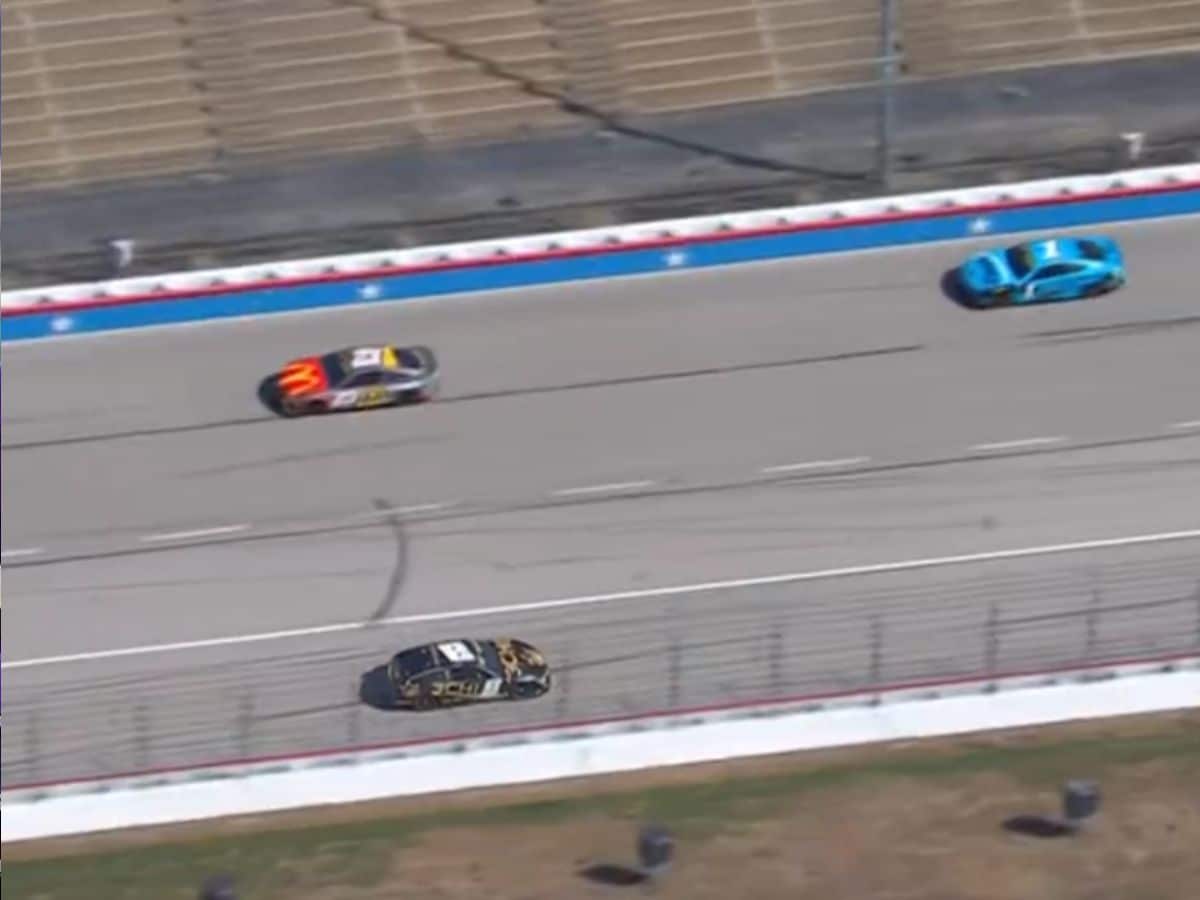 Some fans inundated the comments section with remarks about the crash's "playoff implications." However, the fan consensus was divided. While some playfully poked fun at Busch, suggesting he had "run out of talent," others expressed genuine disappointment at seeing their beloved driver exit the race and witnessing his declining performance in the playoffs.
After a disappointing start to the Round of 12, Kyle Busch urgently needs to bounce back if he hopes to advance to the next round. With Talladega on the horizon next week, where Busch secured victory in April, fans will be hopeful he can replicate that performance. In response to Busch's recent spin, fans took to social media with several humorous replies and memes under the #8's spin.
In case you missed it: