Kurt Busch's stint with 23XI Racing in 2022 became a chapter punctuated with twists and turns. Piloting the No. 45 Toyota Camry, he navigated the highs of early promise and the lows of inconsistent results. Yet, a pivotal moment awaited him at Kansas Speedway that would redefine his season. This win helped him steal his former team owner, Michael Jordan's prized possession. 
Busch outlined his scheme on Corey LaJoie's Stacking Pennies podcast. He was visibly surprised when he stumbled upon Michael Jordan's signature on the owner line of the Daytona 500 entry form. Reflecting on the unexpected find, he shared, "I can get an MJ rookie card and I'll come up with a plan to get them to sign. Because he signed this entry blank." 
Busch, eager for an MJ rookie card, contacted a Vegas collector, sent a confidential deposit, and devised a plan. Despite Hamlin's skepticism, Busch approached Jordan with the card during Daytona 500 qualifying. Upon revealing the pricey MJ rookie card, Jordan exclaimed, "Damn, you paid a pretty penny for this." Busch proposed, "If you sign that, you keep it. But when we win together, I get it back." Jordan, agreeing, assured, "I'm gonna get you a good one," promising a notable autograph in return.
The Kansas Speedway loomed large, a theatre where fortunes would shift. Against the odds, he triumphed over the 2021 Cup Series champion, Kyle Larson, clinching his first win of the season and breaking free from a 27-race winless streak. This was his first win with 23XI Racing, and it helped him in his ploy of stealing Jordan's priced possession. 
Discover: Rick Hendrick has set a new target for HMS after historic 300th Cup race win
Post Kansas victory, Kurt Busch secured an autographed Michael Jordan rookie
Following a victorious race at Kansas, Busch received the coveted MJ rookie card, now adorned with Michael Jordan's autograph. Recognizing its heightened value, he returned it to the original dealer for grading. The autographed card has undoubtedly become a cherished possession for Busch, not only as a memento of their unique exchange but also as a valuable collectible with its enhanced worth in the world of sports memorabilia.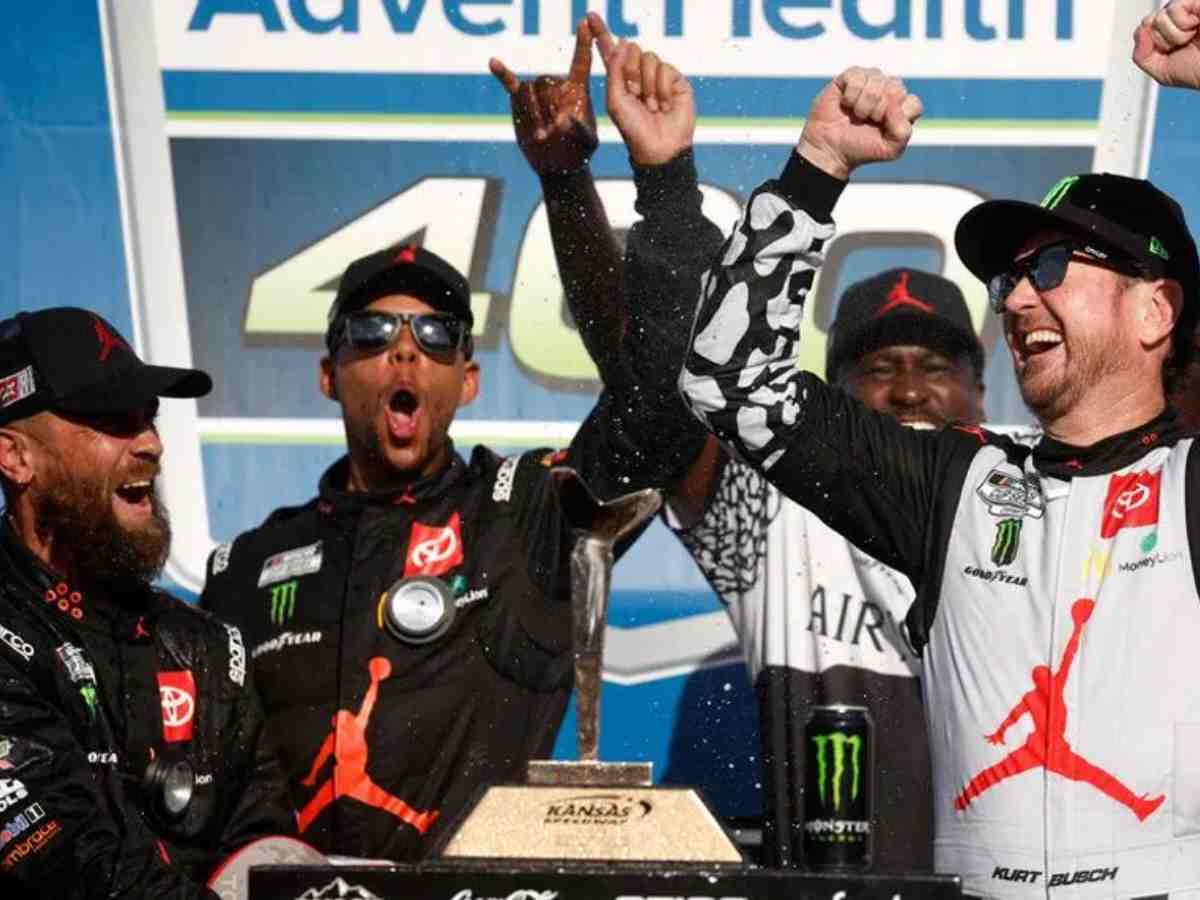 Busch's season was cut short at Pocono due to an accident during qualifying, eventually leading to him missing several races. As a result, Ty Gibbs was called upon to step in as his replacement. In light of this unfortunate event, Busch withdrew his playoff waiver and announced his retirement from full-time racing in 2023. 
On the other hand, Jordan's team is currently pushing both of their drivers to qualify for the R8 in playoffs. In this engaging and humorous saga, Kurt Busch's discovery of Jordan's signature evolves into a well-executed plan, showcasing the camaraderie and unique interactions within the world of racing and sports memorabilia.
In case you missed it: