The Miami Heat have been on a roll in the 2023 NBA Playoffs. Qualifying as the eighth seed, they stunned the Eastern Conference as they won the Conference Championship. The Heat have upset the top two teams in the East, namely the Milwaukee Bucks and the Boston Celtics. The architect of their success so far has clearly been Jimmy Butler.
Butler has been an absolutely phenomenal force for the Miami Heat. Butler joined the Heat in 2019 and since then has led the side to two NBA Finals. Although the Heat missed out on the 2020 NBA Finals, he has a chance to redeem himself this time around. However, Butler wasn't always fond of the side he's currently playing for. The guard was talking to Malika Andrews when he opened up about how he felt about the Heat during the initial days of his NBA career. Moreover, he also spoke about which team he would finish his career in.
Jimmy Butler started talking about his initial feelings for the Heat, saying, "When I'm coming into the league, the Heat used to beat the Bulls all the time. They did when they had the bi g three, the Heatles whatever you wanna call them. So me getting drafted to the Bulls was like, we can't like the Miami Heat. You can't like D (Dwyane) Wade even though y'all went to the same school. Then you fast forward and I'm playing with D Wade for the Bulls and I'm like 'This guy's not a bad guy.'"
Butler concluded his answer by saying, "Full circle, it'll be the last jersey that I wear."
Related: "DESERVED IT" – Draymond Green knows why 'leader' Jimmy Butler would've voted Caleb Martin over himself as ECF MVP
How has Jimmy Butler performed in the 2023 NBA Playoffs?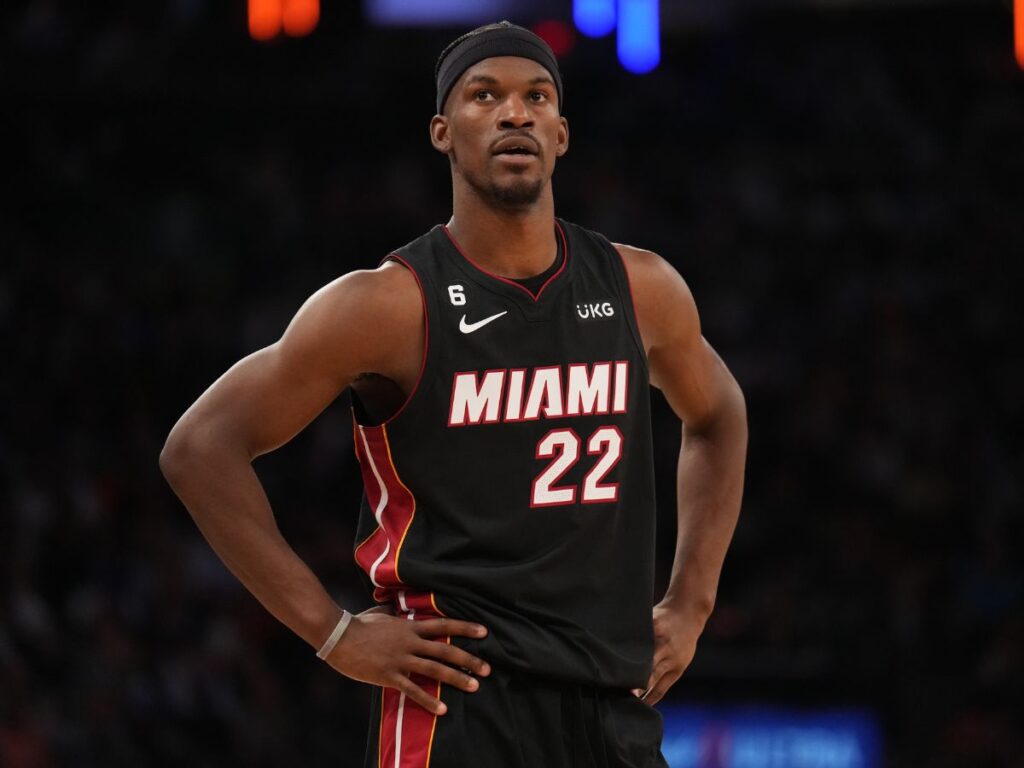 There is no doubt that Jimmy Butler has led the Miami Heat exceptionally well in the playoffs. He has been their top scorer all season and continues to be an offensive force. Butler has averaged 28.5 points per game with 7.0 rebounds and 5.7 assists in the 2023 playoffs. Moreover, he looks in fine touch for the upcoming NBA Finals
The Miami Heat have another mighty task in the NBA Finals. They are up against the Denver Nuggets, who have been a dominant force all season. The Nuggets, led by Nikola Jokic, have trounced every opponent on their path to the Finals. Moreover, the two-time MVP, alongside Jamal Murray, has been putting up record-breaking and historic numbers game after game.
It will be interesting to see how the Heat play in the NBA Finals. They have managed to beat the top teams in the East and now have the champions of the West as their final challenge. As Butler makes his second finals appearance in four years, we would have to wait and watch to see if he finally wins his first ring.
In case you missed: