Lonzo Ball has had an injury-riddled career in the NBA, and Chicago Bulls insiders claim that the organization is done with the injured star. Ball was drafted in 2017 by the Los Angeles Lakers with the 2nd overall pick and came into the league with high expectations as a solid defender and capable scorer. However, Ball was traded to New Orleans in 2019 and eventually to the Bulls in 2021, where he had a promising start, but injuries have stunted his progress completely.
Daniel Greenberg, a co-host of the 'Organizations Win Championships' podcast, said – "The Chicago Bulls privately don't think that it's likely Lonzo Ball will ever play again." Lonzo Ball last played for the Bulls in January 2022 and picked up a meniscus tear, leading to surgery and multiple other complications that have kept him out for over a year.
As an organization, the Chicago Bulls are in a sticky situation as they have seen how good their team is with Lonzo Ball. They made the playoffs as the 6th seed in 2022, with Lonzo playing half the season. Ball was an integral part of the roster and started all their games that season. However, with his serious injury, the front office feels he will never play basketball again, let alone for the Chicago Bulls.
Also Read: "Jimmy fraudler" – NBA Twitter BLASTS Jimmy Butler on Game 6 damage after outrageous promises
Chicago Bulls are reportedly 'done' with Lonzo Ball and the big three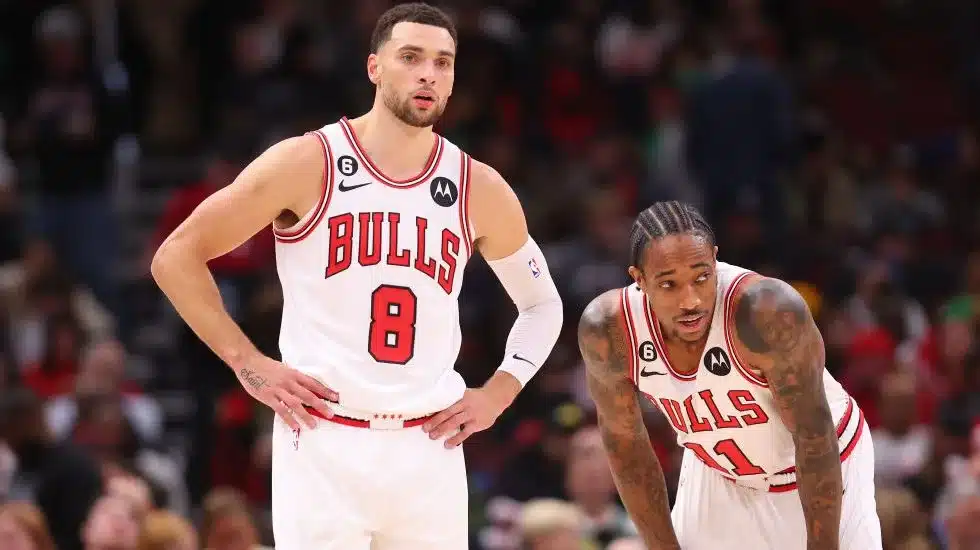 The Chicago Bulls traded for Lonzo Ball and DeMar DeRozan in 2021 to surround their young star Zach Lavine with playoff-worthy talent but two years on; the organization seems to be fed up. The big three of Zach Lavine, Nikola Vucevic, and DeRozan looked like a shadow of their 21/22 selves this season as the Bulls plummeted to the 10th seed in the NBA.
Dan Greenberg quoted Bull's journalist Sam Smith on the Organizations Win Championships podcast, saying, "I believe there will be significant Bulls changes this summer… The Bulls are done with this big three." Vucevic will be a free agent this summer, with DeRozan entering the last year of his contract. Zach Lavine will earn $40 million as a base salary next season which is a substantial financial burden for a team not making the playoffs.
Lonzo Ball is virtually out of the equation for the Chicago Bulls as his injury timeline has kept increasing since 2022, and he is now out indefinitely. The Bulls reportedly could trade one of their pieces of the big three and possibly change or release Lonzo Ball, as his trade value is meager. The Bulls have made the playoffs just twice since 2015, and with an ageing star in 33-year-old DeRozan, the organization is looking to shake things up again.
In case you missed it:
Do follow us on Google News | Facebook | Instagram | Twitter