News just broke that, according to Adrian Wojnarowski, the Phoenix Suns are planning to hire Frank Vogel as the team's new Head Coach.
The new Woj bomb brings a much-needed sigh of relief for Suns' fans as the franchise finds a proper replacement for Monty Williams, Vogel brings a high-level defensive mentality to the offensive-loaded Suns' roster.
The hiring of Vogel comes shortly after the firing of the former Coach of The Year Monty Wiliams, a decision that led many to ponder whether it was a panic move from the Suns' front office to shift the blame away from management.
Vogel is notably known for his history of constructing strong defensive lineups as he took the Los Angeles Lakers to win it all in the 2020 NBA bubble posting historic-level defensive ratings throughout that bubble Playoffs run. The Suns who are currently the bottom 3rd worst defensive team in the league will look to turn things around with Franks' leadership and his 10-year coaching experience.
The 49-year-old coach is reportedly expected to sign a long-term deal with the Suns and will look to capture on Kevin Durant's Prime years to seriously contend for a Championship this coming season.
Related: "Another L, another scapegoat" – Phoenix Suns' breakup with HC Monty Williams SLAMMED by NBA fans after playoff elimination
Fans react to Suns' decision to sign Championship Coach, Frank Vogel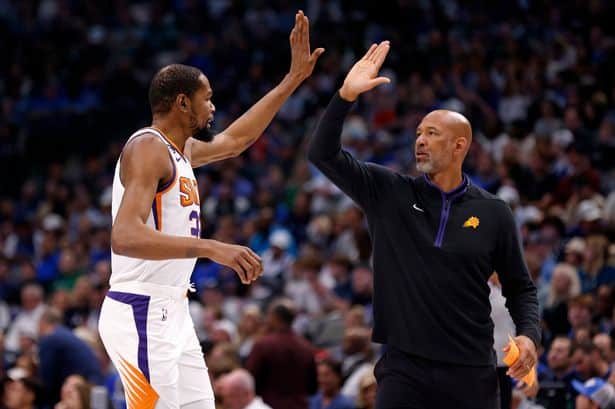 Fans on Twitter weren't necessarily ecstatic about the news as the initial decision to fire Coach Monty Williams left fans confused and underwhelmed.
The fans were though, relieved that the Suns didn't end up with Doc Rivers for the Head Coaching job as he has been linked to them for the past few weeks. Any head coach is still preferably better than Doc as of right now following his atrocious coaching performance in the Game 7 loss to the Boston Celtics.
Fans were not happy but weren't disappointed either as they are caught in a strange limbo, you can check the reactions below:
With the signing of Frank Vogel, the Suns will look to balance out their offensive prowess with an improved defense as the Franchise have high expectations for the upcoming season.
In Case You Missed It: