Damian Lillard has been making headlines in the media due to his protracted trade request to the Miami Heat, which has been in limbo for over two months. Fans and media alike were shocked to see the way Lillard had been treated, considering the loyalty he has shown towards the Portland Trail Blazers franchise over the past decade. As the trade saga continues to drag on, fans are growing increasingly frustrated with Lillard. They often scrutinize his comments, dissecting his previous statements, and noticing the various subtle hints he drops about his feelings and intentions.
Another aspect of this trade that has been discussed is the controversy surrounding the Portland Trail Blazers draft pick. In the 2023 NBA Draft, the Blazers selected extremely hyped prospect Scoot Henderson with the third overall pick. Fans immediately recognized the potential conflict, as both Damian Lillard and Scoot Henderson play the point guard position, a role Lillard has held for the franchise for a considerable period. Henderson recently decided to address this topic and provide insight into his relationship with Lillard.
In a conversation with Orlando Sanchez, Henderson shared his perspective, saying, "I feel like our relationship is really cool… It's all love… Any situation that happens, it's not going to change our relationship. If I do need somebody, big bro, I'll still hit him [up]." He also added, "It's never like any bad vibes between us or the organization."
When discussing the advice he received from the veteran, Henderson shared that he had asked Lillard for guidance on overcoming a slump he was experiencing. Lillard's response was, "Don't worry about the last high, it's the next high. Like, you do this for a reason, you're here for a reason. That stuck with me forever."
Also read: "Worst teammate" – Shaquille O'Neal hated playing alongside one of Michael Jordan's GREATEST teammates
Who is Scoot Henderson?
Scoot Henderson, the third overall pick in the 2023 draft, sometimes finds himself in the shadow of his fellow draft mate and the number one pick, Victor Webanyama. However, Henderson possesses substantial talent and the potential to become a future superstar.
He began his basketball journey at Carlton J. Kell High School in Marietta, Georgia, where he earned a five-star recruit status. Before entering the NBA draft, Henderson spent two seasons in the G League, honing his skills and preparing for the professional level.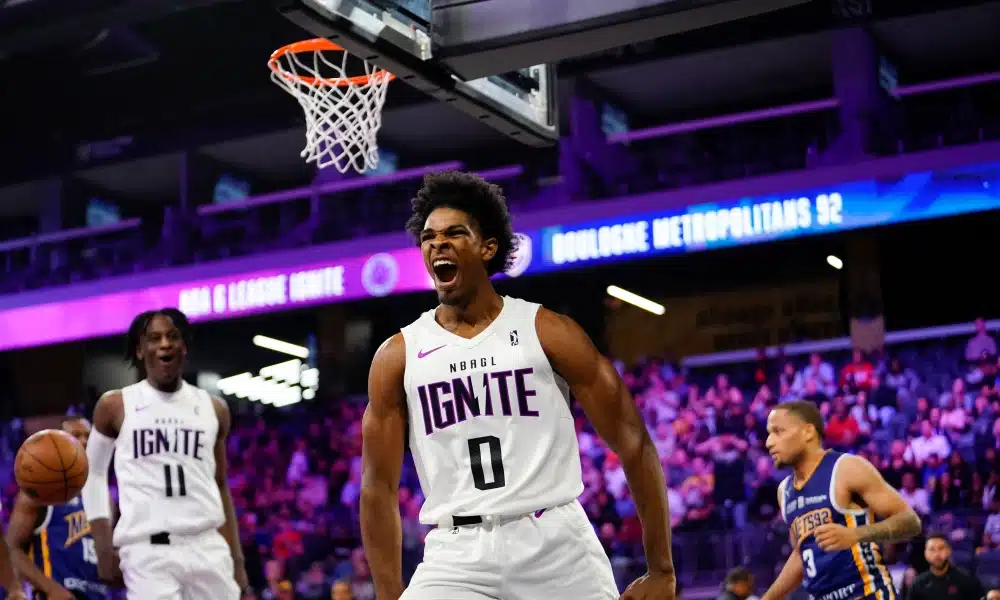 Henderson is a versatile scorer who first garnered attention during his freshman year in high school. In his G-League season, Henderson posted impressive averages of 17.6 points, 5.1 rebounds, and 6.6 assists per game.
He maintained solid shooting percentages, hitting 42.9 percent from the field and 27.5 percent from three-point range. Known for his explosive dunks, remarkable athleticism, and well-built physique, Henderson presents an imposing presence on the court.
Henderson demonstrated his exceptional talents during the summer league, but unfortunately, his tenure was cut short due to a shoulder injury sustained in the third quarter against the Houston Rockets. Despite the injury, Henderson put up a commendable stat line, scoring 15 points on 5-13 shooting, along with five rebounds and six assists, all in just 21 minutes of gameplay.
In case you missed:
Do follow us on: Facebook | Instagram | Twitter
Follow FirstSportz on WhatsApp Channel