During his illustrious 20-year NBA career, Shaquille O'Neal donned the jerseys of six different franchises, which meant he had the opportunity to play alongside numerous teammates. In a recent episode of "The Big Podcast with Shaq," the four-time champion candidly disclosed, among all his teammates, that he considered Dennis Rodman the least favourable one. Shaq and Rodman shared a single season together as teammates on the Los Angeles Lakers in 1998-99, a period that appeared to have fueled Shaq's unfavourable opinion of Rodman.
The two NBA luminaries have a longstanding history of discord, both during their playing careers and in the present day. This animosity isn't a recent development; it dates back to their time as on-court rivals. At the NBA 75th-anniversary ceremony, Rodman made a statement by donning a jacket distinct from the ones issued to players by the NBA. He later discarded his jacket and made an uninvited appearance in a photo alongside players such as LeBron James, Chris Paul, and Dwyane Wade.
It comes as no surprise that Shaq had some remarks regarding Rodman's conduct during the ceremony. He stated "If Dennis Rodman would've came in with a clean cut, in a suit with some glasses like that, that would've went viral. A clean cut, a cold-a** suit with some nice glasses, his hair did, two girls in his arms, you know, bringing him to the podium."
Nonetheless, it's not difficult to understand why Rodman might have been a challenging teammate to have in the locker room. Despite being past his prime during his tenure with the Lakers, his eccentric behaviour remained a focal point.
Also Read: Giannis Antetokounmpo responds to knee injury reports with hilarious CLAP BACK on social media
Shaquille O'Neal candid remarks on Dennis Rodman highlight their turbulent history on and off the court
Shaq's recent comments about Dennis Rodman shouldn't come as a surprise, given their turbulent history of on-court clashes and off-court disputes. Their stint as teammates with the Lakers during the 1998-99 season was marked by high tensions, and their relationship was anything but harmonious.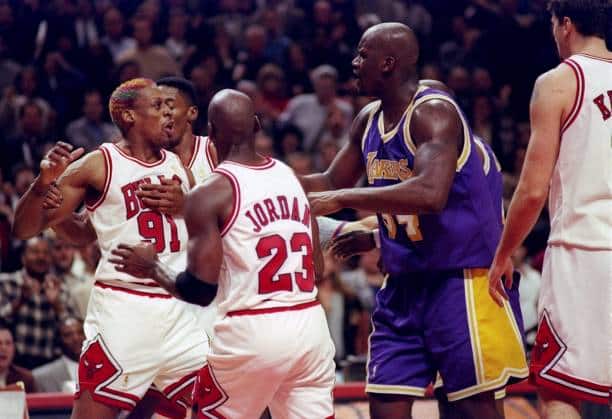 Dennis Rodman was widely recognized for his eccentric personality and unpredictable behaviour, consistently creating distractions and controversies wherever he went. His unique style, vibrant hair, and penchant for stirring up trouble were both intriguing and exasperating to fellow players and coaching staff. Dennis Rodman was really good at defence and grabbing rebounds, which helped his team a lot. But he argued with his teammates.
In Case You Missed:
Follow Firstsportz on WhatsApp Channel