Anthony Edwards has proven himself as the definitive best player from the 2020 NBA draft class. He's one of those players who elevate their game when the lights shine brightest. Edwards played a pivotal role in the Timberwolves taking a game off the NBA champions, the Denver Nuggets. His incredible grit and determination throughout his short career even earned him the title of the best player on the FIBA World Cup squad that secured a fourth-place finish in the recent tournament.
Another standout from the 2020 NBA draft was James Wiseman, who was drafted by the Golden State Warriors after Edwards. However, Wiseman's career hasn't matched Edwards' success, leaving Warriors fans to wonder how Edwards would have fared alongside their Big Three. This disappointment comes from the highest pick they've had since selecting Stephen Curry in 2009 with the seventh pick.
Interestingly, Edwards shared during the Timberwolves media day that, had the Golden State Warriors held the first pick in the 2020 draft, they wouldn't have selected him. This surprising revelation was based on Warriors Head Coach Steve Kerr's lukewarm impression of Edwards during their pre-draft workout. The limited tryouts due to the pandemic compounded the problem, but Kerr's dismissal of the possibility of selecting a generational talent like Edwards with the first pick must be frustrating for Warriors fans who could have benefited from Edwards' versatility.
Edwards said, "[Steve Kerr] kept stopping me like, 'That's all you got?'… I'm like, 'What do you want me to do?' I'm sweating crazy and he's like, 'You got to see Curry, Klay, and KD workout. If we had the 1st pick, we wouldn't take you.'"
Also Read:James Harden to be BLACKLISTED by NBA? Kevin Garnett fires warning to 76ers star his time in league is limited
How Steve Kerr's criticism motivated Anthony Edwards?
After Steve Kerr criticised Anthony Edwards after their pre draft workout , he did not take those words to his heart but used it for motivation. He has definitely proved Steve Kerr and the Warriors wrong and has become the best player from the 2020 draft class. Edwards was recently coached by Kerr during the FIBA Wold Cup in Manila, where Kerr praised Ant, calling him "the guy" on Team USA as they defeated the eventual champions of the event, Germany.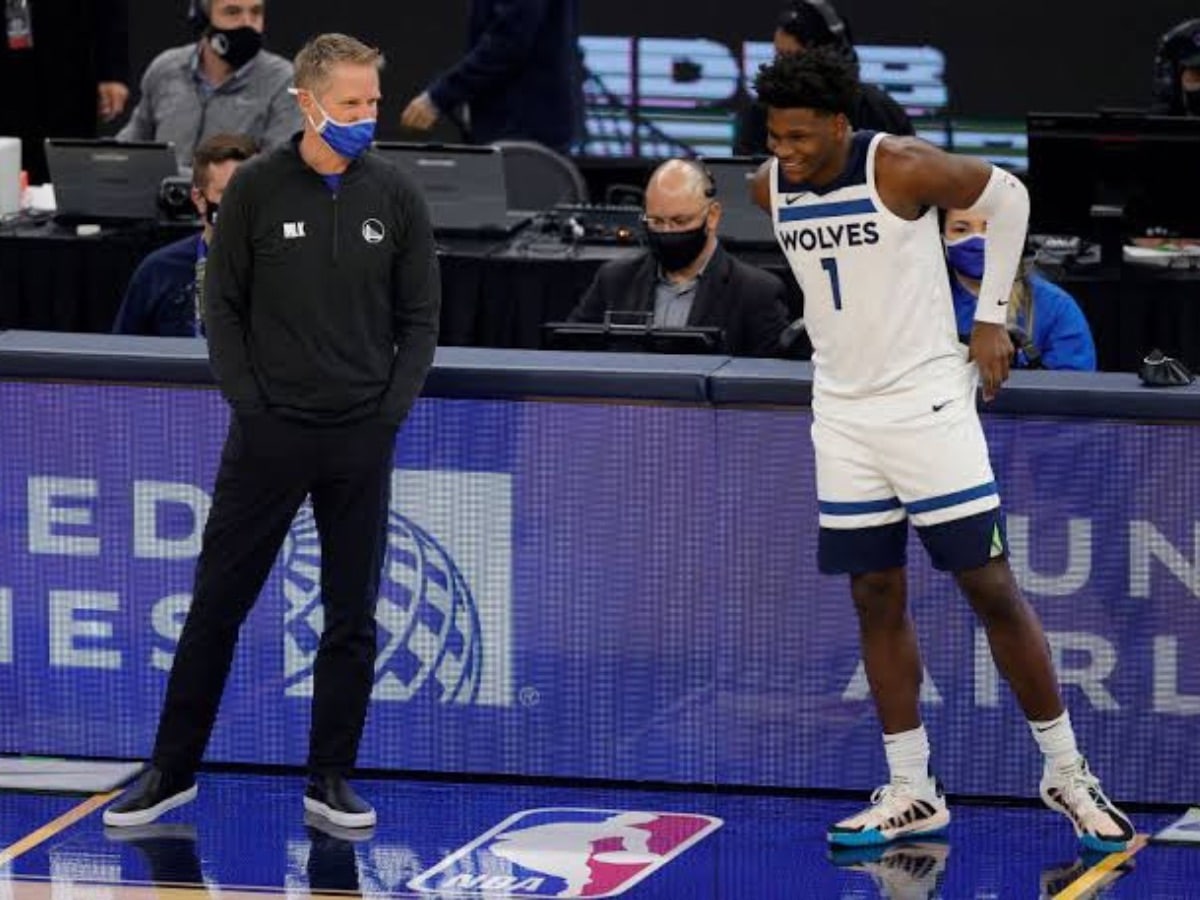 Anthony Edwards signed a max extension with the Wolves this offseason worth $260 million, after averaging 24.6 points, 5.8 rebounds, 4.4 assists and 1.6 steals last season,. He also played 79 games last season and also made his first All-Star appearance. It appears to be that this is just the start for Ant in the league and he will reach new heights as the upcoming season would see both of his star teammates Rudy Gobert and Karl-Anthony Towns, healthy to start the next season.
In Case You Missed:
Do follow us on: Facebook | Instagram | Twitter
Follow FirstSportz on WhatsApp Channel