Before the release of the Netflix documentary 'The Last Dance', Scottie Pippen was considered to be the ideal Robin for Michael Jordan's heroics. A player who supported the team whenever in dire need, eventually increasing MJ's scoring prowess season after season. However ever since the launch of his book, Pippen has fired shots at his former teammates and it surely hasn't pleased former Laker Shaquille O'Neal by any means.
To bring everyone on the same page, Pippen was devastated by the way Michael Jordan portrayed his teammates in the Last Dance and has been ever so verbal about it. But his latest remarks of Michael 'Air' Jordan surely hasn't been taken well by Shaquille O'Neal who determines his desire to punch Scottie Pippen for the same.
Also Read: LeBron James and NBA World reacts to the demise of Virgil…
Shaquille O'Neal feels Jordan far better than Pippen
"You got two alpha males on the same team, you're gonna have these problems," Shaquille O'Neal said, per Essentially Sports.
Nonetheless, O'Neal quickly changed his stance when the interviewer told him that Pippen had just said that he was better than Michael Jordan. To this, he couldn't help to cringe in disbelief and even say he'd punch him if he said that to his face.
"He didn't say that. He never said that. If that man says that in front of me, Imma hit him right in the oesophagus. Yeah, Imma drop him, do not finish that sentence," he added.
Having said that, the remarks which led Shaquille O'Neal to opinionate the same on the Hall of Famer was, "I may go as far to say Mike ruined basketball," Pippen wrote. "In the 80s on the playgrounds, you'd have everyone moving the ball around — passing to help the team. That stopped in the 90s. Kids wanted to be 'Like Mike.' Well, Mike didn't want to pass — didn't want to rebound, or defend the best player."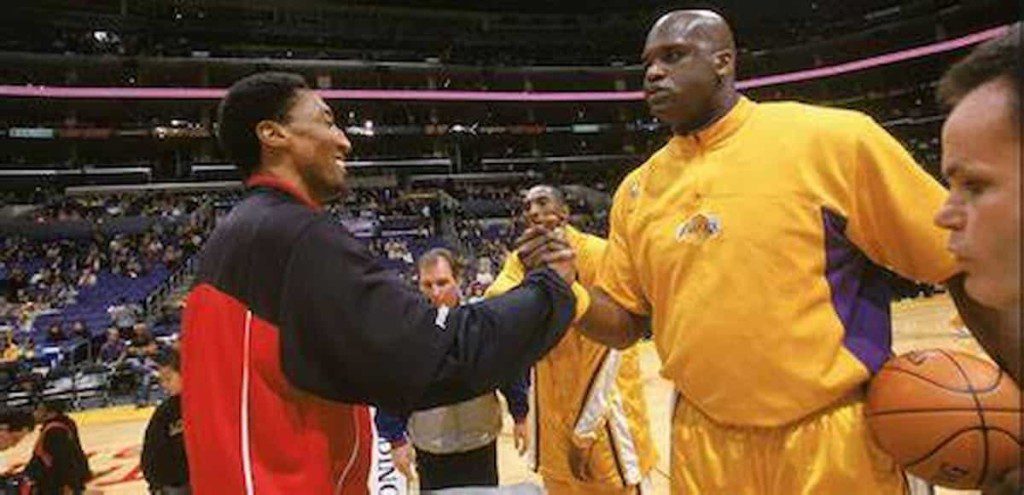 "In the doc, Michael attempted to justify the occasions in which he berated a teammate in front of the group. He felt these guys needed to develop the toughest to get past the NBA's more physical teams. Seeing again how poorly Michael treated his teammates, I cringed, as I did back then," Scottie concluded.
Also Read: Watch: Stephen Curry proves to be 'too strong' for own teammate…
Also Read: "Bad blood clearly is simmering"- Skip Bayless on LeBron James hitting…