The NBA has witnessed its fair share of sibling rivalries and collaborations over the years, but none quite like the inspiring twin duo of Caleb and Cody Martin. Born on September 28, 1995, in Mocksville, North Carolina, these identical twins have showcased their unique skills and unbreakable bond on the court. Let's dig into the incredible journey of the Martin brothers, from their college days to their rise in the NBA.
Caleb and Cody Martin's college fame and NBA beginnings
Caleb and Cody Martin honed their talents at NC State University, with the Wolfpack jersey. Their exemplary performances caught the attention of basketball enthusiasts and NBA scouts alike. After a successful time with the Wolfpack, the twins decided to transfer to the Nevada Wolf Pack to further refine their skills.
Their time in Nevada proved to be transformative. Caleb's exceptional shooting prowess and playmaking abilities earned him the Mountain West Conference Player of the Year title for the 2017-18 season. Meanwhile, Cody showcased his defensive prowess, lockdown abilities, and impressive rebounding skills, solidifying his reputation as a reliable and versatile player.
In 2019, Caleb became the first to make the NBA when he was drafted by the Denver Nuggets. However, destiny had a different plan, and he found himself traded to the Charlotte Hornets, reuniting him with his brother Cody in 2020. The Martin twins became the first set of identical twins to have the same NBA team.
Related: "That takedown is clean AF" Caleb Martin brutally 'spears' Christian Koloko into courtside side in wild 'double-ejection' during Heat vs Raptors
Caleb and twin Cody Martin thriving in the NBA and beyond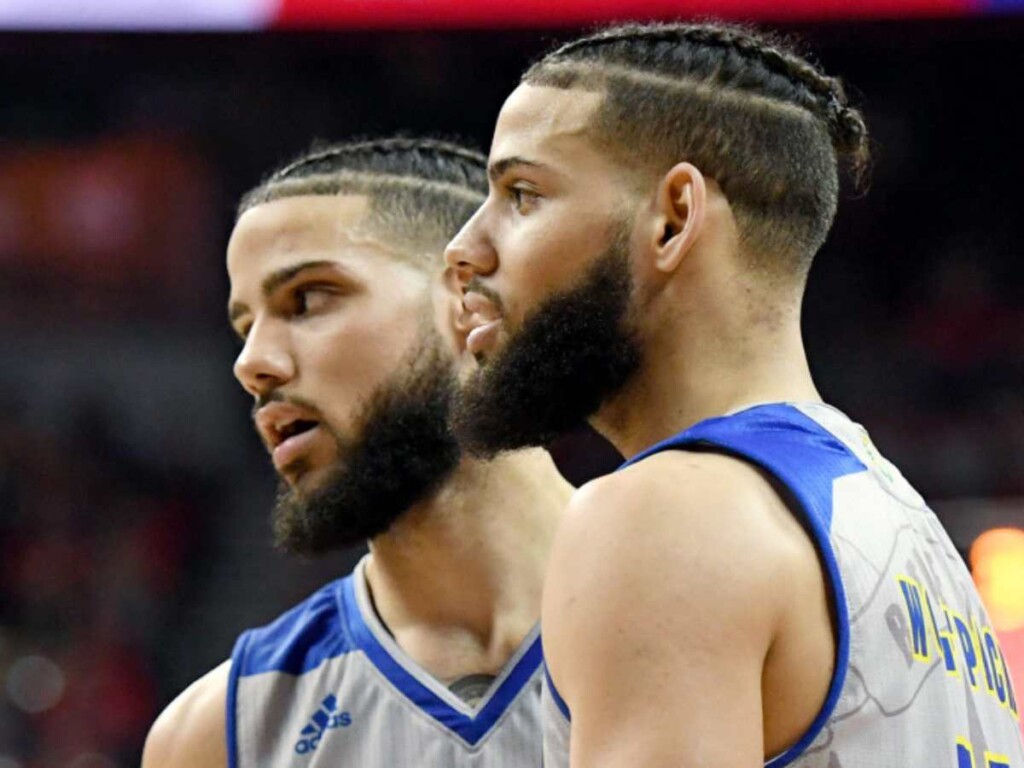 Caleb and Cody Martin had a significant impact on the Hornets' roster. Their synchronized playstyles and complementary skills proved invaluable to the team's success. Caleb's ability to drop long-range shots and create scoring opportunities for his teammates made him a offensive threat. Meanwhile, Cody's defensive prowess and versatility have solidified his position as a lockdown defender.
Their talents extend beyond the basketball court. The Martin twins share an inseparable bond, they have their YouTube channel, where they provide glimpses into their daily lives and showcase their undeniable chemistry. Moreover, they have ventured into the world of fashion with their clothing line, Martin Brothers Brand, featuring signature items from both Caleb and Cody.
The journey continues for the Martin brothers as they embark on new chapters in their NBA careers. Caleb's signing with the Miami Heat has further elevated his status, showcasing his abilities as a key player during the current NBA playoffs. Meanwhile, Cody continues to be an important player for the Hornets, leaving a lasting impact with his defensive ability.
As the NBA continues to evolve, the Martin brothers' success story serves as proof of the power of sibling camaraderie and support. With their undeniable talents, hard work, and passion for the game, Caleb and Cody Martin have marked their names in the records of NBA history. These dynamic twins are destined to leave an enduring legacy, captivating fans and inspiring future generations of basketball enthusiasts.
In case you missed it: