Jalen Hurts is a quarterback of the Philadelphia Eagles team in the National Football League (NFL) in the United States. He was born in Texas on August 7, 1998. His father, who was the football coach at the same school, was in charge of him while he was in high school. Jalen Hurts was named the District 21-6A overall MVP for his college football career, which included 25 touchdowns. He was also interested and had competed in powerlifting.
Later in his college years, Hurts became the first true freshman quarterback to start for Alabama in 32 years. He was named the SEC offensive player of the year for his efforts in the game, which helped the team win the SEC championship in 2016. He was declared a finalist for the Manning Award for his efforts throughout the season. He continued his education and earned a bachelor's degree in communication and information science in 2018, proving his merit in academics as well.
Hurts later transferred to the University of Oklahoma for his senior year, where he played football for the 2019 season. His efforts helped Oklahoma win the Big 12 championship. After honing all of his football skills, it was time to demonstrate them professionally. In 2020, he began his NFL career. The Philadelphia Eagles selected Hurt with a four-year rookie contract worth $6,025,171.
Also Read: WATCH: "Cry baby" – Tom Brady's FURIOUS uncensored reaction against the 49ers has left fans doubting his 'sportsman spirit'
What are Jalen Hurts' contract details?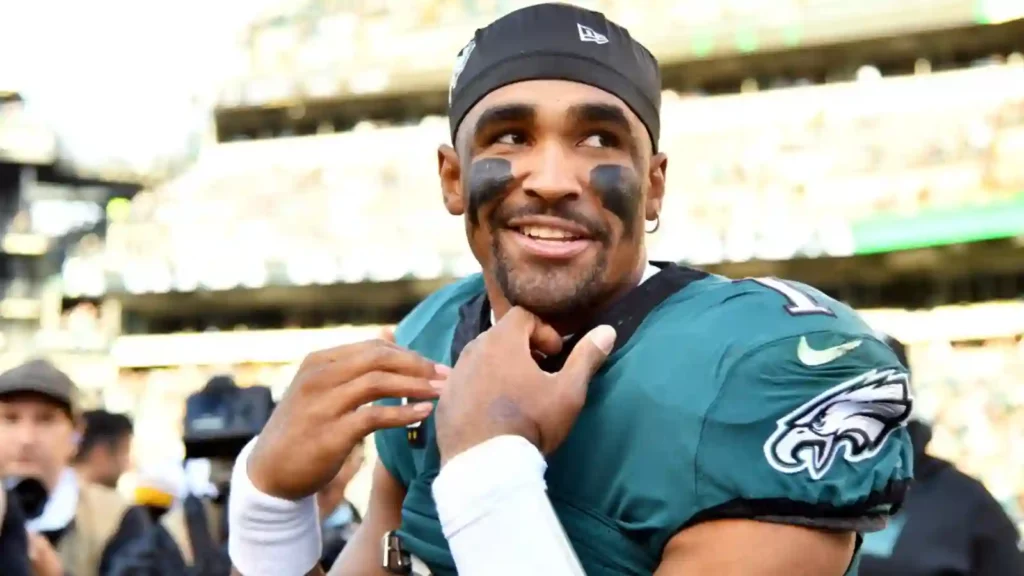 Jalen Hurts is a QB who penned his contracts with the team of Philadelphia Eagles for 4 years. The skilled player brought all his experience to the NFL, making it large for him followed by his future seasons which will be larger in terms of contracts and the cheque worth.
The year 2022 will be creating a base salary of $1,082,744, with a signing bonus of $485,486, making him an annual cash flow of $1,157,744. Additionally, he got a workout bonus of $75,000 for the three seasons he played. A young QB has a consolidated net worth of $6 million, a very handsome sum of money indeed.
The contract data is taken from Spotrac.
Also Read: WATCH: "This is what sports is all about" Brock Purdy's dad in TEARS seeing his son make his debut for the 49ers opposite legendary Tom Brady
Also Read: "Loser in life and football" – Tom Brady gets HAMMERED on social media for getting humiliated by 49ers' debutant QB Brock Purdy