Jalen Hurts is an American football quarterback for the Philadelphia Eagles of the NFL.
| | |
| --- | --- |
| Name | Jalen Alexander Hurts |
| Age | 24 |
| Occupation | American Football Quarterback |
| Other sources of wealth | Endorsements and appearances |
| Net worth | $6 million |
| Residence | Texas |
| Sponsors | Lemon perfect by Beyonce, Eastbay. |
| Charity | Part of many charities. |
| Marital status | Single |
| Last updated | November 2022 |
This famous NFL QB has been in the news since his college days. He was born on August 7 in 1998 in Texas. During high school, he was under the supervision of his father, who was the football coach at the same school. With 25 touchdowns in his college football career, he was been named the District 21-6A overall MVP. In addition to his footballing interest, he was also a former powerlifter.
He played for 3 years at the University of Alabama, becoming a true freshman to start as a quarterback for Alabama in 32 years. His efforts in the game made the team win the 2016 SEC championship and was further titled SEC offensive player of the year.
For his best efforts throughout the season, he was declared as the finalist for the Manning award. With further years in the university, he proved his merit in the games with a degree handed to him in bachelor's in communication and information science in 2018.
For his senior year, he took a transfer to the University of Oklahoma, where he played football for the 2019 season. On and off in the field, his efforts pushed Oklahoma to the Big 12 championships. With all the football skills, then came a time to prove it professionally.
His NFL career began in 2020. The Philadelphia Eagles drafted Hurts on a rookie contract worth $6,025,171, for 4 years. He has a future ahead in the games for sure with all the dedication.
Also Read: What a SH*TSHOW": Tom Brady's latest move on social media CONFIRMS the QB is done incinerating his money through crypto
Jalen Hurts' Net worth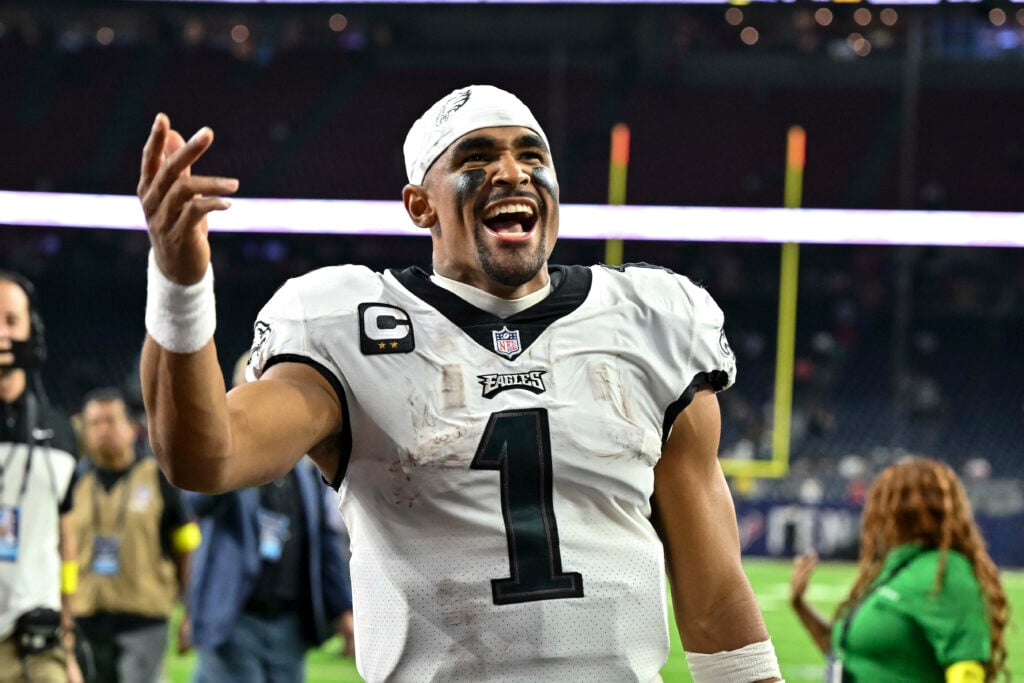 Mostly net worth is defined by the contracts a player signs followed by his deals with various big names. With Jalen Hurts as a new QB, he signed a contract worth $6,025,171 with the Eagles. The term of the contract is for 4 years. It also provided a signing bonus of $1,941,944 and a guaranteed payment of $2,825,815. His total net worth will be somewhere $6 million, which is a fantastic amount. The term of the contract is said to be extended soon.
Jalen Hurts' Brand Collaboration and Endorsements
Hurt's have signed a couple of brand collaboration deals, adding more to his net worth. He is the face of the beverage brand Lemon Perfect by Beyonce. He also grabbed the deal for athletic apparel company Eastbay.
Does Jalen Hurts have any charity?
Jalen Hurts is a man with a heart of gold. Despite his rookie earnings from the games and endorsements, he never fails to put his heart into donating. His numerous charities have bagged him with many cheers. With more contracts his way, may he keep adding more to his blessings.
Jalen Hurts' Relationship Status
Jalen, being an optimistic player with a future winning ahead his way, is currently single. He has only dated one woman till now, according to the reports. His GF, Bry Burrows, was his mate at the University of Alabama, from where she gained her degree in business administration.
The two were all about love while studying together. However, Jalen's transfer to Oklahoma University turned things upside down. They soon parted ways due to the long distance, but are still said to be friends. She is 25 years old, a confident beauty, and currently working with IBM as a software financing leader.
Do follow us on: Facebook | Instagram | Twitter
Also Read: "An amazing memory for life," Tom Brady hails German fans' rendition of John Denver's iconic song during Bucs' victory over Seahawks
Also Read: "I'm never going to avoid accountability," Greg Jennings points out that Packers QB Aaron Rodgers became what he vowed to never become