Baltimore Ravens quarterback Lamar Jackson has yet again added ink to his awe-inspiring tattoos and this time it's a work of No Pains by Ganga. The NFL professional has an extensive display of tattoos all over his body and today we take a look at his exquisite tattoos.
Originally drafted by the Baltimore Ravens in the 2018 NFL draft, Lamar Jackson started his professional career with the franchise as QB. Although many suggested he play wide receiver at the beginning of his career, Jackson excelled at his own position putting an end to the rumors.
Over time Lamar Jackson evolved into one of the best players on the team and even won the NFL MVP in 2019. Aside from his stellar performances on the field, fans are also piqued by Jackson's extensive and breathtaking tattoos. Here's all about the ink the 26-year-old has got to date.
Also Read: Who are Sam Ehlinger's parents Jena and Ross Ehlinger?
Lamar Jackson's Latest Tattoo
Lamar's latest tattoo is a composite piece that shows off the word 'Family', his name, Lamar, and that of his mother, Felicia. Below their names, the word 'Truzz' is tattooed just above a circle that is held by two hands.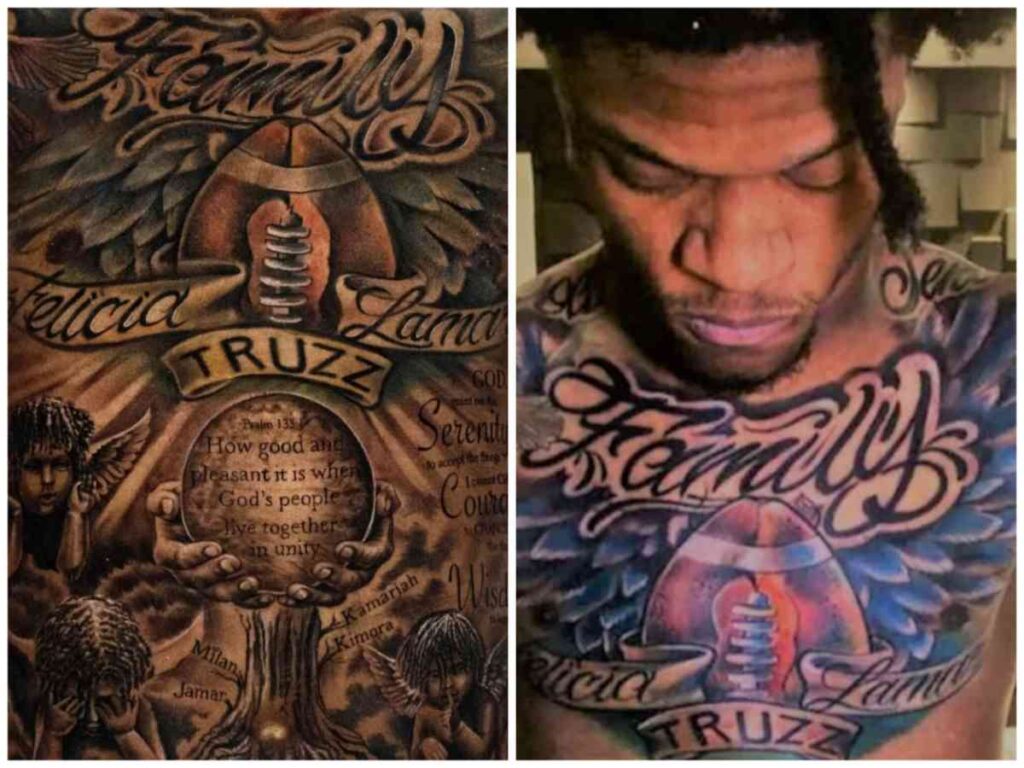 Inside the circle is inscribed the bible verse from Psalm 133:1, which reads: "How good and pleasant it is when God's people live together in unity."
Underneath the circle is the trunk and roots of a tree, with three angels drawn around it. The left side of the design displays the serenity prayer, "God grant me the serenity to accept the things I cannot change, courage to change the things I can, and wisdom to know the difference."
Eye tattoo on his right arm
Jackson has a remarkable 'all-seeing eye' or Eye of Providence tattoo on his right forearm. There are glory rays surrounding the Eye and the tattoo serves as a representation for divine inspiration.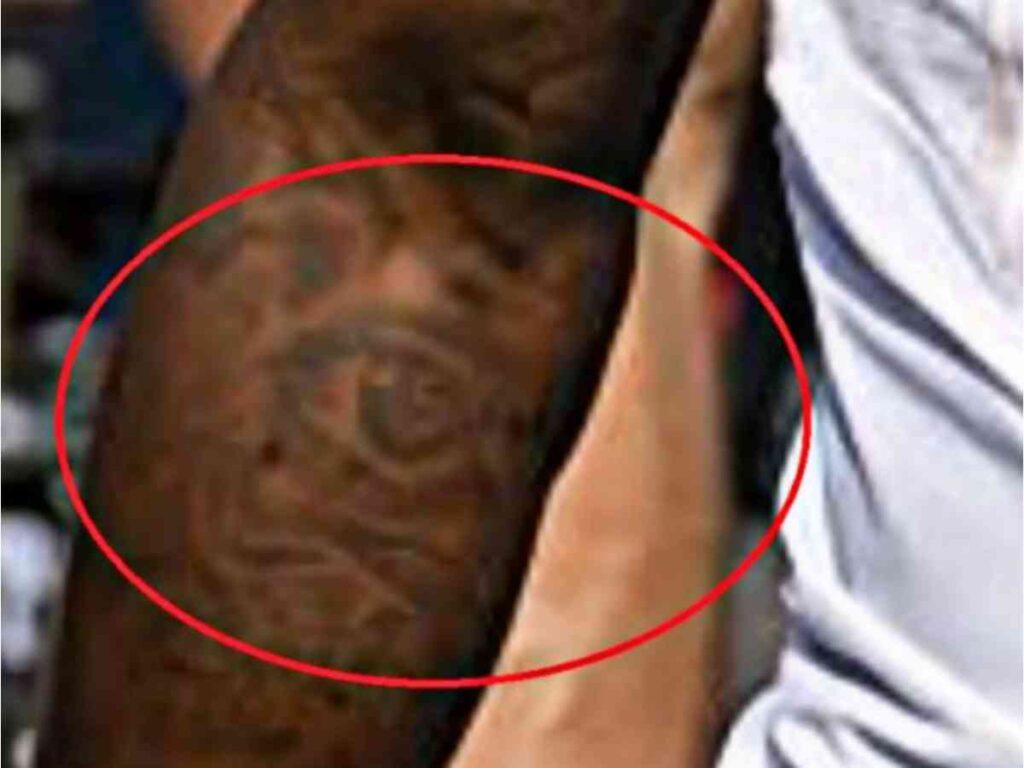 Dove tattoo on upper arm
Lamar Jackson boasts a beautiful white dove tattoo on his upper right arm. To many it is a symbol of freedom, peace and purity of soul.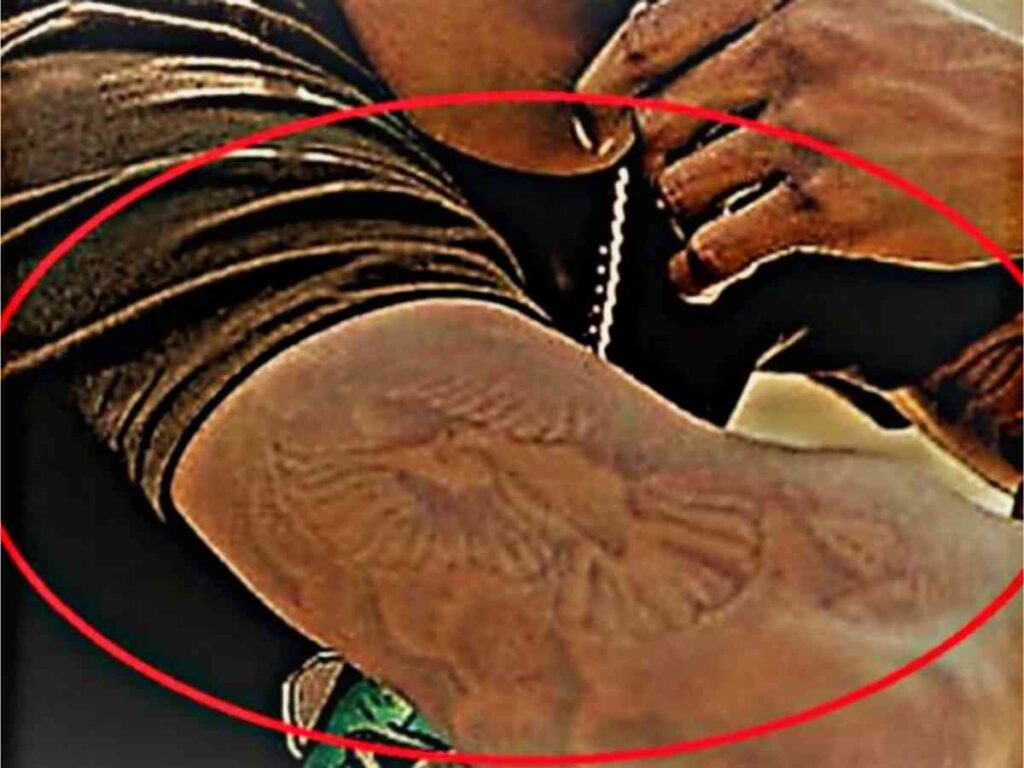 The Clock, Feather and Raven's Feather
On his left forearm, Jackson has a simple clock and feather tattoo. The clock and feather are a classic symbol of the memory of the deceased. There is also a large tattoo of a Ravens feathers which seems to hold mythical symbolism.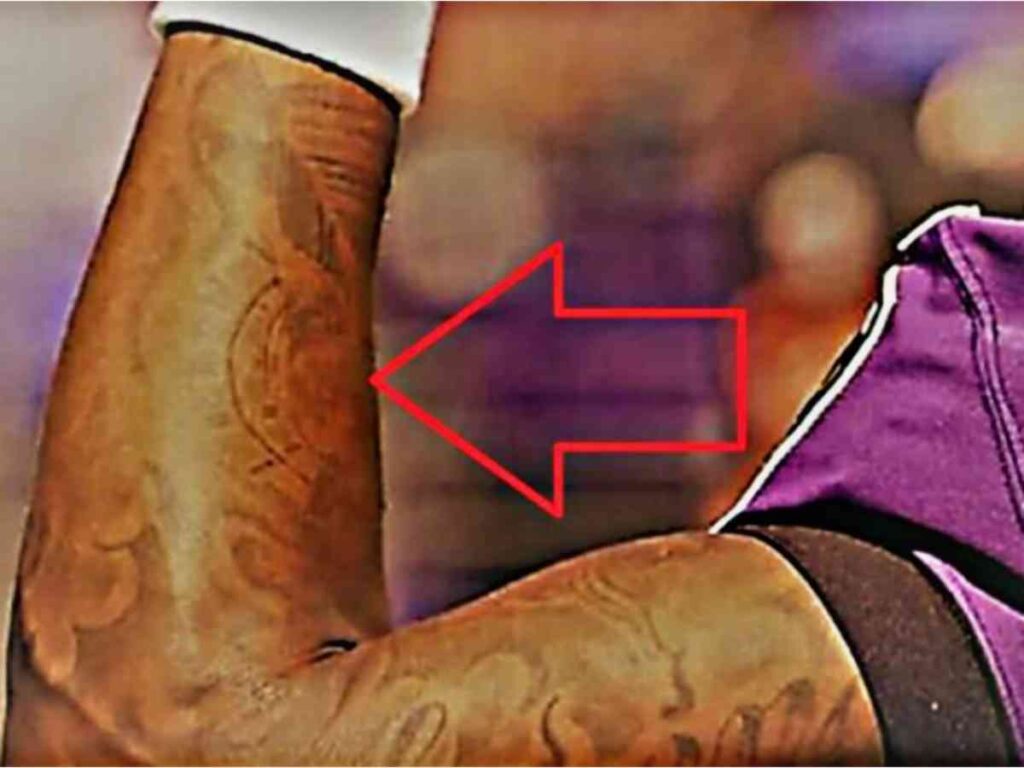 Left arm tattoos
Lamar Jackson has his grandmother's name Doris Denkins tattooed on his left forearm. On his upper arm, Jackson has a tattoo of the phrase 'Brother's Keeper' as a tribute to his younger sibling Jamal Jackson. Shared between his inner upper arms, both left and right, is a special tattoo that says 'Living Legend'.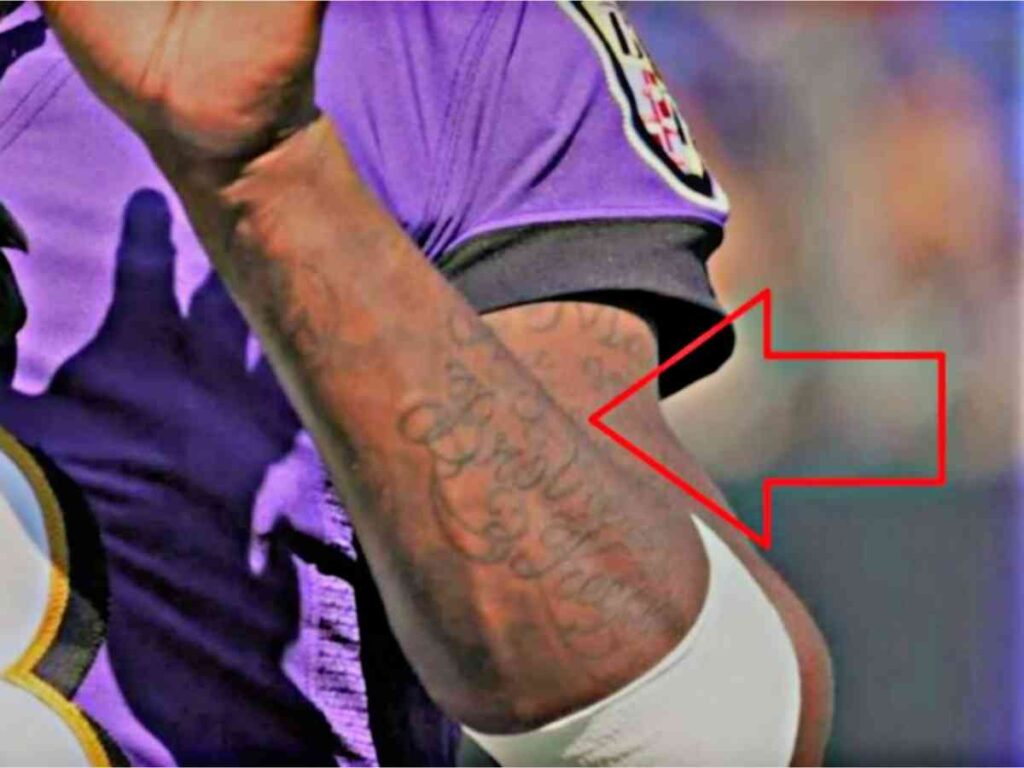 There is also a bible verse on his left bicep of Mark 6.4 that reads, "A prophet is not without honour, except in his hometown and among his relatives and in his own household."
Right below the bible verse, there is a flying eagle with widespread wings. It serves as an inspiration of success, growth and freedom.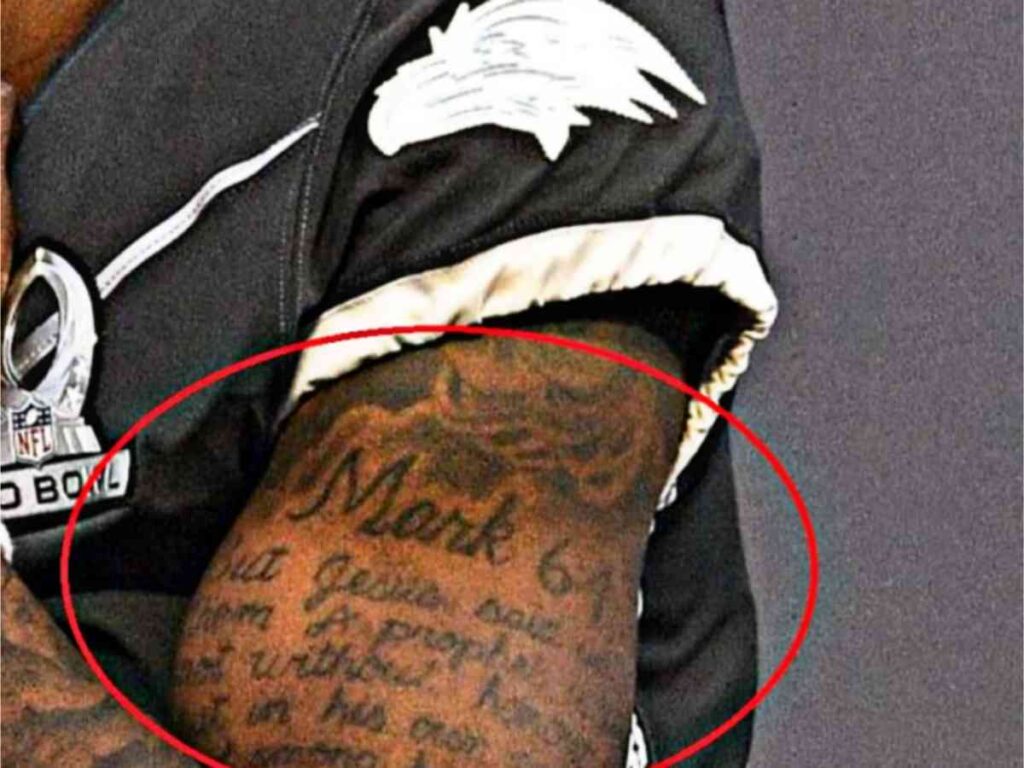 Doves on shoulder blades
Across his both shoulders, Jackson has the tattoos of two doves. Originally a pair of doves symbolise trust, tenderness and friendship. Lamar Jackson's tattoos are truly remarkable, and the player seems to be looking forward to adding a few more to the display.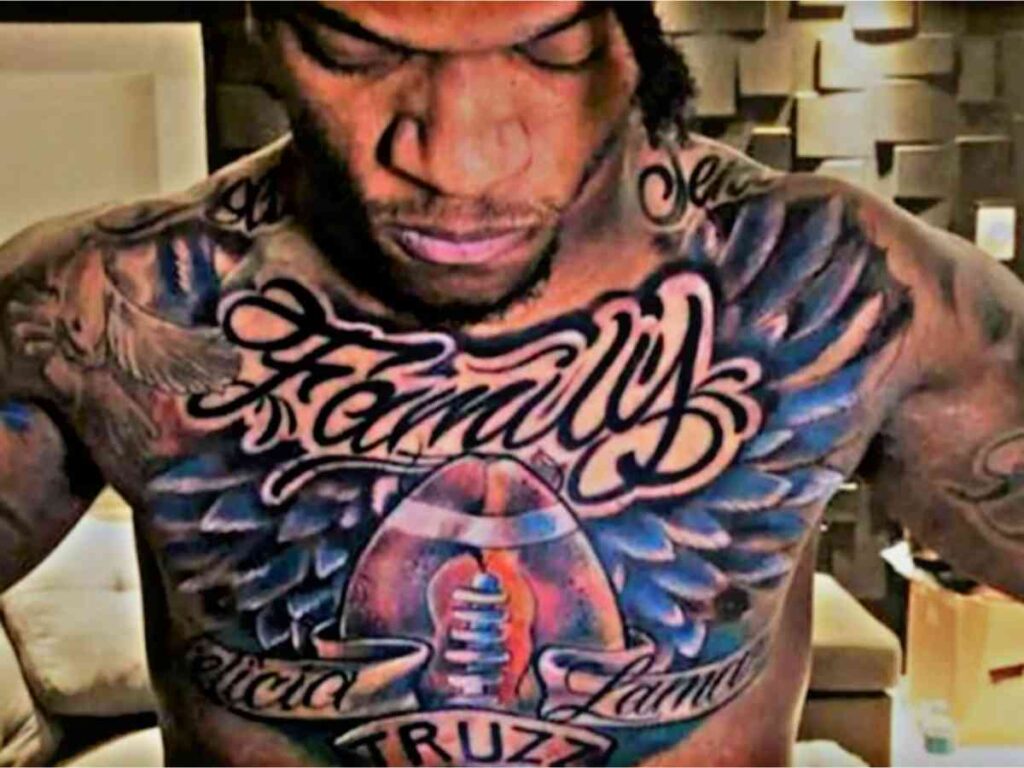 FAQs
Q. Which franchise drafted Lamar Jackson in the NFL?
The Baltimore Ravens drafted Lamar Jackson in the 2018 NFL draft.
Q. How many Super Bowls has Lamar Jackson won?
Lamar Jackson is yet to win a Super Bowl title in his professional career. 
Q. Which college did Lamar Jackson play for?
Lamar Jackson played college football at the University of Louisville prior to his NFL career.
In case you missed: