As everyone expected, there is indeed a quarterback controversy in San Francisco. The former third-overall pick Trey Lance, the 2022 Draft's Mr.Irrelevant Brock Purdy, and the team's new addition Sam Darnold are all currently competing for the starting QB job. However, the 49ers general manager John Lynch claims the rookie sensation Purdy currently has the edge over the other QBs.
Brock Purdy became a starter in 2022 after the 49ers' second-string quarterback Jimmy Garoppolo went down with a foot injury in week 12 and the rest is history. Purdy threw for 1374 yards and 13 touchdowns while completing 67.1 percent of his pass attempts. His unexpected success led the 49ers to an NFC Championship game, where they eventually lost to the Eagles after Purdy got injured in the first quarter.
And now, Purdy is in recovery after elbow surgery but John Lynch and the Niners believe he could be good to suit up in the first week of the 2023 regular season. Furthermore, the 49ers also have two other talented QBs Sam Darnold and Trey Lance under contract for the next season. But the starting QB job competition is mainly between Lance and Purdy.
Related : "Proven leader, proven winner," Raiders GM Dave Zeigler feels OPTIMISTIC about the future with Jimmy Garoppolo as the starting QB
John Lynch claims Brock Purdy is the leader in 49ers clubhouse.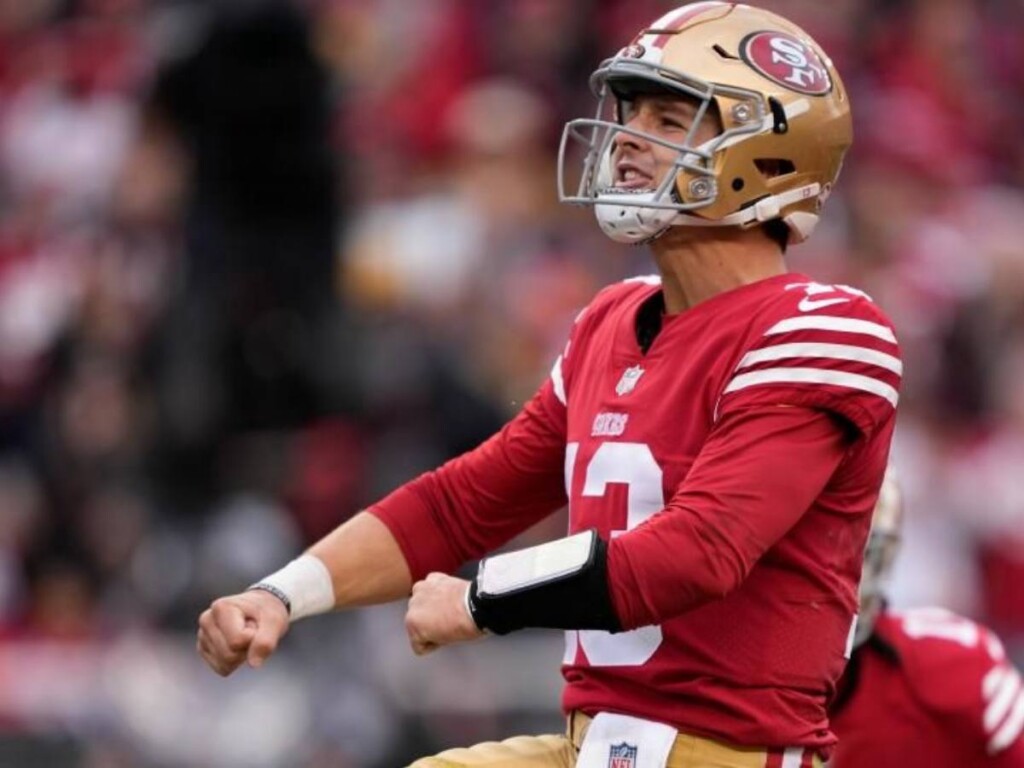 During the Annual League Meetings, the San Francisco 49ers' GM John Lynch talked to the media and addressed the quarterback controversy in San Francisco. Lynch claims the Niners are excited about Trey Lance's return but currently leaning toward Purdy as the QB number 1.
"I think Brock has earned the right, with the way he played, that he's probably the leader in the clubhouse at that," Lynch told reporters Monday, "If we were to line up, he'd probably take that first snap."
"We've always said we don't care where you were drafted if you were drafted, that's always been our stance," Lynch said."We're still very excited about Trey, but I think the way Brock played, he probably has earned that right to be the guy. We listen to anything, but we like Trey on our team. We're very excited about the way he's progressing, about his opportunity. I think he's chomping at the bit to get back out there."
Purdy clearly has the backing of his general manager currently but anything could happen between now and the 2023 season's opening day in September. Given both QBs are healthy, it would be an interesting competition in San Francisco and will certainly push both the quarterbacks to play at their very best even after landing the starter role.
Do follow us on: Facebook | Instagram | Twitter
Related : Dolphins HC Mike McDaniel gives a huge update on Tua Tagovailoa's recovery following multiple concussions
Related : Steelers HC Mike Tomlin visibly EXCITED about QB Kenny Pickett's future following amazing performance last season