San Francisco 49ers pass rusher Nick Bosa is due a massive contract extension. Bosa boasts an amazing resume since his draft to the 49ers in 2019.
Bosa won the NFL Defensive Rookie of the Year in the same year as he managed to complete nine sacks throughout the season. However, he picked up an ACL injury against the New York Jets, which cut short his 2020 season. But that did not put a dent in his performance the following year, as he crushed it with 15.5 sacks in the league.
This clearly proves that Bosa deserves a pay hike. ESPN's Bill Barnwell wrote about what should be the top priority for the 49ers this coming season. Rick Bosa was at the top of the list. According to him, " Pay Bosa a ton of money as he comes off of a season in which he was Defensive Player of the Year and finished sixth in the league's MVP."
He also believes that the 49ers will eventually make Bosa the highest-paid Rusher in the NFL. He mentioned," A big, round number is coming," saying that Bosa might get a lucrative multiyear deal in which he will make more than $30 million.
Some might argue that such a big deal may have an adverse effect on the 49ers' finances. However, Matt Maiocco of NBC Sports Bay Area thinks otherwise. He said, "I (Maiocco) think a contract extension for Nick Bosa will actually reduce the salary cap space." While talking on the 49ers Talk podcast, he predicted seeing Bosa become the highest-paid defensive player in the league.
Related: Will Brock Purdy be the starter for the San Francisco 49ers in Week 1?
The 49ers should wrap up Nick Bosa's contract early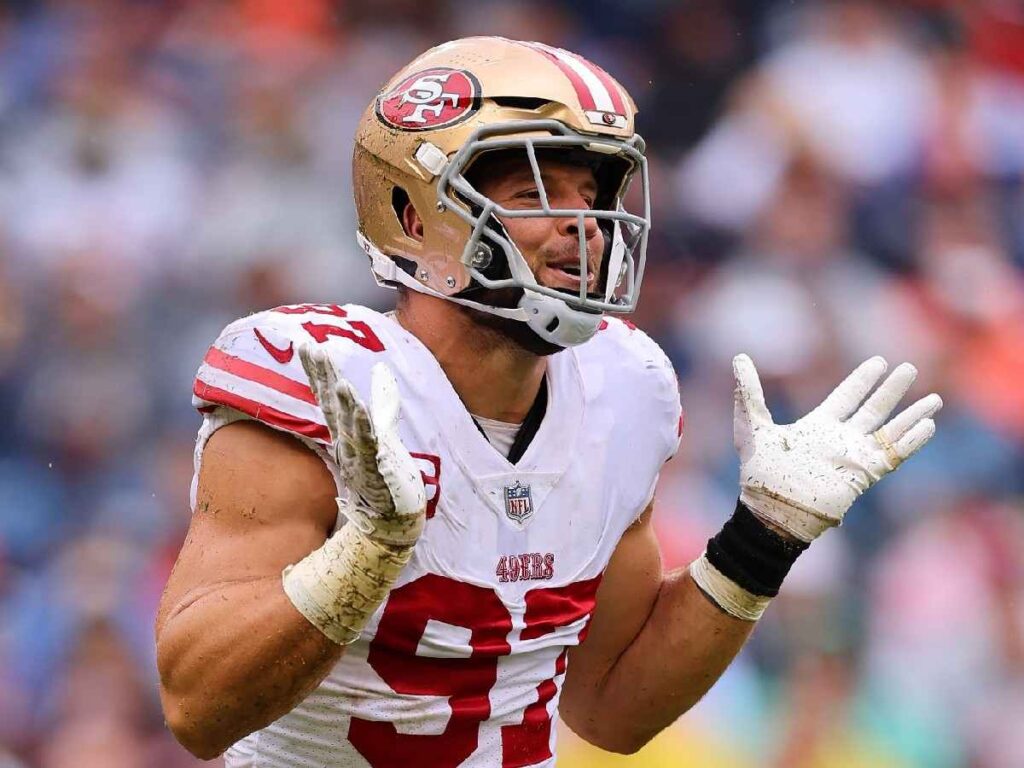 The 49ers should hurry up and finish negotiating Nick Bosa's contract extension. However, Maiocco said that even though he believes the contract will eventually materialize, talks may drag out until July or even August. He said, "The 49ers can get that (contract extension) done with Nick Bosa; more than likely, it would be late July or even August."
But the 49ers' general manager, John Lynch, remains tension-free regarding Bosa's contract. He said that Bosa has "capable people" (agents) looking after him. Lynch also claimed that they will be able "to come to an agreement" very soon.
The 2023 season is fast approaching, and as always, Bosa is working hard in the OTAs. In January, when asked about how he felt about becoming the highest-paid defensive player in the league, he simply replied: "It's not a priority". He loves the 49ers, claiming that they are a great organization and that he would "love to be here."
The 49ers will begin their new NFL season against the Pittsburgh Steelers on September 10.
Do follow us on: Facebook | Instagram | Twitter
In case you missed it: