The Las Vegas Raiders are having a god-awful season and Chiefs head coach Andy Reid just capped their nightmare season with the most disrespectful that the NFL has seen in years.
After hiring the long-time Patriots offensive coordinator Josh McDaniels, the Raiders seemed a problem in the AFC, but as fate would have it, they are now a laughingstock of the NFL, along with their division rivals, Denver Broncos. The Raiders clearly have no clue what they're doing. In fact, they're now reportedly trying to trade away their QB Derek Carr after they just signed him to a 3-year deal in the 2021 offseason.
And now, the Raiders have lost the last piece of dignity they had as the Chiefs HC Andy Reid called for the most disrespectful trick play in his playbook. During the final minutes of the second quarter, the Chiefs hit the "Ring-Around-the-Rosie" as in the players spun in the Huddle before lining up in a wildcat position. Jason McKinnon, who received the snap, flipped it to his QB Patrick Mahomes, who then threw the rock to WR Kadarius Toney.
The wideout managed to evade a tackle and reach the end zone, but the touchdown didn't stand due to a holding penalty. It didn't matter in the end since the Chiefs managed to score in the following play, this time without the spin around huddle. Mahomes handed off the ball to Toney, who managed to reach the end zone before he could be tackled down. The Kansas City Chiefs managed to win the game 31-13 in a dominating fashion, thus clinching the No.1 seed in the AFC playoff picture.
Related: "They let Aaron Rodgers play complementary football," Shannon Sharpe CREDITS the Packers backfield for their STUPENDOUS turnaround this season
Chiefs clinch the No.1 seed, Jags clinch AFC South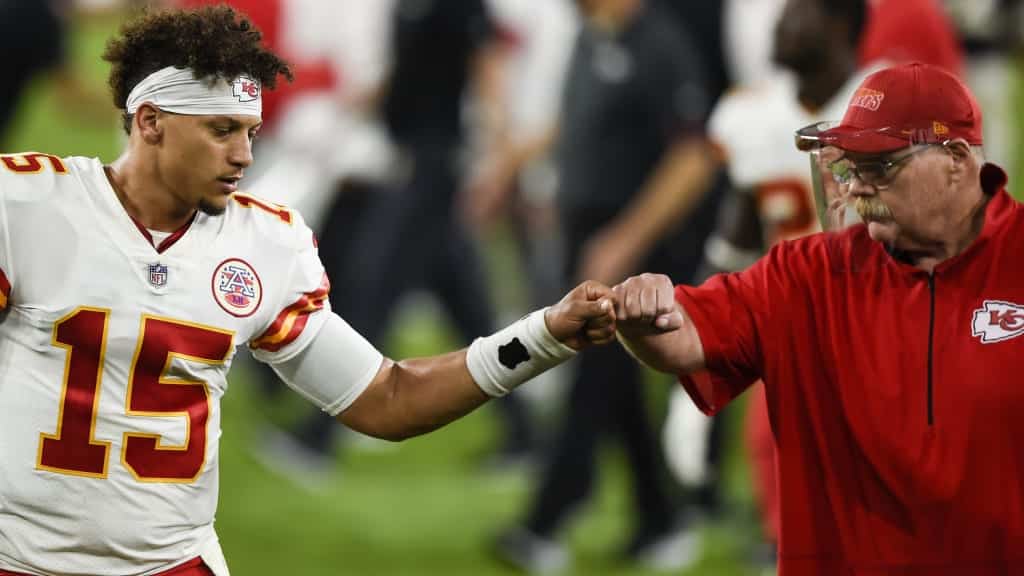 With their victory against a dismantled Las Vegas Raiders team, the Kansas City Chiefs have clinched the coveted first seed. As a result, they will have a first-round bye and a potential home-field advantage throughout the NFL postseason.
In another week 18 game, Trevor Lawrence and Jacksonville Jaguars have clinched the AFC South for the second time ever in their franchise's history after defeating the Tennessee Titans. Jags first-year HC Doug Pederson once again proves his greatness when it comes to coaching.
There's still one playoff spot remaining in AFC and three teams are fighting for it. The New England Patriots can clinch it if they can beat the Buffalo Bills on Sunday. Also, the Pittsburgh Steelers and the Miami Dolphins have an outside shot at the lone remaining wild-card spot.
Do follow us on: Facebook | Instagram | Twitter
Related: WATCH: Tom Brady reveals the hidden skill he learned during his 40-day retirement from football
Related: "F*ck the NFL," Emily Ratajkowski cryptically lashes out at the NFL amidst Damar Hamlin's injury