The NFL Divisional rounds are done and, for the first time in a very long period, fans saw new faces at the quarterback position of every team in the finals. The league is changing, and so are the faces that fans have become accustomed to witnessing. This year is just the beginning as faces such as Patrick Mahomes, Joe Burrow, and Jalen Hurts are here to stay for a very long time and fans are all for it!
The AFC Championship was a closely fought battle with the Kansas City Chiefs and the Cincinnati Bengals going at it play after play. Fans witnessed an injured Patrick Mahomes overcome a stacked Bengals roster led by Joe Burrow. Ultimately, the one thing that was determined was that no matter how shorthanded the Chiefs are on their roster but if they are playing a crucial game at Arrowhead Stadium, they are extremely hard to beat.
While Mahomes and the Chiefs took the W and punched their ticket to the Super Bowl by beating Cincinnati 23-20, it did not stop the quarterbacks from recognizing one another's talents and respecting their skill sets. The duo knows that they will be facing off against one another for years to come and that this is the start of a rivalry.
Related:"Here for the comments," NY Giants take a dig at the Empire State Building for celebrating their arch-rivals Eagles' NFC Championship victory
Joe Burrow is now rooting for Patrick Mahomes and the Kansas City Chiefs: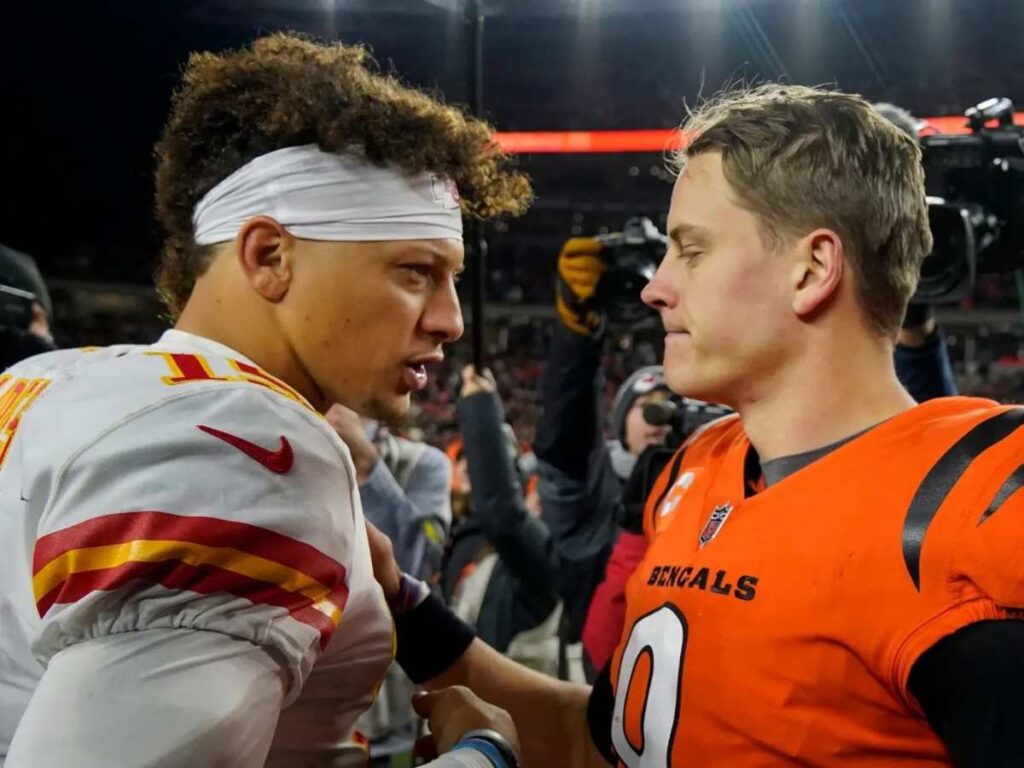 Patrick Mahomes kept it simple, with Joe Burrow following their thrilling matchup. He told his opponent, "Many more, dog… Hell of a game. You have a hell of a career dog." While his words are nothing but pure facts and something that all fans are aware of, it was great sportsmanship on his part to do so.
The game respects the game and Mahomes sees the potential in this young Cincinnati Bengals squad with Joe Burrow and Ja'Marr Chase. They made it to the Super Bowl last season and showed the entire league what they are capable of. Following Mahomes' statement, Joe Burrow showed appreciation for his peer as well.
"You, too, brother. Go win it now," Burrow stated. Now that the Bengals are out of Super Bowl contention, the young quarterback is rooting for Patrick Mahomes and the Kansas City Chiefs to go the distance and cap off their season with a well-deserved ring. While it will be exciting to see the battle between the Chiefs and the Eagles in the Super Bowl, it is always good to see such a good rapport and a sense of respect between two divisional rivals.
Do follow us on: Facebook | Instagram | Twitter
Related: Skip Bayless DOWNPLAYS Brock Purdy by claiming that the Eagles would've won irrespective of the rookie QB's injury
Related: "Cincinnati was a better city when Jerry Springer was the mayor," TE Travis Kelce VICIOUSLY lambasts mayor Aftab Pureval again for his comments against the Chiefs