The Miami Dolphins had a great start to their NFL 2023-24 league campaign. When big shots were limping and fumbling, the Tua Tagovailoa-led side registered two wins in two games. Tagovailoa came back to the field after he suffered a major injury last season. He was shown up to the field for the first time this season since he suffered that injury last season. He was great in the first match and effective in the second match as well. It looks like the injury has not impacted his form. 
Seeing his performance in two games, analysts are hoping that he might win the Most Valuable Player (MVP) award this season. However, not everyone believes that Tagovailoa will win the MVP award.  He believes that Tagovailoa will not win the award because of one of his teammates. And that teammate is none other than Tyreek Hill. 
In one of the episodes of the famous podcasting show 'Undisputed,' the analyst added, "I don't think Tua can win MVP because of Tyreek – because he will lose votes to Tyreek Hill. If Tyreek right now has 250-255 yards total, 16 catches, and three touchdowns, he's projected to have 2100 yards and he would break the receiving record. A receiver who breaks the receiving record is going to get MVP votes. He's having that kind of impact. Patrick Mahomes isn't gonna lose MVP votes to [Travis] Kelce. Tyreek is a true number one wide receiver in the league, leading in receiving yards… he's gonna get some MVP votes." 
Last year, Patrick Mahomes from the Kansas City Chiefs won the MVP award for his phenomenal performance. This season, multiple players have the possibility to win the MVP award. The first two games of Tua Tagovailoa have put him on the list.
Related:Michael Irvin believes the Cowboys are the 'best' team in the NFL right now following their victory over Zach Wilson's Jets
The performance of Tua Tagovailoa and Tyreek H in two games
In the first game against the Los Angeles Chargers, the quarterback was pivotal in covering the passing yards. He covered 466 passing yards and completed 28 of his 45 passes. He had three touchdowns however was intercepted once. He continued his form in the second game as well where he covered 249 passing yards. He attempted 30 passes and 21 of them. He had one touchdown and was intercepted once.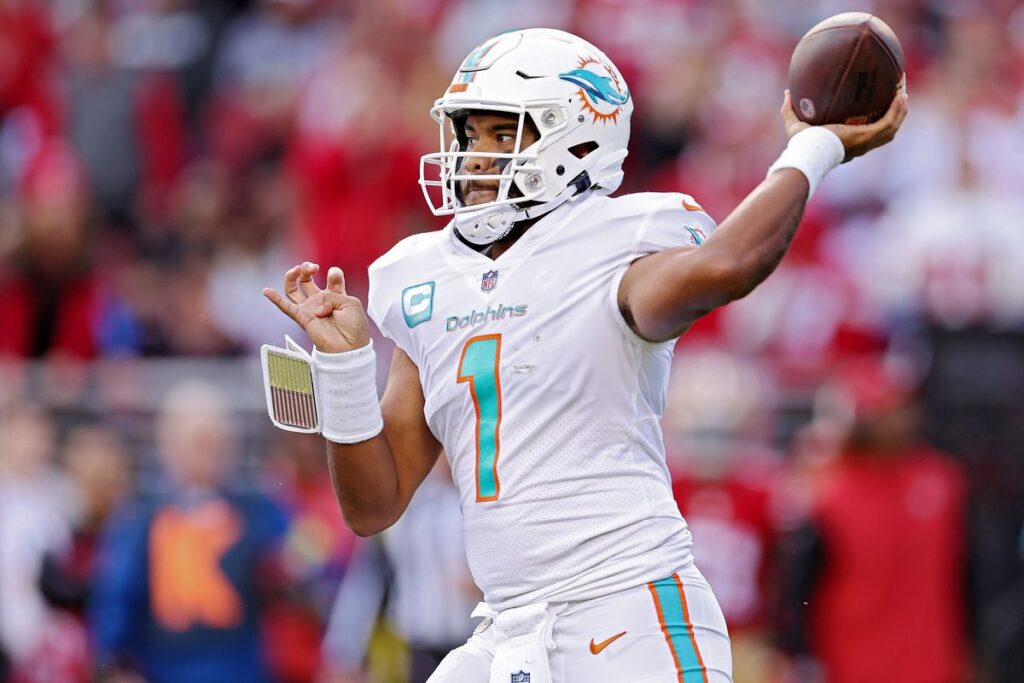 Tyreek Hill was phenomenal in the first two games as well. In the first game against the Chargers, he received 11 catches for 215 yards and had two touchdowns. In the second game, the player had five catches for 40 yards and had one touchdown as well.
It seems that both of these players will give each other tough competition in the fight for the MVP award. It is to be seen whether any of them emerges victorious.
In case you missed it:
Do follow us on: Facebook | Instagram | Twitter | WhatsApp
Follow FirstSportz on WhatsApp Channel