The duo of Rob Gronkowski and Tom Brady terrorized the league for many years during their time. The quarterback-tight end duo played for two teams and have won multiple Super Bowls during their career.
Rob Gronkowski was drafted by the New England Patriots in the 2010 NFL draft to pair up with their franchise quarterback, Tom Brady. He quickly became one of the most dominant tight ends to ever play in the National Football League. The Arizona product caught 794 passes for 7,861 yards and 79 touchdowns during his 9-year run with the Patriots before he announced his retirement from football.
After missing the entire 2019 season, he came back to play football with his long-time quarterback when he signed with the Buccaneers during the 2020 season. His two-year stint with the Buccaneers saw the tight end catch 100 passes for 1,425 yards and 13 touchdowns. The duo also won the Super Bowl with the Buccaneers in their first year with the team.
Throughout his career, the tight end struggled with a lot of injuries, since he put his body on the line during every snap he played in his career. The future Hall of Famer announced his retirement in the 2022 off-season for the second time in his career. But the fans are speculating about a comeback from him in the near future.
Related : Top 5 biggest comebacks in NFL history
Rob Gronkowski praises Tom Brady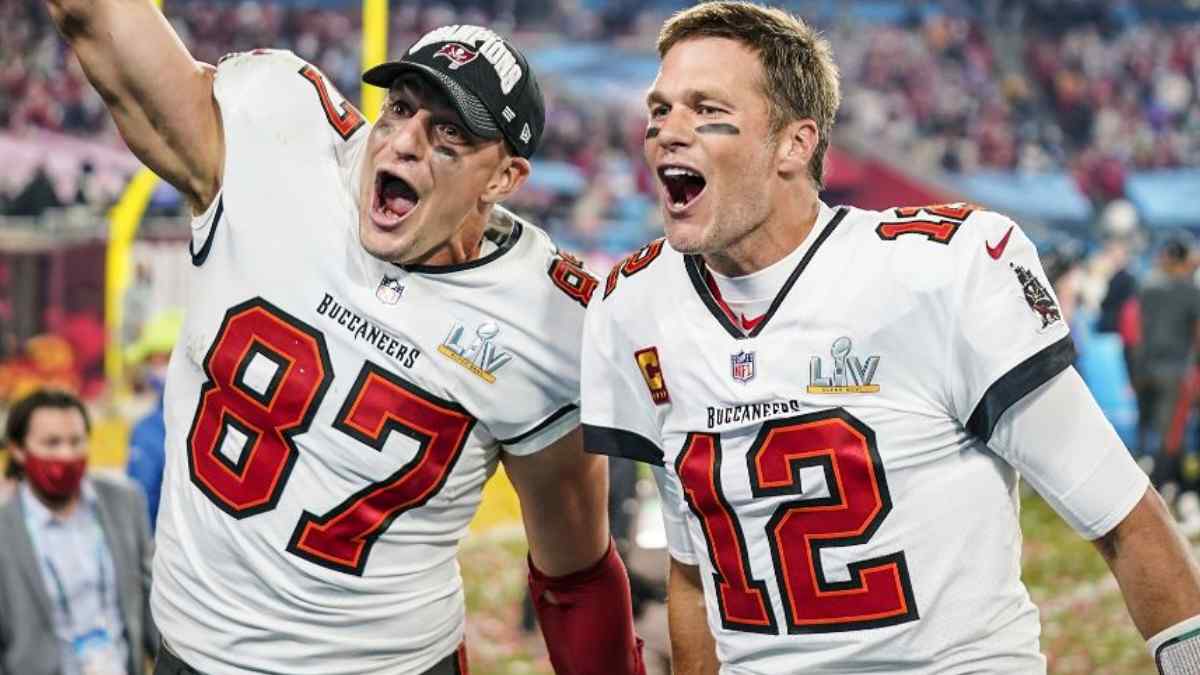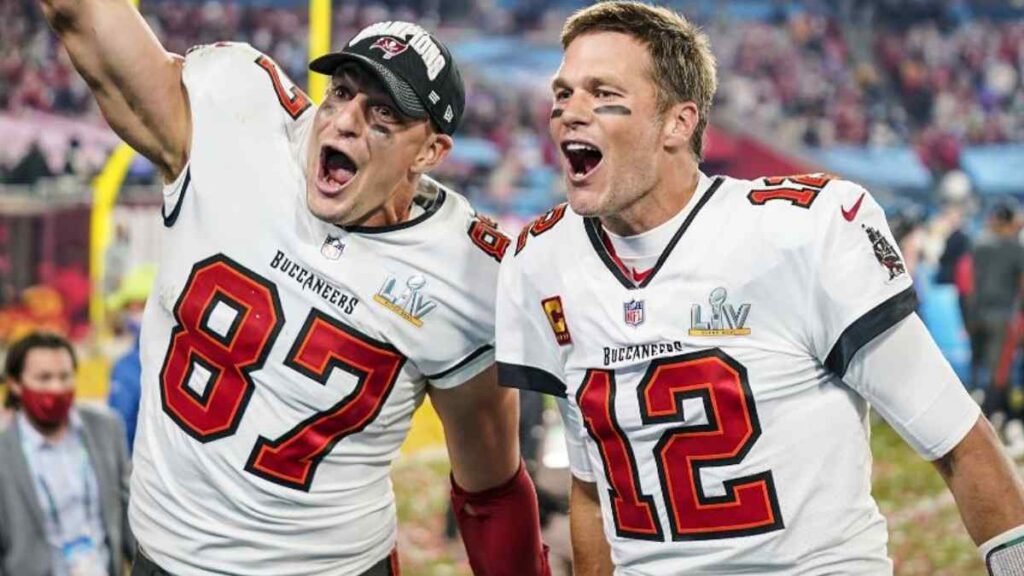 Amidst all the rumors that are spreading around the league that Gronk and Brady might reunite either this year or next year, Gronk has come out and praised his long-time quarterback and friend Tom Brady.
Speaking on The SB Nation NFL Show podcast in a recent episode, Gronk praised Brady by saying that Brady is still playing at high and hitting his targets in every single throw. He mentioned Brady is in the top 5 passing yards list and doesn't see Brady falling off anytime soon.
"You don't really see him falling off at all. He's top five in the league in passing yards. So that's just incredible at age 45. The zip on his ball is still there. It's still very powerful. He's reaching his targets with every single throw. So, you see no fall off at all. I don't expect the fall off at all. I can see him going through to age 50 if he wanted to, but that's up to him. But I definitely see him playing next year," said Gronkowski about Brady.
He also addressed the rumors about him possibly reuniting with Brady. Gronks said that everyone's just hitting every possible situation so that someone can finally say they're right at the end.
As for Tom Brady, he'd focusing on winning the NFC South with the Tampa Bay Buccaneers. The reigning NFC South champions will have to win against the Carolina Panthers in week 17 to clinch their division.
Do follow us on: Facebook | Instagram | Twitter
Related: "Trash a** Raiders" – NFL Twitter BASHES the Las Vegas Raiders for ruining Derek Carr's illustrious career and his legacy by benching him
Related: "His entitlement has ruined the team," Michael Lombardi BLASTS QB Russell Wilson over a broken Broncos locker room