Tom Brady is usually known as one of the most professional football players to ever play in the NFL, the quarterback is extremely competitive and is known to hold grudges the way Michael Jordan did. His resume speaks for itself and it comes as no surprise that he is a revered sports figure and respected by his opponents and teammates outside of the field, however, there is one player to whom Brady has never shown respect for reasons unknown to all of us.
Ryan Fitzpatrick, the former NFL quarterback who played for the Miami Dolphins, Washington Commanders, and other teams played for 17 years in the league but despite his longevity, he never got along with Tom Brady. It has become customary for quarterbacks to meet after the game on the field, shake hands, and hug one another or embrace one another and give props to each other for their performance. That is sportsmanship and is much more important than wins and losses.
Also Read: "Mistake or Masterstroke?" Lamar Jackson REJECTS enticing contract offer on deadline day to play final year for the Ravens
"He just pisses me off": Ryan Fitzpatrick cannot stand Tom Brady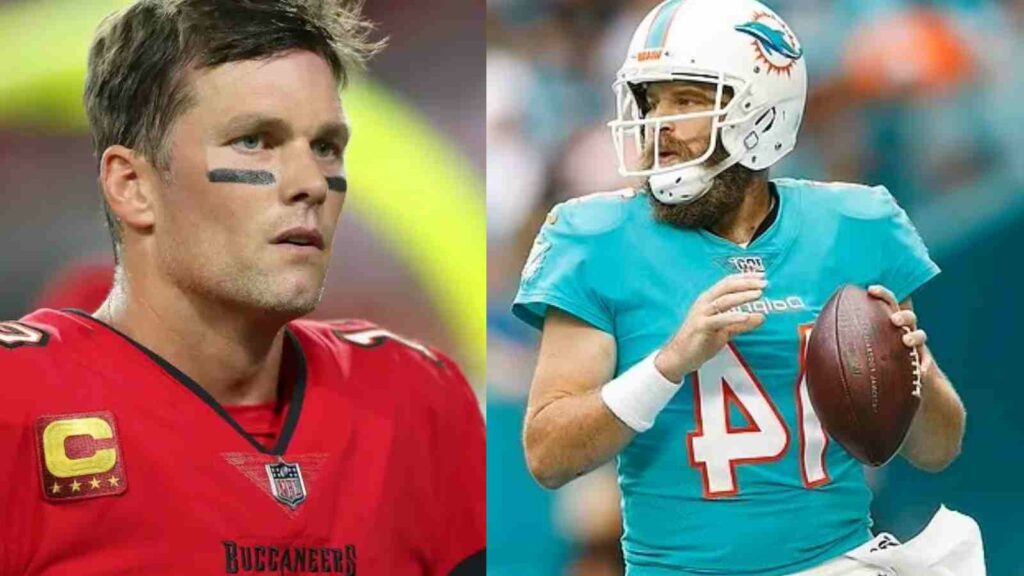 In a recent interview, Ryan Fitzpatrick elaborated on the sore relationship between him and Tom. He made it clear that he was not a fan of him and added another twist by stating that the comments Tom made on 'The Shop' hosted by Maverick Carter were directed at him and not Derek Carr. The context behind this is the comments made by Brady stating that in the offseason before he joined Tampa Bay, there was another team in the contention that he was considering joining and had almost signed a deal with but they pulled out at the last moment.
The reason Ryan believes Tom is talking about the Dolphins and referring to him is that we know that Brady wanted to be a part owner of the team while playing for them as well. The team had a lot of conversations with the quarterback about coming over there but it did not work out. Keep in mind, this was before Tua Tagovailoa was drafted by the team so Ryan Fitzpatrick was the starter at that point in time.
Coming to Fitzpatrick's beef with Brady, he straight up denied that Tom had any sense of respect for him, "No. Zero respect, he'd NEVER shake my hand," the former quarterback states. He did not hold back and went on to add, "I've told this story before, but he just pisses me off, I'm in Buffalo, playing New England, they're kicking our ass every single year, they're beating us. We finally, in 2011, knocked them off. It was right at the beginning of the season. We had this great start and he threw 5 INTs in the game, which was just wonderful to see every single one of them. Just wonderful to see." but it was what ensued after the game that irked Ryan the most.
"No handshake, no quarterback middle of the field, 'Where are the cameras? OK, hey, stay healthy buddy,' Pat me on the head and let me go. Just ran straight off. It bothered me so much because there was no respect there. Every time I played him after that, I was like, "All right, let's make this dude respect me," Ryan concludes.
Unfortunately, Ryan is second on the list of the quarterbacks who have lost the most number of games to Tom but the upside for him was that in his final NFL game, he beat Tom Brady in the 2019 regular-season finale. That year the Dolphins were tanking on purpose as they wanted to get a shot at Tua Tagovailoa who was the top pick in that year's draft. But what was sweeter than the win was the fact that Ryan and Tom shook hands following the game, finally.
The former quarterback admits that he initiated it but at least it happened. Tom Brady is the last one to disrespect an opponent in terms of sportsmanship, but there was something between him and Fitzpatrick, maybe we will find the real reason out someday. Knowing the competitor that Tom is, the only possible reason that he may have been reluctant to face Ryan Fitzpatrick following the games is that the quarterback is a constant reminder of the game where Tom gave away 5 interceptions.
Do follow us on: Google News | Facebook | Instagram | Twitter
Also Read: "Future GOAT vs GOAT," Skip Bayless makes an early and BOLD prediction on the Super Bowl LVII winner
Also Read: "F**king Pissed," Russell Wilson and Seattle Seahawks' INFAMOUS offseason split was nastier than thought