The Carolina Panthers just found their franchise quarterback as they drafted Alabama QB Bryce Young with their 1st overall pick in the 2023 NFL Draft. Following the draft, the Panthers general manager Scott Fitterer takes shots at the new Tampa Bay Buccaneers QB Baker Mayfield over his failures in Carolina in the 2022 season.
During the 2022 off-season, the Panthers added QB Baker Mayfield to their roster by trading with the Cleveland Browns. GM Scott Fitterer sent a 2024 conditional fifth-round pick in exchange for the former first-overall pick. However, things didn't work out well for both the Panthers and Baker.
After being named the starting QB of the Panthers for the 2022 season in August, Mayfield only started 6 games for them. In the total 7 games he played in Carolina, Mayfield registered 1313 passing yards, 6 touchdowns, and 6 interceptions while completing just 57.8% of his passes. He had a record of 1 win and 5 losses as a starting QB in Carolina.
Following a struggling season, he lost his starting QB job to PJ Walker and was waived by the Carolina-based franchise. He was then claimed off the waivers list by the Los Angeles Rams, where he showed some flashes and secured a contract with the Buccaneers in the 2023 off-season.
Related: Patrick Mahomes' brother Jackson regrets sharing CRINGE dancing video of himself in the COVID lockdown
Panthers GM Scott Fitterer takes shots at Baker Mayfield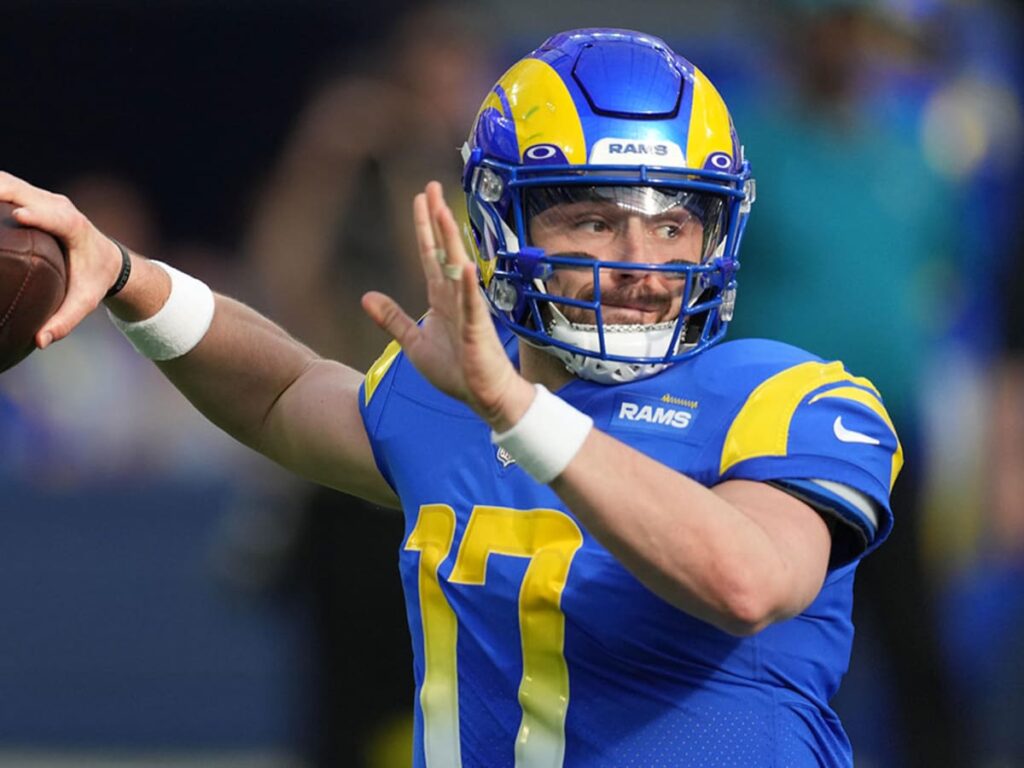 Following the failed experiments with Sam Darnold and Baker Mayfield, the Carolina Panthers decided to draft and develop their own quarterback. They selected the Bama QB Bryce Young as their 1st overall pick in the 2023 Draft.
After successfully drafting a young star, the Panthers GM Scott Fitterer fired a shot at Baker Mayfield over his failures in the 2022 season with his franchise.
"I think once we traded Baker [Mayfield], and Sam [Darnold] came back [from injury]," Fitterer told reporters on Sunday. "Sam actually played well this past year. But you have two swings at it, you have high hopes for both Sam and Baker when they got here and, at a certain point, I remember talking to Mr. Tepper and [assistant GM] Dan [Morgan] and we're like, We gotta just draft and build our own. Even if Baker hit or Sam hit, it was going to be a lot of money to renew these guys, and how do you build a team properly unless it's like a top-five quarterback?"
Nevertheless, Baker Mayfield was able to secure a contract with the Buccaneers, where he will play on a prove-it deal in 2023. Mayfield, for the first time in his career, has elite weapons around him. He would look to revive his career with the Bucs next season and continue his journey as the NFL starting QB.
In case you missed it!
Do follow us on: Facebook | Instagram | Twitter