Dallas Cowboys faced the Tampa Bay Buccaneers in their 2022 season opener and were on the wrong side of a 19-3 scorecard. The Cowboys seemed completely out of depth despite their owner/president/general manager Jerry Jones's confusing optimism for his team this season after last season's playoff loss.
The blame lies on a variety of elements from a dismal performance of the receiving corps to the thinned-out offensive line which let Dak Prescott be sacked 4 times. The game exposed a lot of faults with the Cowboys which was not surprising to those who have followed the Cowboys closely. If that was not enough Quarterback Dak Prescott broke his thumb when Buccaneers linebacker Shaq Barrett hit him. Prescott will be out for 6-8 weeks per owner Jerry Jones. After the loss, it was only natural that the Cowboys' faithful wanted to blame someone but surprisingly a major fraction seemed to blame Jones.
Also Read: "Most valuable team you should NEVER trust": Skip Bayless EATS DIRT yet again as the Cowboys falter to the Buccaneers
"Who cares. He did this." Fans react to Jerry Jones's angry walkout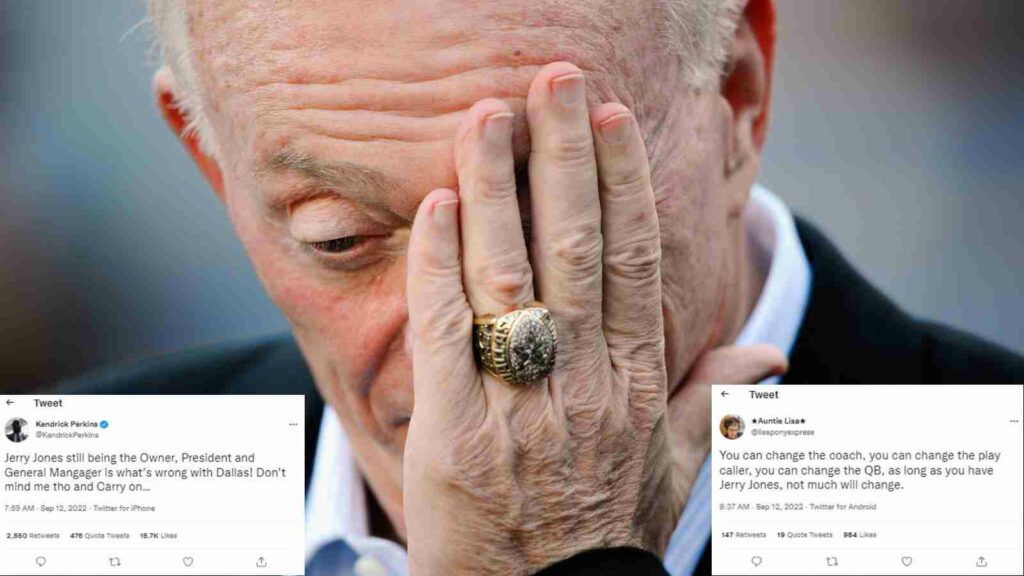 Jerry Jones bought America's Team in 1989 and the team had major success, winning 3 Superbowl from 1992-1995 since then the Cowboys have failed even to make it to the Super Bowl and many believe that despite all his good intentions Jones is the reason behind the Cowboys failure. At times Jones has been known to be stubborn.
The most valuable sports team in the world is the Dallas Cowboys but that doesn't seem to equate to success on the field and Cowboys fans seem to have had enough of Jerry running the show-
Jones loves his Cowboys no doubt but the number of responsibilities that he has with the Cowboys is no joke. For more than 3 decades he has been the decision maker for almost everything at the Cowboys, maybe it's time for a change and for Jerry to let go at least on the football side of things. At nearly 80 years of age, many have questioned his abilities to lead a football franchise.
Do follow us on: Google News | Facebook | Instagram | Twitter
Also Read: "The season was over before Dak got hurt": Ryan Clark believes the Dallas Cowboys are DONE for the season
Also Read: "I am willing to do anything to win." Josh Allen on his EPIC stiff arm in the season opener