Tom Brady has left such a magnanimous legacy that it is very hard for anyone to match his greatness. The former New England Patriots and Tampa Bay Buccaneers quarterback is the most decorated player of all time in NFL history and it will be a humongous feat to surpass his records.
However, some people argue that if anyone is up for that challenge it is Kansas City Chiefs star man Patrick Mahomes. Mahomes recently won his second Super Bowl ring as the Chiefs managed to defeat a spirited Jalen Hurts and Philadelphia Eagles to win Super Bowl LVII.
But even with this win, Patrick Mahomes will need to replicate it another five times to come level with Tom Brady's record of seven Super Bowls! It's a near-impossible challenge that will take utmost hard work from Mahomes who's inarguably the best quarterback in the league currently.
Read Further: "Tannehill is my guy but…," Eagles WR AJ Brown has an HONEST admission about the difference between playing with Ryan Tannehill and Jalen Hurts
Patrick Mahomes is going toe to toe with Tom Brady in a bid to dethrone him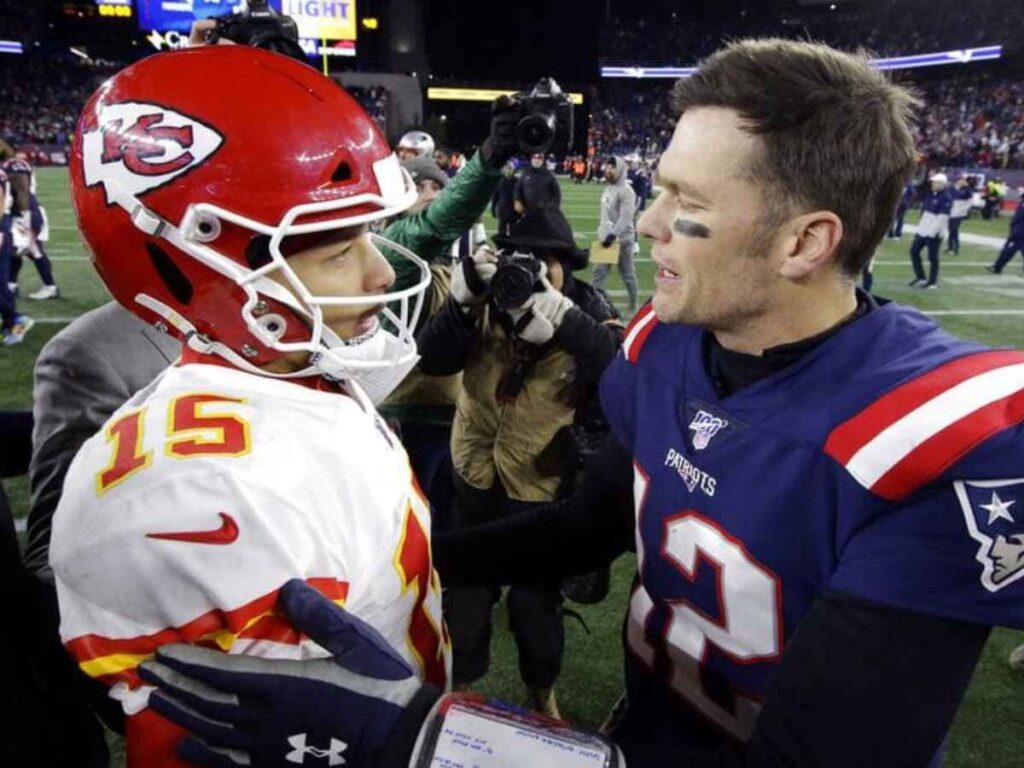 As far as Super Bowls are concerned both Tom Brady and Patrick Mahomes won their first when they were 24 years old. At 27 while Mahomes has two under his belt, Brady just edges him with three. However, what's interesting to note here is that Brady won four Super Bowls when he was 37 and above.
This just goes to show that Mahomes who's currently 27 can also win big in the later stages of his career if he can maintain his fitness levels. If we go on to compare records at 27 years of age Patrick Mahomes has accumulated 24,241 YDS, 192 TD, and 49 INT till now whereas Brady at that age had 18035 YDS, 123 TD, and 66 INT at a similar age. Hence we can see that when it comes to statistics the two of them are pretty similar.
But when it comes to averages Patrick Mahomes has the clear upper hand with him leading the charts in yards per game with 300.7 while Brady has 265.4. Additionally, Mahomes averages 30.2 touchdowns per season but Brady has 28.4. Brady has retired with 3 NFL MVP awards but Mahomes already has two of those.
Even Patrick Mahomes has accepted that he's a long way from reaching Tom Brady's level and only time will tell if he will able to match the greatness of the veteran quarterback. "I'm trying to catch Tom, but Tom's a long ways away", Mahomes said. "You can ask me when I'm like 38 years old."
As evident from Patrick Mahomes'saying it's still a long way and we can compare these two greats once again when both are retired.
Do follow us on: Facebook | Instagram | Twitter
Related: "Shut yo b** a** up" – Chiefs DT Khalen Saunders and Dolphins WR Tyreek Hill gets into a heated scuffle on social media
Related: Russell Wilson Watch Collection: Here are the unique luxury watches worth $250k owned by the Broncos star QB