Jalen Hurts had an impressive season with the Eagles as their starting QB. Though, he didn't win the Super Bowl; he was highly influential in their playoff run and, in the process, gained the respect of many of his teammates and opposition.
Hurts is just 24 years old but possesses the maturity of a 44-year-old. The QB has been instrumental for the Eagles and has made them a deadly team since his arrival in Philadelphia.
The Eagles had the best regular season record, and it was only possible due to Hurts and his prolific rushing game. The Eagles QB is different because he is fatal while throwing the ball and rushing with it.
The only QB who rushed more than him this season was Ravens QB Lamar Jackson. Hurts and Patrick Mahomes were necking to neck throughout the MVP race but in the end, there is only one winner and it was the Chiefs QB who helped his team to his second Super Bowl. However, Chiefs TE Travis Kelce thinks otherwise.
The Kelce brothers released their first podcast since the Super Bowl face-off between them. The podcast featured interesting revelations. However, the most sensational revelation was made by the Chiefs TE, who stated that Hurts could have won the MVP over Mahomes despite losing the game.
"He arguably could've had the MVP, even with the loss," Travis Kelce said on the podcast. "The way he just, with how many touchdowns, he was just lights out. With his feet, with his arm, you name it, he was playing his tail off."
Related : WATCH: Former NFL defensive end Greg Hardy suffers a VICIOUS knockout in his bare-knuckle fight debut
Jalen Hurts was the better QB in the Super Bowl game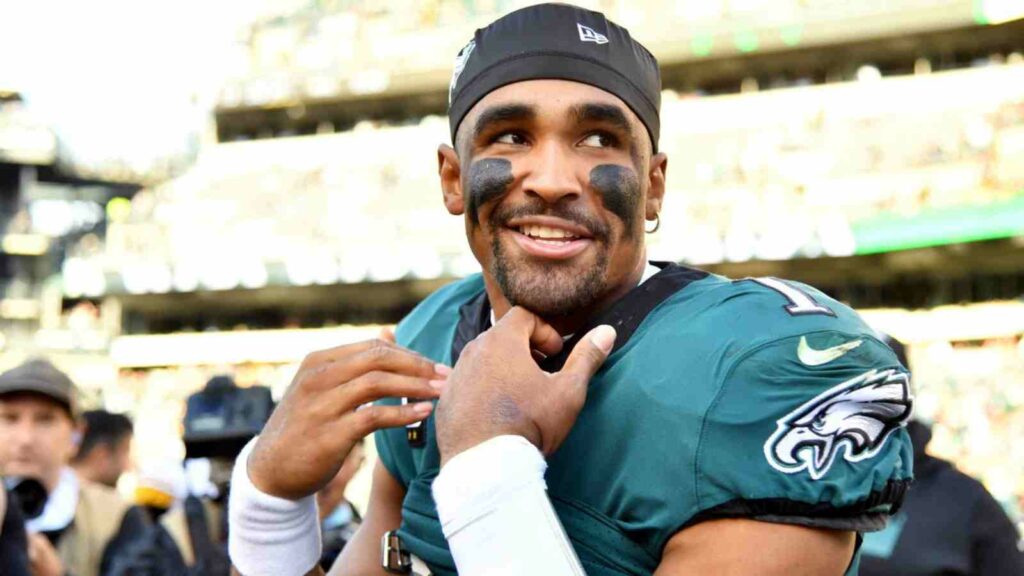 The Chiefs-Eagles showdown during Super Bowl LVII will go down as one of the most intense Super Bowl games ever. The Chiefs were able to win the game with a meager 3-point lead, leaving all the Eagles fandom disappointed.
However, the personal battle between Jalen Hurts and Patrick Mahomes was way different and had a different outcome altogether. Hurts arguably was the better QB throughout the game and has the stats to support that.
Hurts had a way better game where he completed 27 of 38 passes for 304 yards and scored one touchdown. Although credit should be given to Mahomes as he played with an ankle injury.
The Eagles QB also impressed with his rushing abilities and scored 3 touchdowns while rushing for 70 yards. This is the most by any QB in Super Bowl history.
Jalen Hurts was arguably the better QB. Still, Patrick Mahomes won the MVP award, which laments that there are more things involved than just plain stats when choosing the winner.
Do follow us on: Facebook | Instagram | Twitter
Related: "They'll have to carry me out on a casket," HC Zac Taylor is determined to not leave the Bengals anytime soon
Related: Antonio Brown could join Kim Kardashian and Paul Pierce in paying hefty fines over cryptocurrency violations