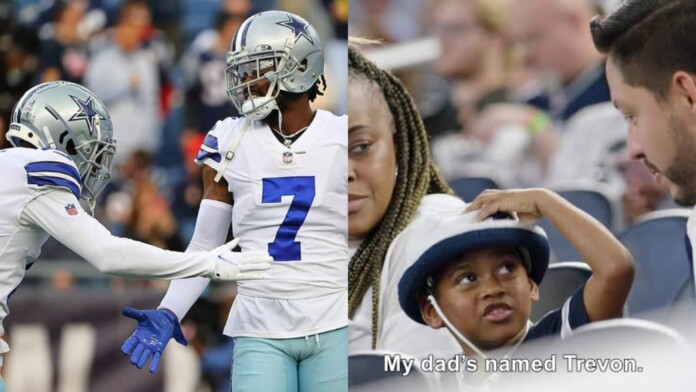 Aaiden Diggs, Dallas Cowboys' star quarterback's son has once again managed to grab the limelight after he was seen cheering for his dad in the stands. Junior Diggs won countless hearts when the HBO Hard Knocks crew showcased how cute he was while they televised a snap of Aaiden Diggs meeting Dak Prescott for the first time.
This time, however, the backdrop was different as the NFL films crew managed to capture a snap of junior Diggs cheering vociferously for his father on camera during one of the Cowboys' games. Aaiden hollered at the top of his lungs, "Believe in yourself. Make sure you do good!" Junior Diggs also was heard screaming, "Break those ankles. We're trying to make the money, we want the money."
Trevon Diggs' performance in 2021 at a glance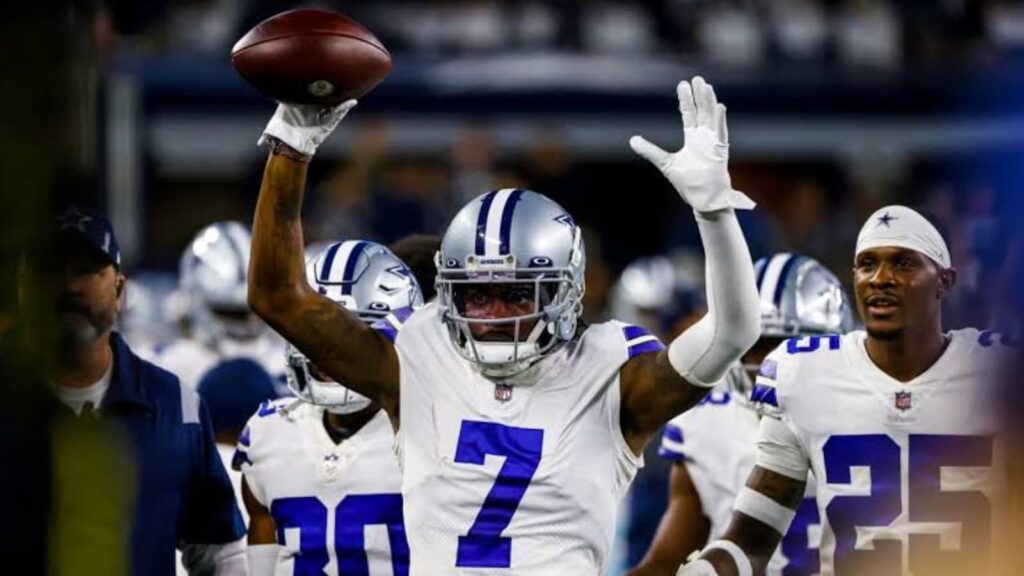 Trevon Diggs has lit up the season with an incredible performance so far for Dallas. Diggs threw his seventh interception of the season against the formidable New England Patriots that came alongside his second pick-six of the year. His seventh interception locked him in an impasse with Hall of Famer, Rod Woodson became the only player to throw in seven interceptions from six matches.
Diggs came to Sunday's game with an interception in each of the Cowboys' opening five games. As he achieved this incredible feat, he paralleled the record of Tom Landry, Barry Wilburn and Brian Russell as the only players to star in six straight games with a pick to start the season. However, the performances of the quarterbacks have gone up so emphatically in the ongoing seasons, he is still behind a string of quarterbacks to race for the MVP award this season.
Trevon followed the footsteps of his elder brother, Stefon Diggs who plays a wideout at the Buffalo Bills. Despite starting as a wideout, when Nick Saban advised him to take up defence, he resorted to the latter's advice. When asked about the transformation to being a defender, he was heard quoting, "I was like, 'All right. I'll give it a shot. I'll try it out,'" Diggs said about the change to defense. "And then one camp I did and it fit, and I just stuck with it and I tried to protect my craft as much as possible. I tried to work as hard as possible. As soon as he said that, that's what my main focus was and it worked out."
Aiden Diggs has managed to grab 37 tackles, eight pass break-ups, throw in three interceptions and compelled a couple of fumbles for Alabama. He was selected for the All-SEC team and Diggs was chosen in the second round of the 2020 NFL Draft by Dallas. Twitter couldn't contain their adoration for junior Diggs as he won over the hearts of the internet again.
Also read: "Sleeveless Myles is retired", says Myles Garrett After NFL Comes Knocking…