As a member of the LA Lakers, Rui Hachimura hopes to have an effect. Since being traded from the Washington Wizards, the gifted forward has made an impression in both of his games. Hachimura has the aptitude to be a fascinating addition for the Lakers. Rui demonstrated his potential as a budding young NBA player while playing for the Washington Wizards. The Wizards dealt with their roster crunch and difficult extension negotiations by dealing with Hachimura before the trade deadline on February 9.
At that point, the LA Lakers recognized an opportunity to gamble on signing a star with a low-risk, high-reward profile. Hachimura has played just 22.5 minutes a game in his first two games with the Lakers, averaging 9.0 points and 5.0 rebounds. He recently discussed his arrival in Los Angeles with Jeanie Buss. The 6'8″ combo forward from Gonzaga is averaging nine points on 46.7% shooting, five rebounds, one assist, and 0.5 steals through his first two games with the Lakers.
Speaking on why he chose the number 28 jersey, Hachimura won all lakers hearts with his comments. He said, "I'm wearing No. 28. 'Because of No. 2 for Gianna and No. 8 for Kobe."  The Lakers have retired Bryant's Nos. 8 and 24, respectively. The 6'6″ shooting guard, who was selected to the NBA All-NBA Team 15 times and was an 18-time All-Star, played his entire 20-year career for Los Angeles. He assisted in guiding the team to seven NBA Finals appearances, five of which resulted in championships.
Related : "I don't know who the f**k that is," Shaquille O'Neal roasts Rui Hachimura after Lakers acquire him for Kendrick Nunn and picks
Rui Hachimura looks to make an impact with the Lakers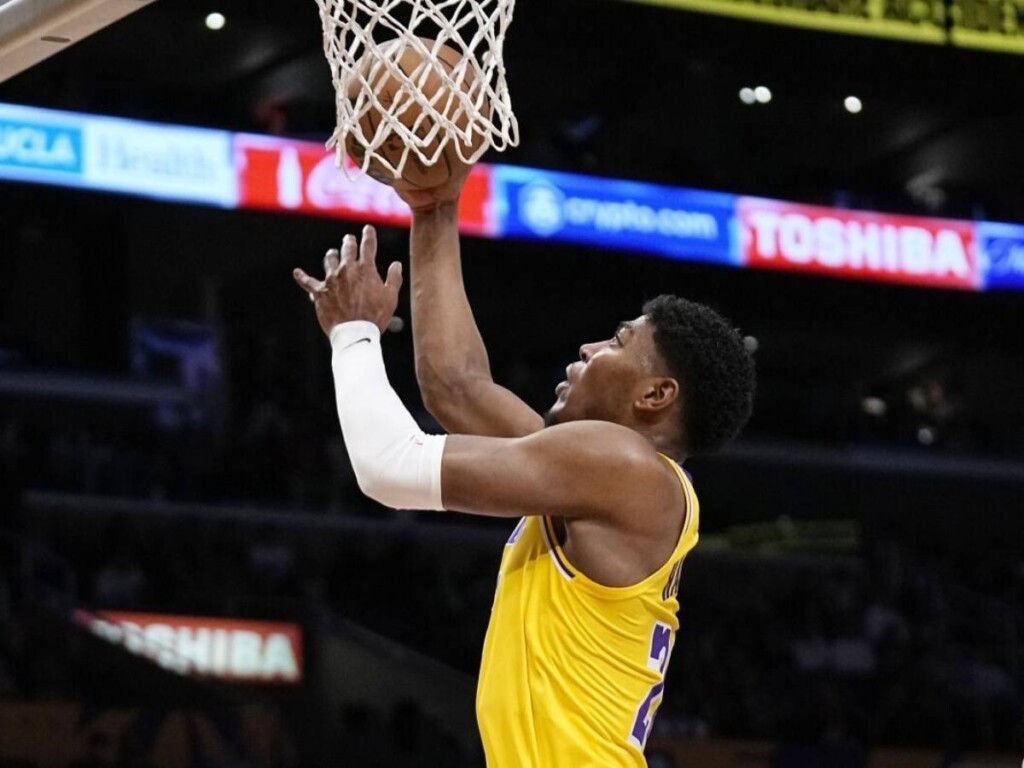 In order to be competitive in 2022–23 and beyond, the LA Lakers needed to find a way to add an appealing player. They appear to have found that in forward Rui Hachimura. Hachimura appeared to be a player who was quickly rising throughout his first two NBA seasons with the Washington Wizards. He only played in two seasons before averaging 13.8 ppg, 5.5 rpg, and 1.4 assists per game.
The Los Angeles Lakers needed to make some tactical acquisitions prior to the trade deadline. Hachimura's acquisition makes it appear as though he might continue to wear purple and gold for some time to come. Fans will have to wait and see whether the Lakers add another player to go with Hachimura. The gifted forward ought to be one of the top rotation players going ahead for the time being. For now the Lakers sit 13th in the Western Conference with a 24-28 record.
In Case You Missed It:
"Best in the league right now Kevin Durant," Stephen Jackson claims LeBron James isn't a TOP 5
"This is like the greatest that you can get," Kevin Durant heaps praise on LeBron James
Do follow us on Google News | Facebook | Instagram | Twitter