The first-ever tournament of Battlegrounds Mobile India was held today i.e 8th July,2021 titled as BGMI Launch Party. The tournament is going to take place for 2 days i.e July 8-9 which features 18 professional teams across India competing a prize pool 6,00,000 INR. The results of Day 1 left many gamers stupefied as Team Snax achieved 3 back to back chicken dinners.
The excitement of the fans was evident from the fact that the livestream had over 20K viewers and the tournament received over million views from players across the country, after all it is the first tournament of India's own battlegrounds. The casters Animesh 'Thug' Agarwal and Ocean Sharma were very enthralled to see their favourite streamers back in the action after a gap of several months.
The teams had to compete in 3 maps- Erangel, Miramar and Sanhok and a friendly 'Pan Fight' match at the end. The first match in Erangel began at 2:30 PM IST, the second match was held in Miramar at 3:30 PM IST and the 3rd match held in Sanhok began at 4:30 PM IST. The friendly Pan Fight match which took place in Erangel began at 5:30 PM IST.
Teams of BGMI Launch Party Day 1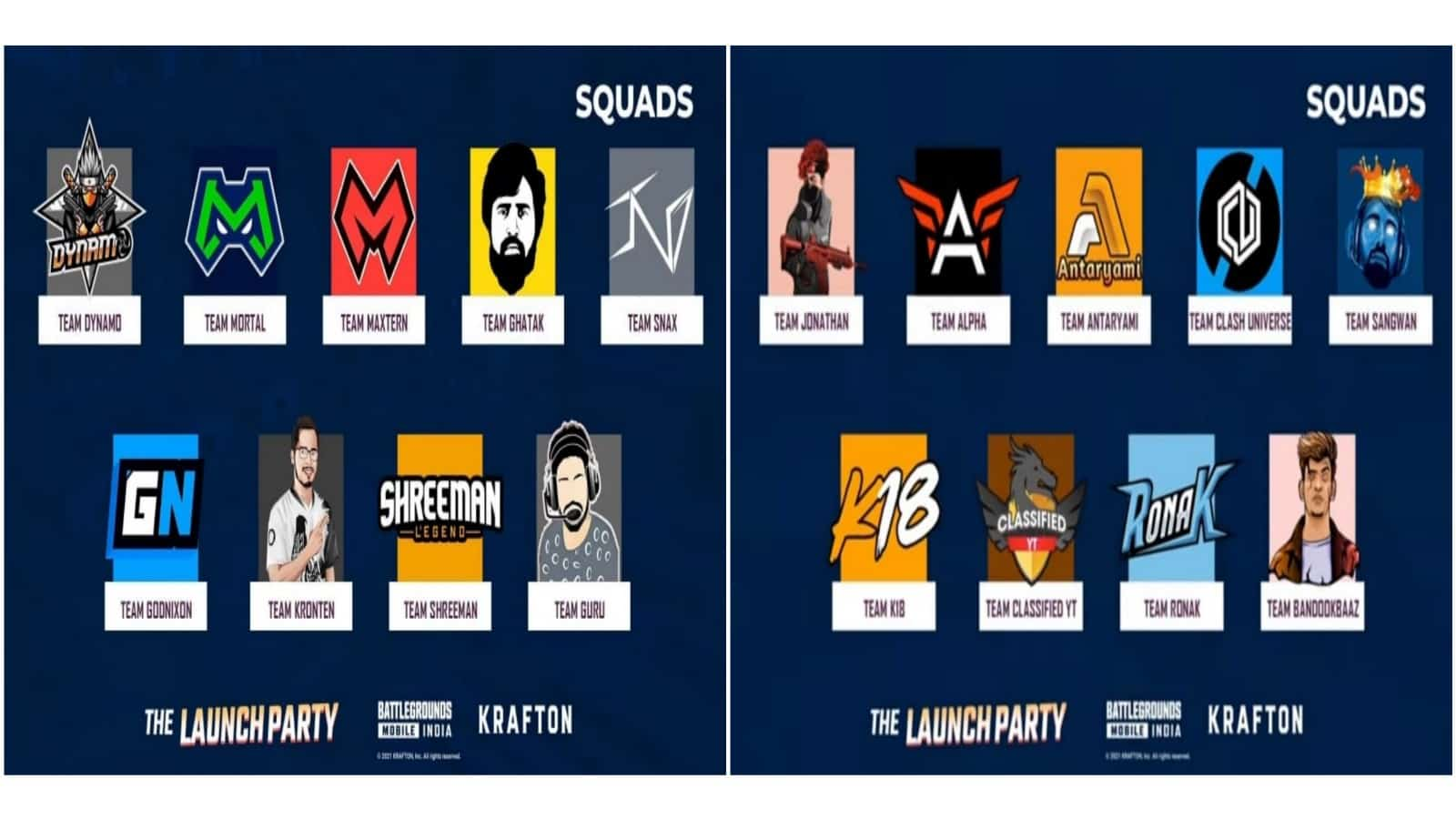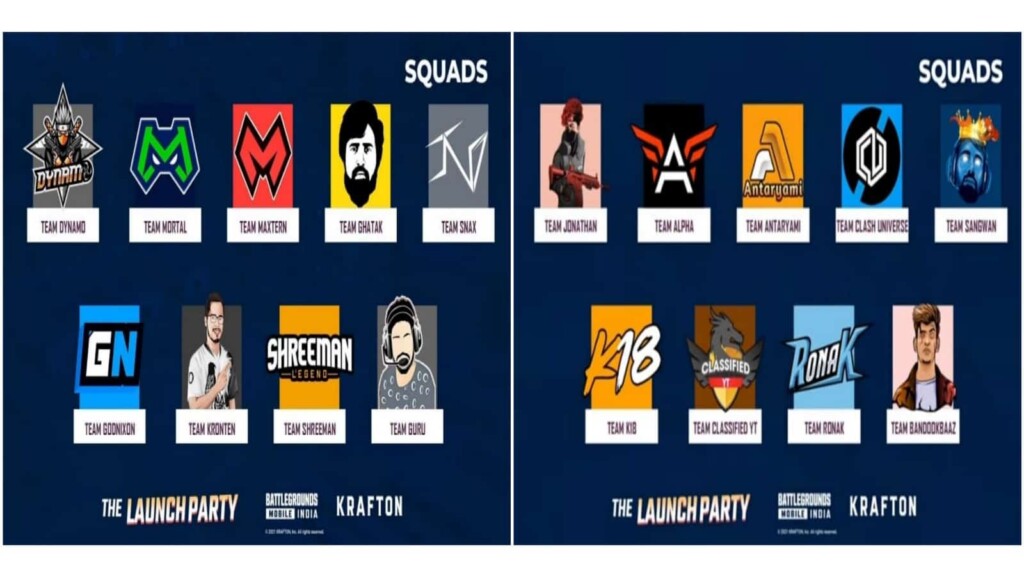 Following are the 18 squads that took part in BGMI Launch Party Day 1-
1) Dynamo
2) Team Kronten
3) Mortal
4) Gaming Guru
5) Classified YT
6) Antaryami
7) K18
8) Alpha Clasher
9) Snax
10) Sangwan
11) Godnixon
12) Team Ghatak
13) Ronak
14) Shreeman Legend
15) Maxtern
16) Jonathan
17) Bandookbaaz
18) Clash Universe
Related: Krafton announces Battlegrounds Mobile India (BGMI) Launch Party tournament
Result of BGMI Launch Party Day 1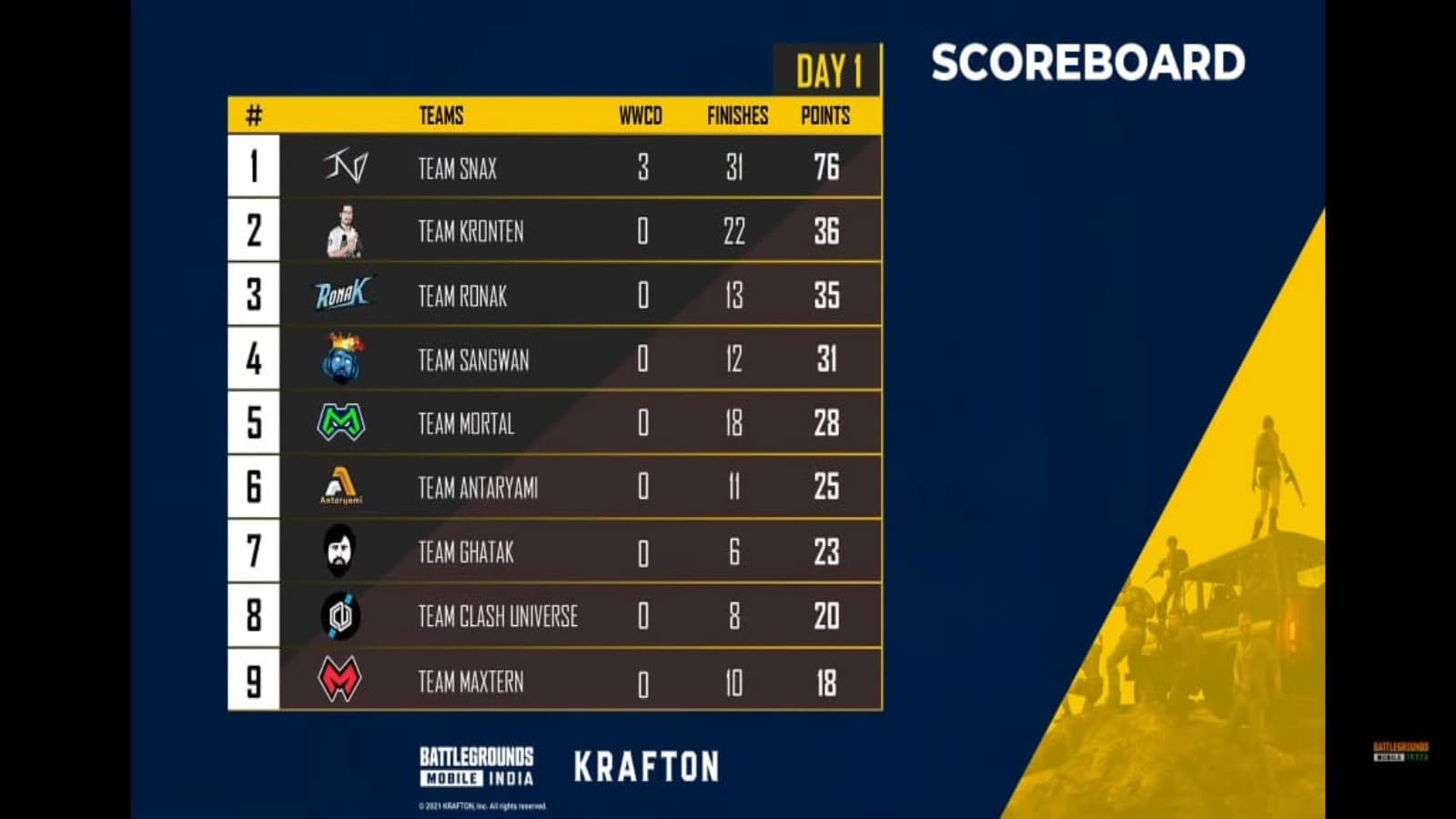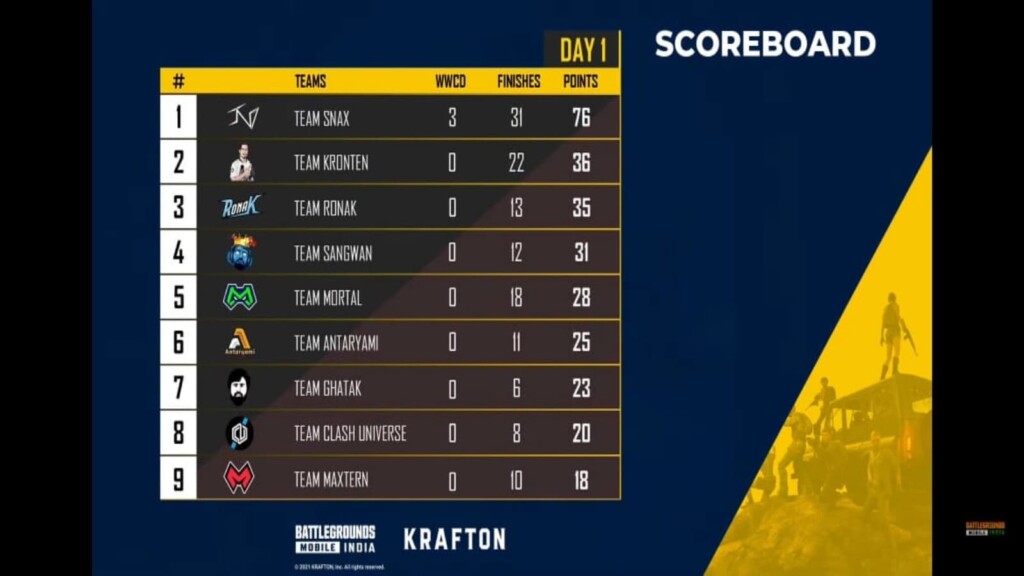 Match 1 (Erangel) Winner- Team Snax
Match 2 (Miramar) Winner- Team Snax
Match 3 (Sanhok) Winner- Team Snax
Team Snax, led by Raj "Snax" Verma along with other players such as DaljitSk, Kratos, Attanki represents Team IND Esports in the tournament. This underrated team displayed an outstanding performance from the very beginning of the match even if the playzone didn't favour them. Snax being the captain of Team Snax was able to establish himself as one of the best assaulters in the team. Team Snax also bagged the most number of finishes (31 finishes) in the tournament.
Other teams such as Team Kronten was able to gain the 2nd position achieving 22 finishes followed by Team Ronak achieving 13 finishes. Team Mortal accumulated 18 finishes. Team Antaryami made a splendid comeback at the second match, finally achieving 6th position with 11 finishes in the 3rd match. However, other well known teams such as Team Jonathan and Team Dynamo didn't meet up to the expectations of their fans, achieving 4 and 7 finishes respectively. Players are excited to see whether these teams make a comeback tomorrow i.e July 9th, 2021.
The BGMI Launch Party also had a surprise stored in for the players where they displayed a video created by Krafton wherein Krafton claimed that more updates on BGMI ESports will be given on July 15th,2021.
Players can view the livestream of BGMI Launch Party by visiting the official youtube handle or by clicking here.
Also Read: Battlegrounds Mobile India: Top 5 outfits to buy using silver fragments in BGMI