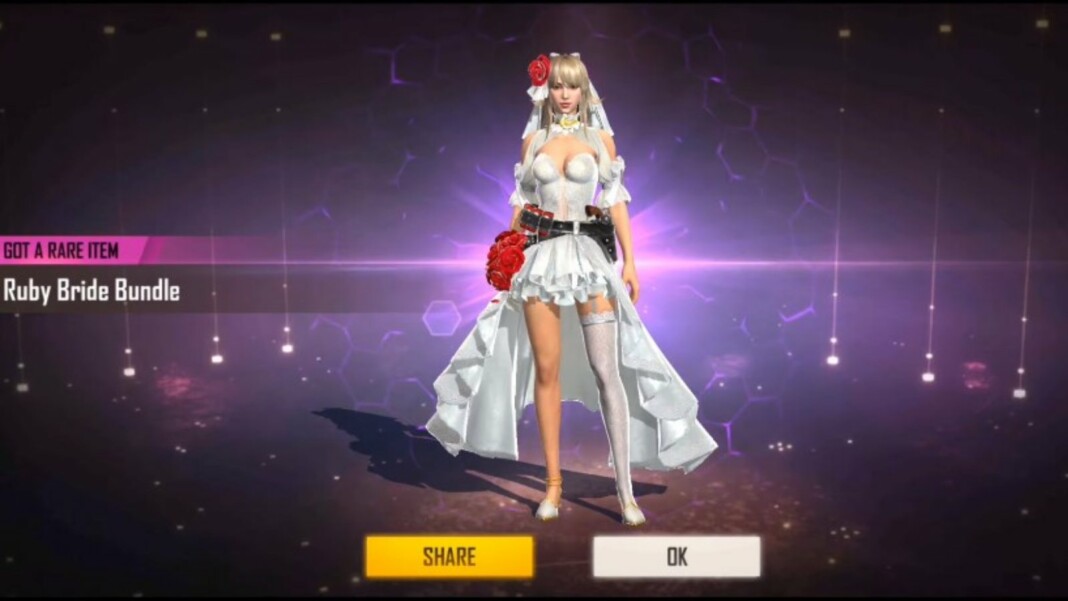 Free Fire Luck Royale Section will receive the bestowed rewards every time featuring several items. Today we will look at how players can get Ruby Bride Bundle via Free Fire Diamond Royale event section.
Free Fire, the quick-paced battle royale game that boasts tons of unique elements, aspects unlike other BR titles on the platform. Besides that, the game has into setting prominent standards in eSports with rising communities. The luck royale section of the game often receives so many cosmetics such as bundles, weapon skins and even some accessories. Players should use various currencies and related tokens to claim rewards in the section.
Here is how you can get Female Ruby Bride Bundle from the Diamond Royale section.
Read More: Free Fire Season 39 Elite Pass: Pre-order, price, rewards, theme and more
Female Ruby Bride Bundle in Free Fire Diamond Royale
The new Diamond Royale package, which includes the Female Ruby bride bundle as the grand prize, was rolled out today i.e., July 29th. For another 21 days, it will be accessible.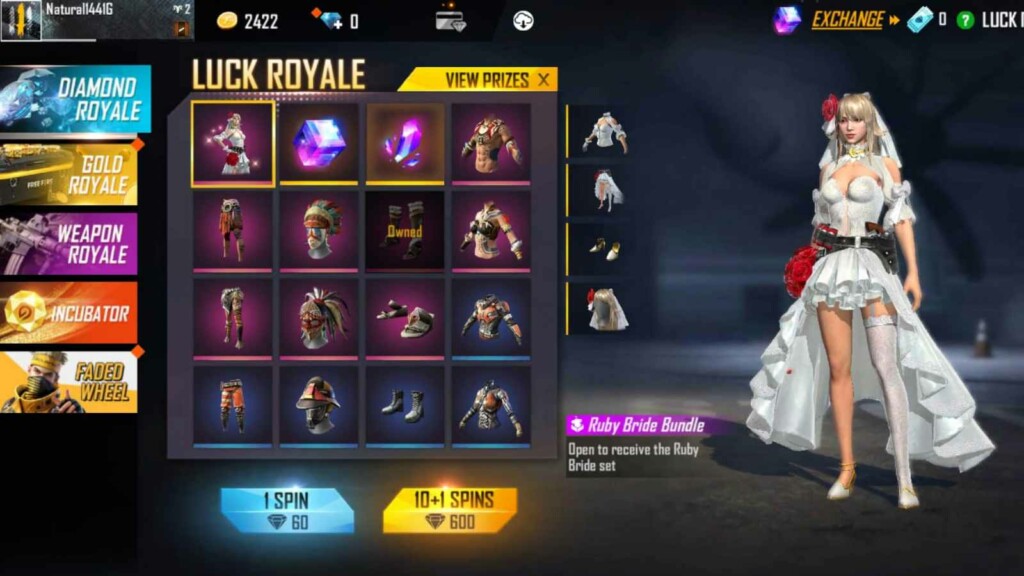 The Female Bundle consists following items:
Ruby Bride (top)
Ruby Bride (bottom)
Ruby ride (shoes)
Ruby Bride (head)
The Diamond Royale section will also include the following items alongside the Female Ruby Bundle:
Female Ruby Bundle
Maic Cube x1
Cube Fragment x1
Nelithic Bundle (Male)

Nelithic (top)
Nelithic (bottom)
Nelithic (Mask)
Nelithic (shoes)

Paleolithic Bundle (Female)

Paleolithic (top)
Paleolithic (bottom)
Paleolithic (Mask)
Paleolithic (shoes)

Flame Fighter Bundle (male)

Flame Fighter (top)
Flame Fighter (bottom)
Flame Fighter (Mask)
Flame Fighter (shoes)

Lady of Flame bundle (Female)

Lady of Flame (top)
Lady of Flame (bottom)
Lady of Flame (Mask)
Lady of Flame (shoes)

Combat Vest Bundle (Male & Female)
T-Shirts x3(Smile, Like, Dislike)
Shorts x3(Camouflage, Jungle, Dessert)
Sneakers x3(White, lack, Blue)
50%EXP cardx1(3days)
50% Gold card x1 (3days)
Memory Fragmentsx100 of the following:

Wolfraah
Kapella
Jota
Steffie
Kelly
Notora
Alvaro
DJ Alok
Shani
Jospeh
A124
Rafeal
Laura
Hayato
Moco
Wukong
Antonio
Caroline
Miguel
Paloma
Kla
Maxim
Nikita
Ford
Olivia
Andrew
Players need to spin the wheel to get the items featured in the diamond royale section. Each spin will cost you a total of 60 diamonds and 10 spins will cost you a total of 600 diamonds and you will receive an extra spin with 10 spins. Players can also use Diamond royale vouchers to spin the wheel and with each spin your luck of getting the grand prize. After getting the bundle, your luck percent will be reset.
How to access Diamond Royale section?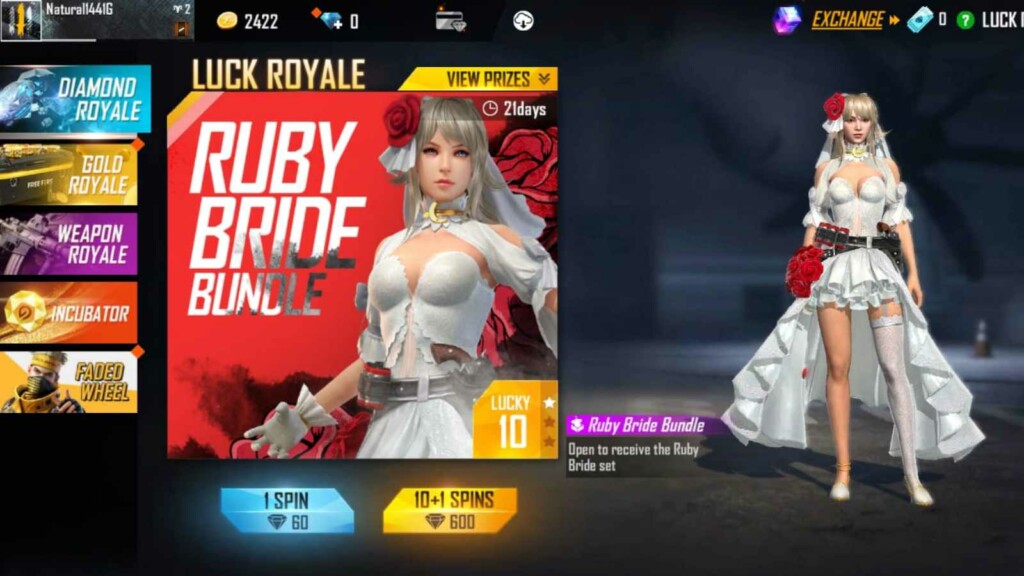 Open the game in your device.
Once you have access to main screen lobby, click on Luck Roylae Section which is present under the 'Store' option on the llieft side of the screen.
Then, Navigate to diamond royale section under the Luck Royale.
Spin the wheel to receive the rewards and if you are lucky enough, you will get the bundle with less spins.
Also Read: 5 useless Free Fire characters that need to be removed from the game