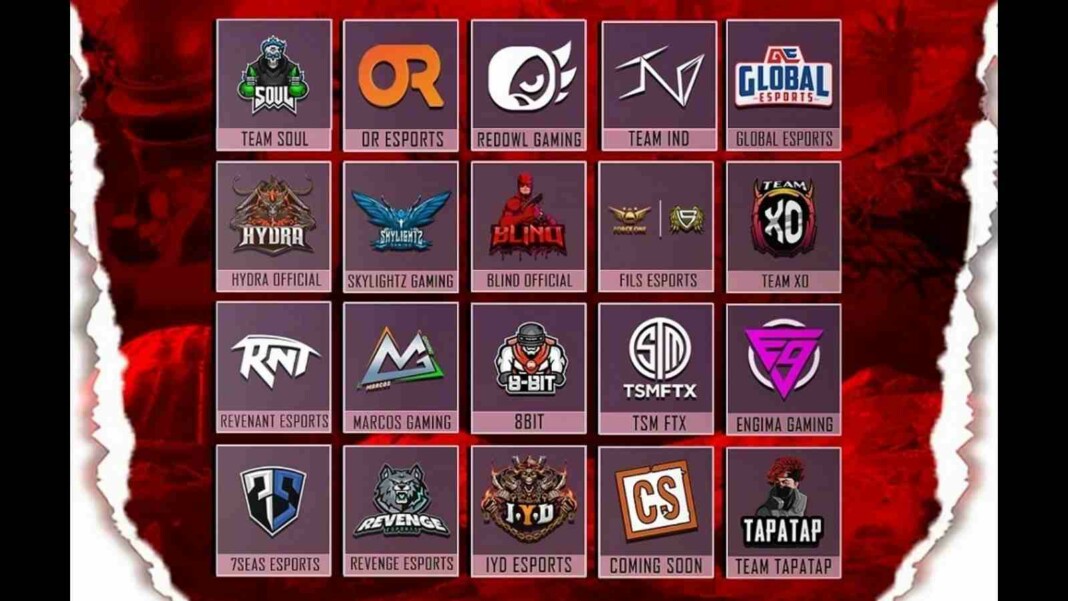 Thug BGMI Invitational Event came to a closure today after some nail-biting moments by different teams. Team 8bit remained dominant as usual and were crowned as the winner of the tournament.
Thug BGMI Invitational Event is the second iteration of Thug Invitational which was announced few days ago with a massive prize pool of 2 lakhs INR. This was a two-day event that concluded today. A total of 20 teams were invited for the tournament where we saw some never-seen before action packed performances by the players. The event was live streamed in the official Loco channel of Thug and players had to play in 3 different maps- Erangel, Sanhok and Miramar.
Thug BGMI Invitational Event took place from 5PM – 8PM today and achieved a peak viewership of more than 200K. Here are the results and overall standings of Day 2 of the event.
Thug BGMI Invitational Event: Day 2 results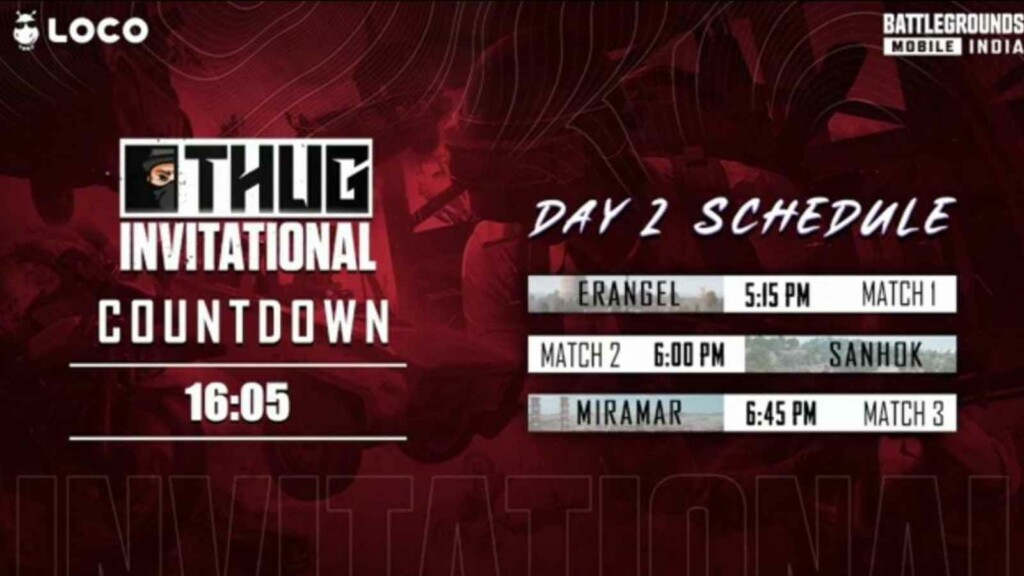 Players had to compete over 3 maps in Thug BGMI Invitational Tournament. The first match began at 5:15 PM in Erangel, the second match was held in Sanhok at 6:00 PM followed by Miramar map which began at 6:45 PM. A total of 20 teams participated in the event and battled for a massive prize pool of 2 lakhs INR. Team 8bit retained their winning streak after grabbing a total of 57 finishes.
Related: 8bit Thug BGMI Invitational Event: Day 1 results and overall standings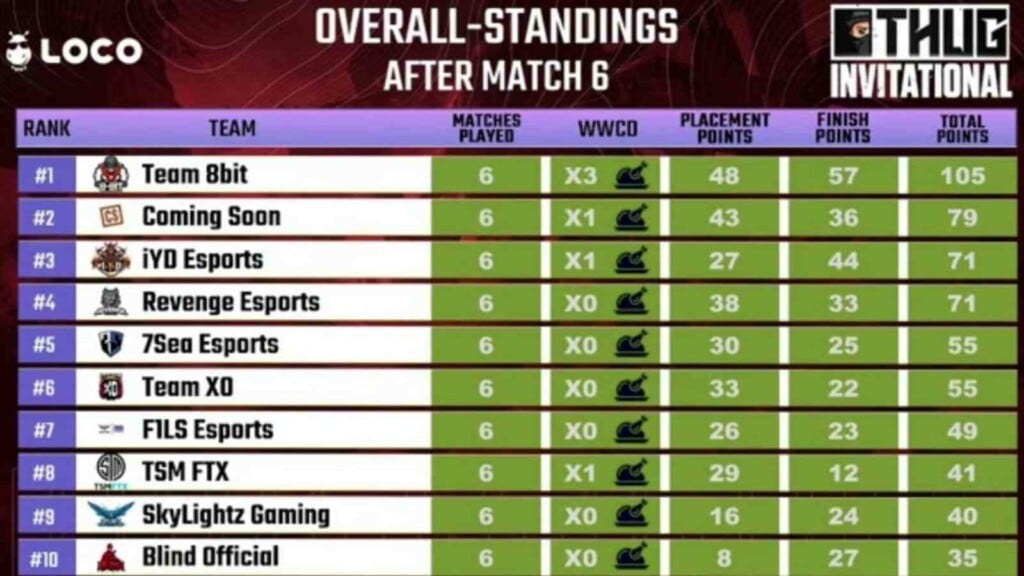 Team 8bit failed to grab any chicken dinner today but what paved the way for their dominant position was their aggressive as well as strategic gameplay that helped them to grab 57 finish points and total points of 105. Coming Soon showed a substantial improvement in their performance compared to yesterday as they managed to secure the 2nd position with 1 chicken dinner, 36 finish points and 79 points in total. They were closely followed by iYD eSports who were just 9 points short to grab the 2nd position. Nevertheless, they were able to secure 44 finish points.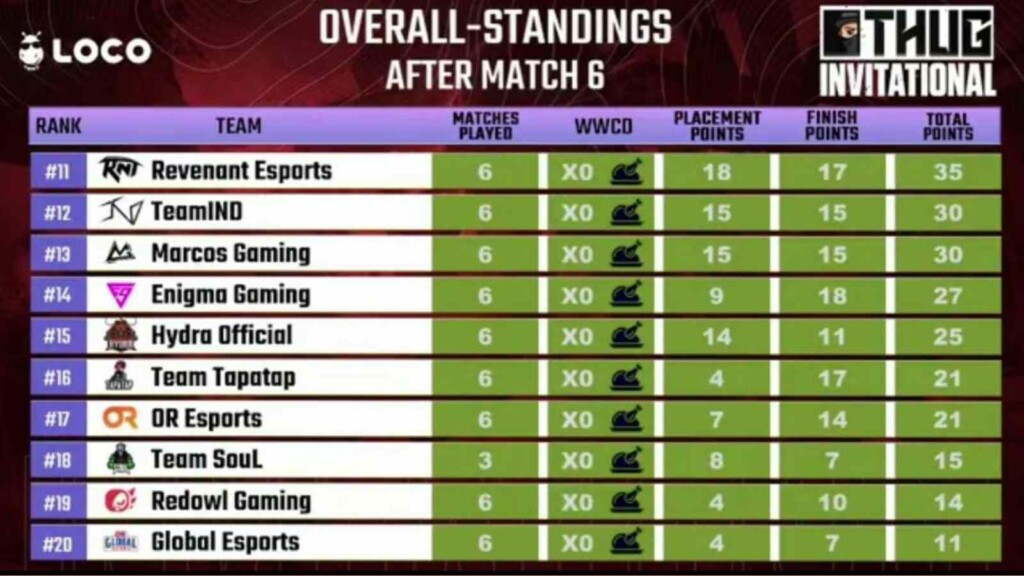 TSM FTX were able to get one chicken dinner, however, they were placed at the 8th position as they were able to manage only 12 finish points. The star-studded Team SouL failed to leave an impression in Thug BGMI Invitational Event. Fan favorites Team Tapatap and Hydra Official were able to secure 17 and 11 finish points respectively.
Thug BGMI Invitational Event: Prize Distribution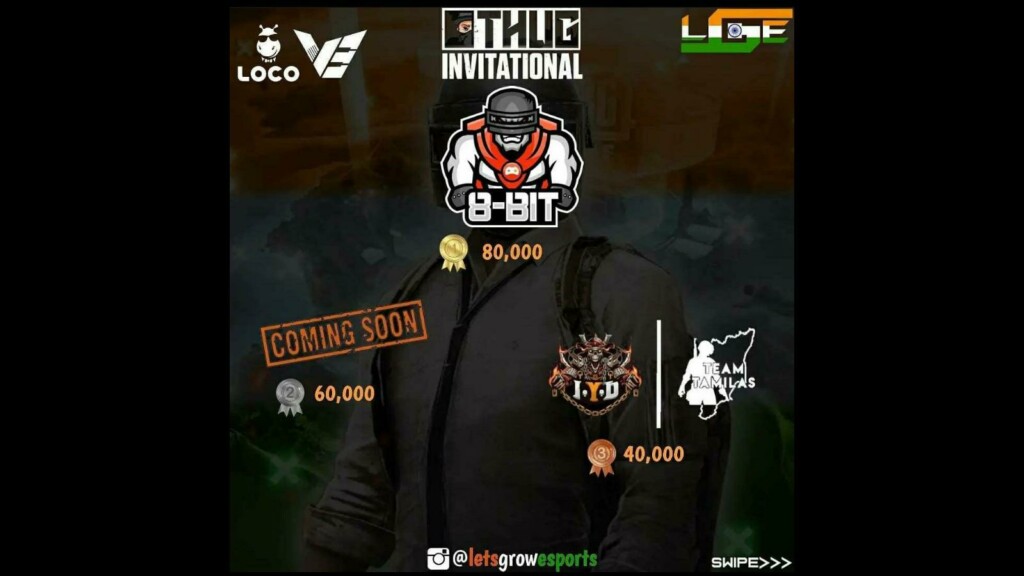 | | | |
| --- | --- | --- |
| Position | Team | INR |
| First | 8bit | 80,000 |
| Second | Coming Soon | 60,000 |
| Third | iYD | 40,000 |
If players wish to view to view the highlights of the tournament they can do so by heading over to the official Loco channel of Thug or by clicking here.
Also Read: BGMI Freedom Face-Off: Team Encore crowned as the winner of the tournament