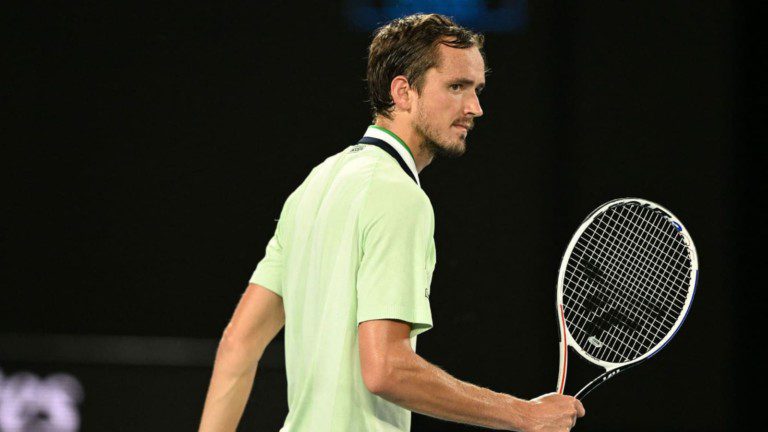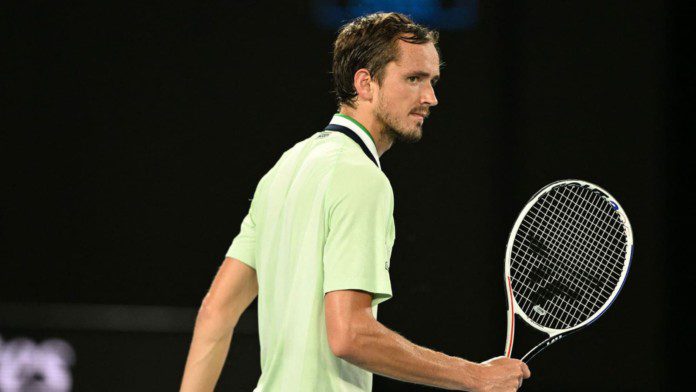 It was an anti-climatic end to a very intense match as Daniil Medvedev edged past arch rival Stefanos Tsitsipas in the semifinal of the 2022 Australian Open to reach a second consecutive final Down Under. Medvedev won the match in straight sets 7-6(5),4-6,6-4,6-1 to reach his 4th grand slam final.
Medvedev has definitely been the best hardcourt player in the last few years and once again delivered when it mattered. If he wins the final, he will become the new World No.1 and also have a very rare feat under his name- winning a consecutive slam after maiden major triumph.
In the match, both players started with incredible intensity. Medvedev in particular was rock solid on serve and dropped just 2 points on serve including the tie-breaker. Tsitsipas too was playing very well from the baseline and frustrated Medvedev with his sudden surge of power. Despite trailing, Medvedev came back in the tie-breaker to win the first set 7-6(5).
The second set too had some serious exchanges from the baseline. Tsitsipas was adamant on hitting the ball deep while Medvedev produced a defensive masterclass. After a few break exchanges early on, it was Tsitsipas who got the decisive break and won the set 6-4. The Greek had the momentum but seemed to drop his level in the third set. He was getting tired after long rallies and didn't really have the legs to compete.
But he managed to hold serve until the last game of the set where Medvedev grabbed the opportunity and won the set 6-4. Since then, Medvedev found some new energy all of a sudden and ran away with the match. He took a double break's lead and wrapped up the set comfortably 6-1 to reach his 4th grand slam final.
'I tried my best and I'm happy it worked': Medvedev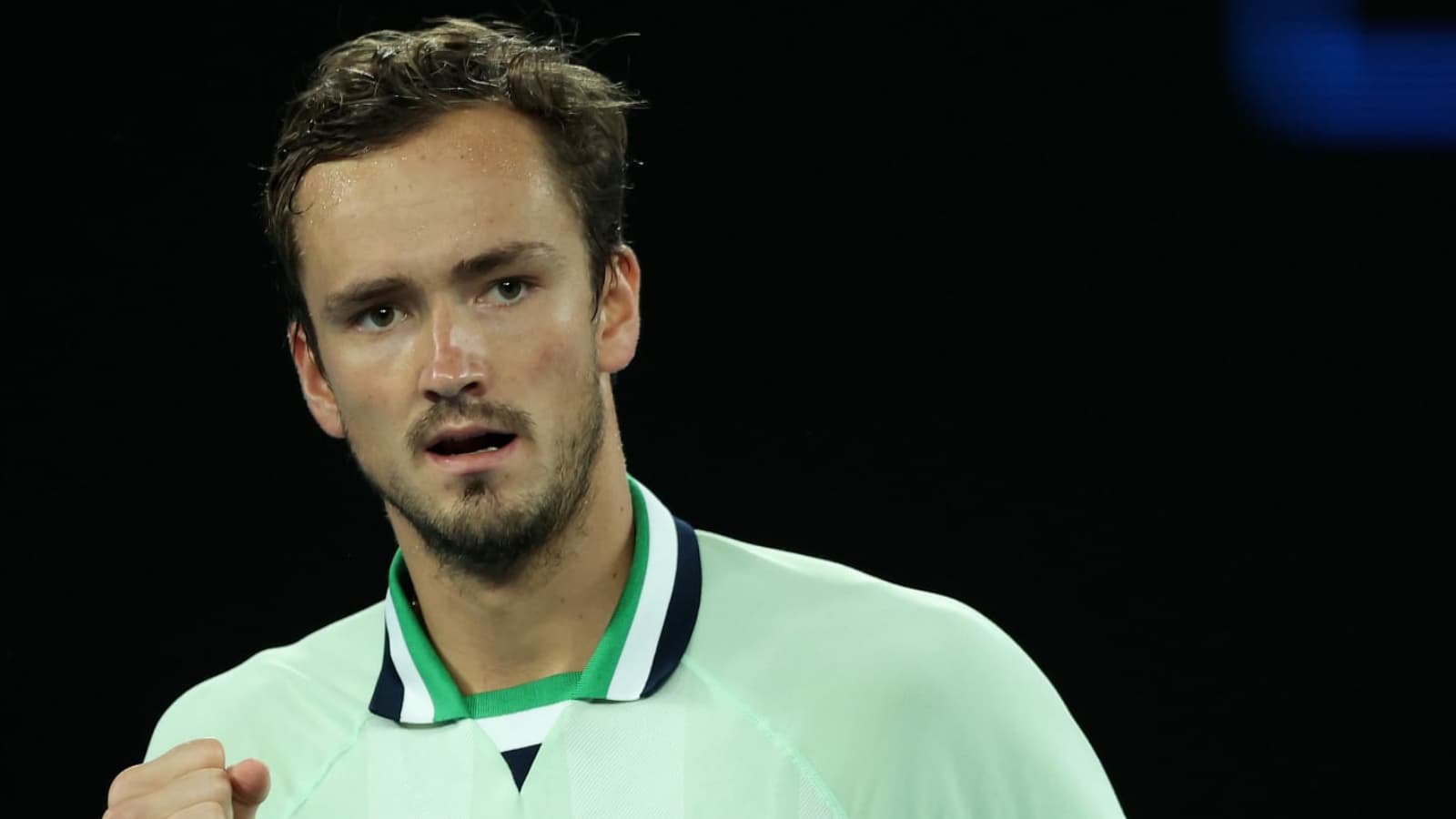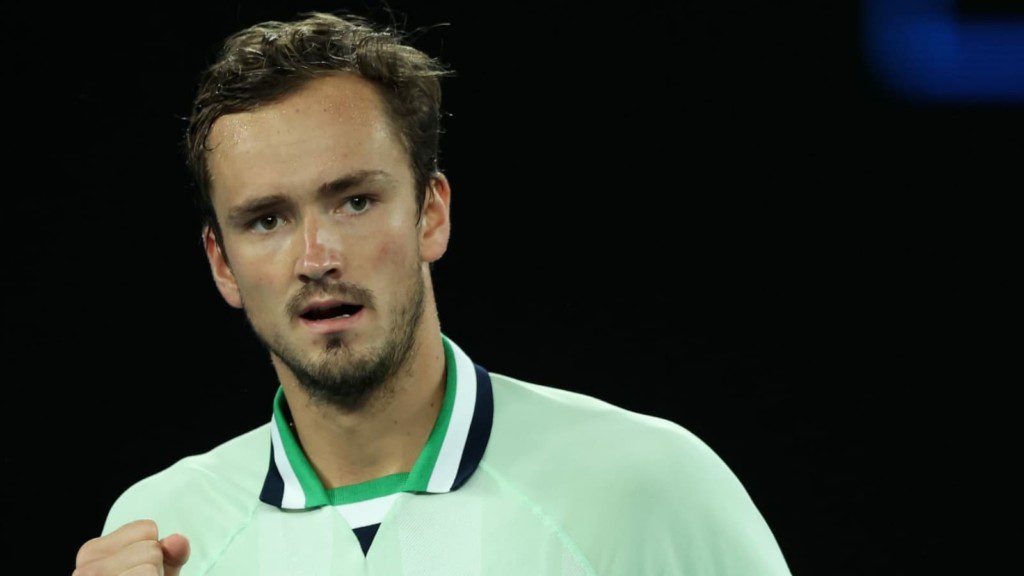 In the on court interview with Jim Courier, Medvedev straight away spoke about the heated argument he had with the umpire and said that these kind of bad emotions don't help him. He admitted that he lost unnecessary energy but quicky regrouped himself.
"To be honest, I don't think bad emotions help me too much. Many times I lose the match because of this- you lose concentration and lose too much energy which maybe in the fourth set is not enough. So as soon as I did it, I was like its a big mistake but I'm happy that I managed to re-concentrate in the beginning of the third set. I thought to myself – I know I've lost some energy but I need to focus because the match is very important. I tried my best and I'm happy it worked," Medvedev said.
The World No.2 further said that today's match was very very tight and there was very little margin for error. "Some tennis matches, its very even. You know sometimes he misses, sometimes I missed some balls that I could've done better. But starting from 5-4 in the third I just found some momentum. I made few very important passing shots and his energy went down because the end of the third set and my energy was only going up," he said.
Medvedev had a very hard battle in the quarterfinals where he came from two sets down to win the match. Many expected that he won't be able to recover in time but on the contrary, he had better legs than Tsitsipas.
"When I went out with my match against Felix, I talked to my coach and I was like, 'How do I do it?' At that moment I was so dead, I sat down in the locker room after the match and I could barely move. Actually the next day I woke up and the moment I opened my eyes, I was like, 'Its not too bad!' Felt some pain here and there but it wasn't too bad," he said.
Medvedev will now face 20-time grand slam champion Rafael Nadal in the Final on Sunday. He recalled his maiden grand slam final against Rafa and said that he is ready for the challenge.
"Grand slam Finals are special and of course I remember the match against Rafa at the US Open, it was my first final and we played like 5 hours. We've played few matches since then and yeah, I'm ready! I know Rafa is a very strong player and I will need to show my best to win this match," Medvedev concluded.
Also read: 'How can you be so bad,' Daniil Medvedev RANTS at 'STUPID' umpire after being annoyed by Tsitsipas' father